In a historic game seven, the Bucks defeated the Brooklyn Nets in the Barclays Center. After first-half struggles, Milwaukee's big three kept the Bucks fighting for a victory in the final minutes. Bucks fans are rejoicing, and the players are no different. Let's take a look at some of the highlights and takeaways from an unbelievable game seven.
Another Unbelievable Game From Giannis Antetokounmpo
It's hard to say things about Giannis Antetokounmpo that haven't been said already. Giannis has finally exorcised his playoff demons with a fantastic game seven performance. The Greek Freak posted a stat line of 40 points/13 rebounds/5 assists/1 block. Although Giannis has struggled on free throws for most of the playoffs, he was able to his 57% of his free throws. Now, that percentage isn't exactly what you want from your superstar. However, he did have a higher percentage than his average during the series.
After the Bucks fell into a 0-2 hole in the series, Giannis put on a string of dominant performances. Here are his stat lines from games three through seven:
33 points/14 rebounds/2 assists/45% FG
34 points/12 rebounds/3 assists/54% FG
34 points/12 rebounds/4 assists/64% FG
30 points/17 rebounds/3 assists/60% FG
40 points/13 rebounds/5 assists/63% FG
Giannis was absolutely dominant after the Bucks fell behind in the series. Speaking of dominance, Giannis' 40 points, 10 rebounds, and 5 assists make him only the third player in NBA history to reach those marks in a game seven. The other two players? Jerry West and Tim Duncan. Giannis came up huge for the Bucks and it gave them an Eastern Conference Finals bid.
Jrue Holiday and Khris Middleton Come Up Clutch
For much of the game, Jrue Holiday and Khris Middleton struggled mightily. Holiday and Middleton combined for 14/49 shooting, only a 28% field goal percentage. However, both players performed when it mattered most. Holiday put in a string of shots that kept the Bucks alive in the final minutes. The Bucks couldn't close it out in regulation, but Middleton came up huge in overtime. With just 40 seconds left, Middleton hit the go-ahead shot to make it a 113-111 game. That basket would prove to be the dagger, as Kevin Durant airballed Brooklyn's final shot. After facing scrutiny from many Bucks fans, Middleton and Holiday produced when it mattered. It is easy to point out their poor shooting, but without them, Milwaukee would not have won this game.
MIDDLETON. CLUTCH. pic.twitter.com/ybQWfn8415

— NBA on TNT (@NBAonTNT) June 20, 2021
Coach Mike Budenholzer Lives to Fight Another Day
With reports and speculation around the league of Mike Budenholzer's status as Milwaukee's head coach, Bud needed to secure this victory. Although he has faced criticism from fans and NBA analysts, he was able to lead Milwaukee to victory on Saturday night. To Budenholzer's credit, the rotation was one that worked well. Instead of going deep into their bench, the Bucks used a seven-man rotation. Pat Connaughton and Bryn Forbes came off the bench for Milwaukee. Khris Middleton, Giannis Antetokounmpo, Jrue Holiday, and Brook Lopez all played 45+ minutes in game seven. Coach Budenholzer managed the game very well, and he was able to secure his job for another series. Although his status is still up in the air, he has a chance to prove himself once again.
An All-Time Great Game Seven
Twenty lead changes, ten ties, overtime. This game seven had everything an NBA fan was looking for. Giannis had a dominant performance for Milwaukee while Kevin Durant had a dominant performance for Brooklyn. Durant was just inches away from securing a victory in the final seconds of regulation. While some fans may discredit the result due to injuries for two of Brooklyn's stars, the game was one for the record books. Both teams fought until the very end, but, Milwaukee had more in the tank. The Bucks vs. Nets series was already being discussed as a potential series of the year. Looking back, it is safe to say the series lived up to its potential.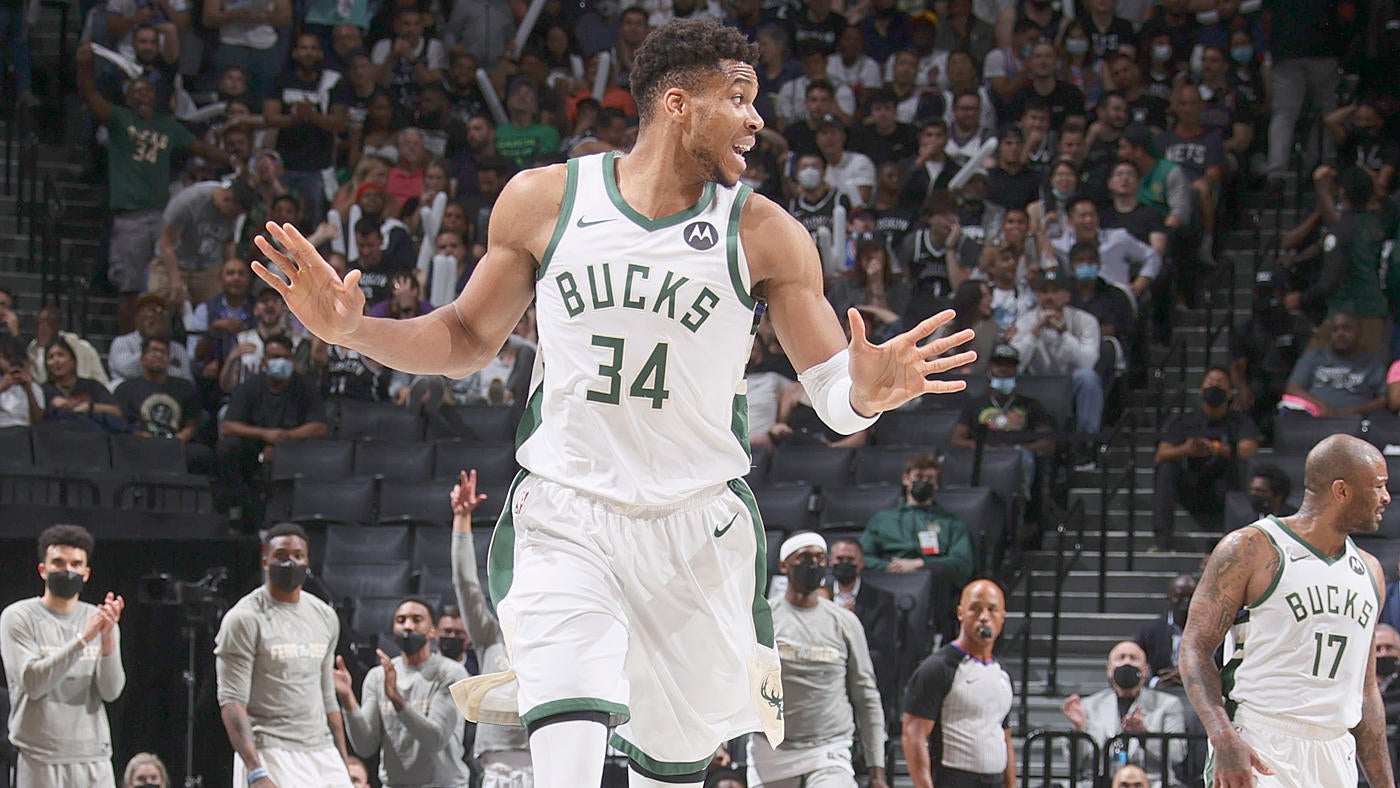 Final Thoughts
The Bucks vs. Nets series could go down as an all-time great series. Milwaukee is now the 30th team in playoff history to win a series after trailing 0-2. Milwaukee's performance was one for the record books. Bucks fans, enjoy this one and be prepared for the Eastern Conference Finals.
[pickup_prop id="8460″]
Follow for more great content!
Follow me on Twitter at @JakeJMaier and follow us @WiSportsHeroics for more Wisconsin sports content. Check out our merch page. Use promo code WISCO at checkout for $1 off! To read more of our articles and keep up to date on the latest in Wisconsin sports, click here!