In a blowout victory on Monday night, the Bucks sent the Heat packing while taking a 2-0 series lead. As the Bucks look to take another game in the series, they will travel to Miami for a Thursday night matchup. This game could be one of the most important of the series for the Bucks. A victory will mean full control and a great cushion going forward. A loss will mean a loss of momentum heading into the next game. Let's take a look at everything you need to know ahead of game three!
Bucks vs. Heat Game Details
Location: American Airlines Arena in Miami, Florida
Time: 8:00 PM CST
Where to Watch: TNT and Bally Sports Wisconsin
Potential Starters for Each Team:
Bucks – PG Jrue Holiday, SG Donte DiVincenzo, SF Khris Middleton, PF Giannis Antetokounmpo, C Brook Lopez
Heat – PG Kendrick Nunn, SG Duncan Robinson, SF Jimmy Butler, PF Trevor Ariza, C Bam Adebayo
Injury Report:
Bucks – Thanasis Antetokounmpo (knee) – OUT
Heat – Victor Oldadipo (knee) – OUT
Player to Watch: Bucks
Bryn Forbes: Following an impressive night from beyond the arc on Monday, Forbes is looking to dominate from the three-point range. After Forbes's latest performance, he may have earned himself more rotational minutes. Although Forbes has some defensive struggles, his presence on the offensive end is so important. He isn't a facilitator, but he will be a great option on the perimeter. On Monday night, Forbes posted a stat line of 22 points and 5 rebounds on 66% shooting. Forbes will be filling in for Donte DiVincenzo in the second unit. Donte has had his struggles on offense, but Bryn has made up for it at the shooting guard position. Look for Forbes to attempt to replicate Monday night's magic.
Player to Watch: Heat
Jimmy Butler: Butler has been one of Miami's weakest performers thus far. Butler, a five-time NBA All-Star, has struggled mightily against Milwaukee's stifling defense. Milwaukee has had Giannis Antetokounmpo and PJ Tucker as Butler's primary defenders. Both players are well known for their defensive prowess and they have lived up to their expectations thus far. When Jimmy Butler is defended by PJ Tucker or Giannis Antetokounmpo, he has only managed to notch 8 points on 15% shooting. Not only that, but he has turned the ball over 4 times. Jimmy will be a player to watch as he looks to bounce back from poor performances in games one and two.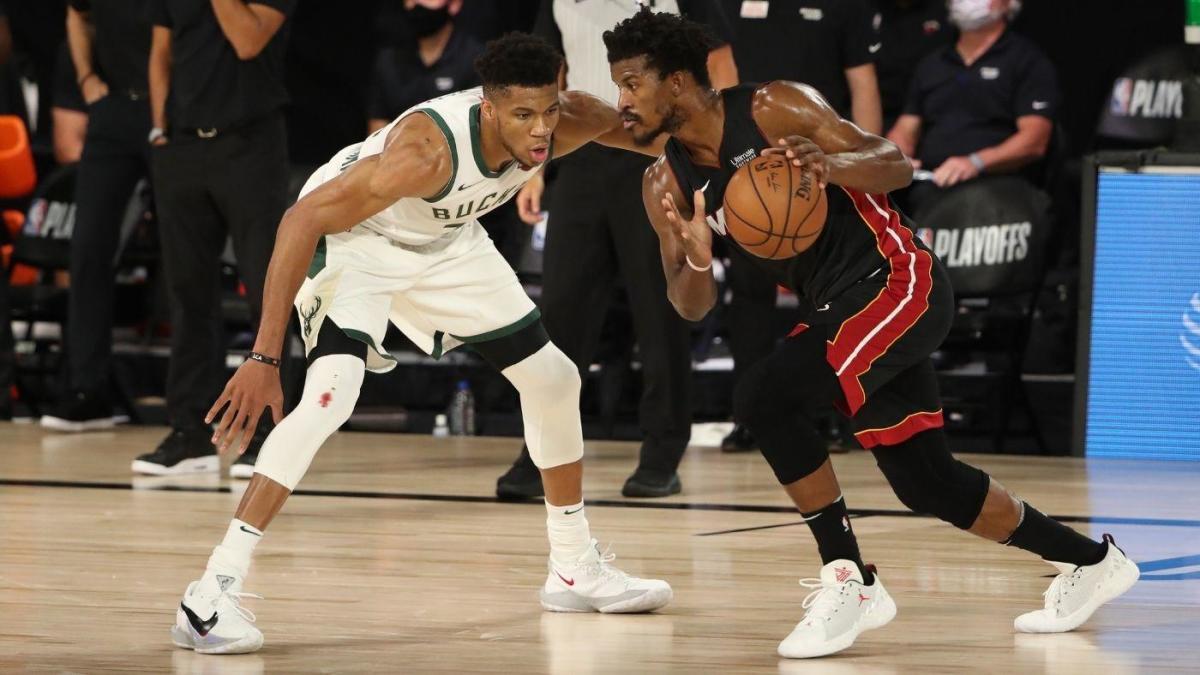 Keys to Victory for Milwaukee
Consistent three-point shooting: Milwaukee made an astonishing twenty-two three-point shots. That is the most three-pointers made in the playoffs in franchise history. While a shooting performance such as that is hard to replicate, anywhere close to it will suffice for the Bucks. After hitting only five three-pointers in game one, Milwaukee still took the victory. Miami has struggled mightily in their three-point defense in the first two games of the series. Therefore, three-point shooting will be essential to a Bucks victory.
Limit Miami's three-point shooters: The Miami Heat have plenty of dynamic players but two who shine behind the three-point line are some of their most important players. Duncan Robinson and Goran Dragic have had excellent seasons from beyond the arc with both players hitting over 40% of their three-point attempts. As Milwaukee looks to make the run for a championship, fixing up their three-point defense will be extremely important. Therefore, it will be necessary to limit Miami's two dynamic three-point shooters if Milwaukee is looking to come out of game three with a victory.
Final Thoughts
A chance to go up 3-0 in a playoff series is a chance the Bucks must capitalize on. A couple of seasons back, the Bucks took a 2-0 series lead against the Toronto Raptors before collapsing and losing their next four games. Milwaukee is looking to exorcise their demons from playoffs past and earn a huge 3-0 series lead. If the Bucks are able to replicate their three-point shooting from game two, this should be an easy victory. The defense must remain sound in the post and on the perimeter. Get ready for Thursday night Bucks fans, this will be an extremely important game.
[pickup_prop id="7615″]
Follow for more great content!
Follow me on Twitter at @JakeJMaier and follow us @WiSportsHeroics for more Wisconsin sports content. Check out our merch page. Use promo code WISCO at checkout for $1 off! To read more of our articles and keep up to date on the latest in Wisconsin sports, click here!