The Milwaukee Bucks and Brooklyn Nets will tip off at 6:30PM CST in their final regular season matchup. The two Eastern Conference power houses met in last year's semi-finals, which the Bucks won 4-3. There is a great deal riding on this game for both teams, as the playoffs approach quickly. Here, we present three things to watch for this Eastern Conference battle.
Playoff Implications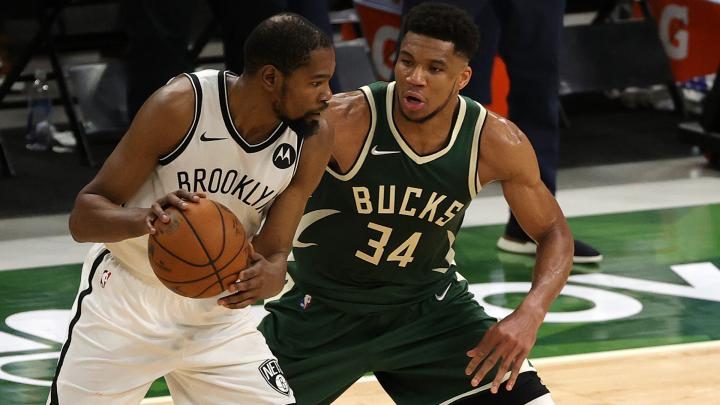 The Milwaukee Bucks are currently one game behind the Miami Heat for the top seed in the East. Meanwhile, the Brooklyn Nets are slotted in the eighth seed and primed for a spot in the play-in tournament. They are currently two games behind the Cleveland Cavaliers for seventh, and four games behind the Toronto Raptors for sixth.
The Charlotte Hornets are currently just a half game behind the Nets in ninth, and the Atlanta Hawks are just one game behind them in tenth. A loss against the Bucks, therefore, could drop Brooklyn down to tenth in the East. Atlanta plays Cleveland tonight in a matchup that could further murky the waters of possible seeding.
Here is where it gets very interesting: if the Bucks finish as the first seed, and the Nets finish ninth or tenth, there is a very real possibility that the two teams will face each other in the first round of the playoffs. If Brooklyn were to finish ninth or tenth and win their two play-in games, they would become the eighth seed and face the East's top seeded team. That could be Milwaukee, and it would be a very tough match up.
A Healthy Matchup?
For the first time this season, we could see a Bucks vs. Nets games that features all of the teams' stars. Unless, of course, you count Ben Simmons, who will not play. Kevin Durant missed the last matchup between the two teams, a game which Brooklyn won 126-123. Jrue Holiday and Kyrie Irving missed the second game the two teams played this season, a 121-109 Bucks victory. Kyrie Irving also missed the first game the Bucks and Nets played against each other this season, a 127-104 Bucks victory.
With Giannis Antetokounmpo, Khris Middleton, and Jrue Holiday all playing, the Bucks are 33-9. The Nets, meanwhile, are 7-4 when both Kevin Durant and Kyrie Irving play together. Of course, Irving missed a lot of time due to the city of New York's COVID-19 vaccine laws. This game will prove to be much different than any of the previous three matchups and will give fans a good idea of what a possible playoff matchup will look like.
Giannis Closing In on Kareem Abdul-Jabbar's Scoring Record
Giannis Antetokounmpo scored 40 points in the Bucks' last game, a 118-116 win against Philadelphia. If he scores another 40 points against Brooklyn, Giannis will pass Kareem Abdul-Jabbar for first on the Bucks' all-time scoring list. Abdul-Jabbar scored 14,211 points as a member of the Bucks. Giannis currently has 14,172 career points.
Since 2019, Giannis is averaging 31.4 points in 31.3 minutes per game against the Nets. He is also averaging 11.0 rebounds and 6.0 assists during that span (these stats exclude playoffs). The last time Giannis scored 40+ against Brooklyn was last May. In that game, Giannis had 49 points, eight rebounds, and four assists in 36 minutes.
[pickup_prop id="22579″]
For More Great Wisconsin Sports Content
Follow me on Twitter at @theotherRobin19 and follow us @WiSportsHeroics for more great content. To read more of our articles and keep up to date on the latest in Wisconsin sports, click here! Also, check out our merch store for some amazing WSH merchandise!