Whenever fans talk about the Bucks, many times it is in reference to the recent success the team has had.  Most other times, it is a yearning for the 1971 team that won the franchise's lone title.  However, the reality of it is that the Golden Age of Bucks basketball occurred in the 1980s when the team won 50 or more games eight times (49 in 88-89) and made it to the Eastern Conference Finals three times.  In addition, the team made the playoffs in every single year of the 80s decade.  Much of that had to do with a great core of players, some of whom have recently been elected to the Hall of Fame.  In this edition of Bucks Past and Present, we focus on arguably the best Bucks' player during this Golden Age: Sidney Moncrief.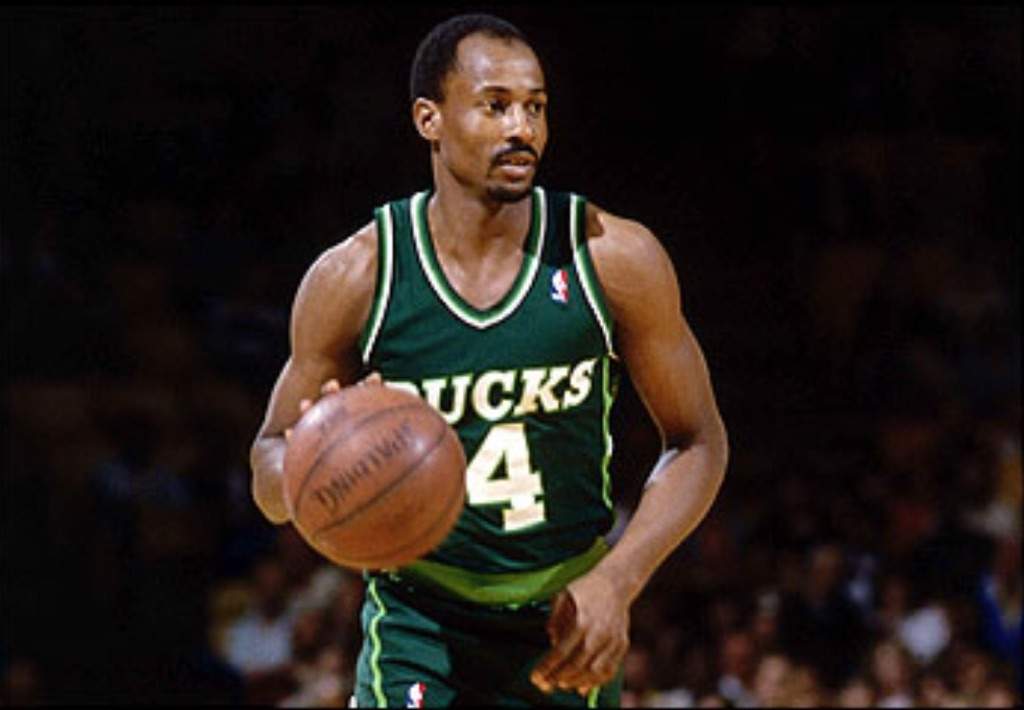 College Days: The Triplets
Sidney Moncrief played his college ball at Arkansas.  He was one of three core players on the team who were also natives of the state.  Due to their commitment to their home state university, Moncrief and the others (Ron Brewer and Marvin Delph) were affectionately nicknamed the Triplets.
Moncrief immediately made an impact his freshman year, averaging 12.6 points.  However, like in his NBA career, he was best known for his defense and averaged 7.6 rebounds per game as a guard.  Over the course of the next three seasons, Moncrief continually increased his scoring averages.  In his senior season, Sid averaged 22.0 points and 9.6 rebounds per game.  Ever an efficient player, he ended his college career averaging almost 17 pointer per game on just 10 shot attempts per game.  In 1977-78, Moncrief was named a Third-Team All-American.  The following year, his senior year, he was a First-Team All-American.
Moncrief's tenure at Arkansas coincided with what many consider to be Arkansas's first Golden Age of basketball.  The Razorbacks made the NCAA tournament for the first time in two decades in his sophomore season.  The following year, he and the other Triplets took the team all the way to the Final Four.  Both of his fellow Triplets left before his senior year, but he still led Arkansas to the Elite Eight, where they lost to Larry Bird's Indiana State team.
Moncrief and the Milwaukee Bucks
The Milwaukee Bucks selected Sidney Moncrief with the fifth overall pick in the 1979 draft.  With Moncrief on the roster, the Bucks returned to the playoffs that year, beginning a string of 12 straight playoff appearances for the franchise.  His first two years, though, were not eye-popping, though he did increase his scoring average to 14.0 in his second season (8.5 his rookie year).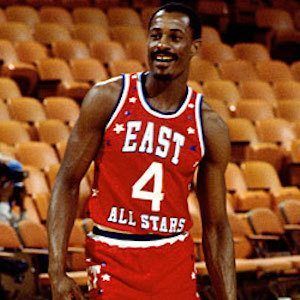 1981 was the year that saw Sidney Moncrief become a star.  That season, he averaged 19.8 points, 6.7 rebounds, and 1.7 steals per game.  He also was named to his first All-Star team, the first of five consecutive nominations.  Most notably, though, Moncrief was the recipient of a new award at the end of the season: Defensive Player of the Year.
Moncrief's 1982 season was even better.  During that campaign, he averaged a career-high 22.5 points per game.  He chipped in 5.8 rebounds and 1.5 steals per game en route to a second consecutive Defensive Player of the Year Award.  No other Bucks player would win the top defensive player award until 2020 when Giannis Antetokounmpo won it.
Sidney Moncrief: Career Summary
All said, Moncrief spent 10 seasons with the Milwaukee Bucks.  During that time, he averaged 16.7 points, 5.0 rebounds, 3.6 assists, and 1.2 steals per game.  He was a five-time All-Star and two-time Defensive Player of the Year Award winner.  During his string of five straight All-Star seasons, Sid averaged 21 points, 5.8 rebounds, and 1.5 steals.  The Bucks also made the playoffs in each of his seasons with the team, making three Eastern Conference Finals appearances.
Moncrief was also selected All-NBA Defensive First Team four times (1982-1986).  His finished his career with a shooting percentage better than 50%, almost unheard of for a shooting guard.  To this day, he is still the Bucks third all-time scorer with 11,594 career points.  Only Kareem Abdul Jabbar and Glenn Robinson have more points as a Bucks player.
Moncrief retired from the NBA in 1989, but returned in 1990 to play one more season for the Atlanta Hawks.  He averaged 4.7 points in a mostly reserve role for the team.
Career Recognitions for Sidney Moncrief
To celebrate his contributions to the franchise, the Bucks retired Sidney Moncrief's number on January 11, 1990 (before his comeback).  The rest of the basketball world, though, was slow to acknowledge Moncrief's greatness.  He did not become a finalist for the Hall of Fame until 2017, over 25 years after his career ended.  He was finally elected in 2019, along with teammate Jack Sikma.  Moncrief is also a member of the Wisconsin Athletic Hall of Fame and the Arkansas Sports Hall of Fame.
Conclusion
After his playing career ended, Sidney Moncrief became a very successful businessman.  In addition, he has worked with numerous organizations, some of which he helped create, to mentor youths in both basketball and life skills.  In addition, Moncrief spent one year as coach of the Arkansas basketball team.  The Golden State Warriors and Milwaukee Bucks have also had him on their coaching staffs at one time or another since his retirement.
His numbers do not jump off the page, but there is no denying: Sidney Moncrief is one of the best players to ever put on a Bucks uniform and he deserves to be in the Hall of Fame.  It is a good thing the voters finally agreed.
More in the Series
Follow me on Twitter at @theotherAdams14 and follow us @WiscoHeroics1for more great content. To read more of our articles and keep up to date on the latest in Wisconsin sports, click here!