There is palpable excitement surrounding Bucks Media Day as fans await the start of the 2021-2022 season.  The Milwaukee Bucks are entering this year hoping to defend their title and claim another one.
In case you missed media day today, here's what you need to know.
The Bucks Aren't Resting on Their Laurels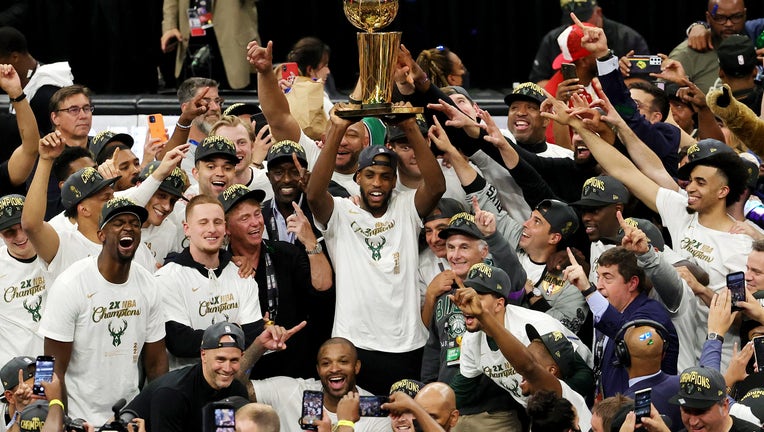 All the returning players downplayed concerns of complacency after winning a championship.  "That's not how this group is," Brook Lopez commented.  "That's not in our DNA.  At least in my mind, that's that…"
Bobby Portis added onto that sentiment, saying that the team needed to maintain the "underdog mentality."  GM Jon Horst and Head Coach Mike Budenholzer echoed their players, with the latter emphasizing the importance of continuing to build good habits.
Nobody should find these statements surprising.  No defending champion in any sport openly expresses indifference towards continued success.  Words are easy, but given the attitudes in the Bucks' locker room, it's not irrational to take the players and coaches at their word.
On the Shortened Off Season
Coach Budenholzer and GM Jon Horst both discussed the issue of the shortened off season and the impact on players' health.  Both Horst and Budenholzer said the organization will continue to take player safety seriously.  Ultimately, Horst stated his belief that this season shouldn't be any different than previous seasons in terms of how the Bucks will address player health.
Player Vaccinations
Bucks' ownership and Jon Horst all downplayed concerns over player vaccinations heading into the 2021-22 season.  Although he refused to give the media specific numbers, Horst claims that "nearly all" Bucks players are vaccinated.  The ownership group concurred with this sentiment.  All parties emphasized that they do not anticipate having problems with players being unable to play due to vaccination issues.
Ultimately, it's disappointing (albeit not unexpected) that the front office refused to give specific numbers.  Regardless, fans should learn very quickly which players (if any) refused the vaccine.  California and New York are not allowing unvaccinated individuals into venues.  Therefore, sudden unexplained absences could tell the story.
Moreover, the Bucks recently waived Elijah Bryant shortly after he tweeted and deleted a graphic some considered anti-vaccine.  While this could be mere coincidence, it also could be related.  If it is related, it shows the Bucks' front office is taking this issue seriously.
New Faces
Several individuals commented on the various new faces on the Milwaukee Bucks.  Jon Horst stated that the Bucks are better "in different ways" and emphasized the added three-point shooting and playmaking.  Concerning SG Grayson Allen, Brook Lopez commented that he brings talent and toughness.
Reporters asked Allen about his dubious reputation from his college days at Duke.  Allen did not shy away from owning his reputation.  "It was a big story," Allen said.  "It was on a lot of people's minds, and especially now being here, I am sure that's what Wisconsin fans have to think about me."
Despite this, Allen made it clear that he felt it was time to move past that.  Allen also emphasized his commitment to learn the Bucks' system as soon as possible.  He added that his time under Taylor Jenkins in Memphis is making the transition easier.
Overall Takeaways
Overall, there are rarely any media bombshells during NBA Media Days.  The Bucks were no exception this season.  Although some of the ambiguity from management is concerning (especially regarding player vaccinations), nothing was unexpected.  As the weeks tick down towards opening night, time will tell if the Bucks are locked in and ready to defend their title.
[pickup_prop id="11342″]
For More Great Wisconsin Sports Content
Follow me on Twitter at @BucksinVA and follow us @WiSportsHeroics for more great content.  To read more of our articles and keep up to date on the latest in Wisconsin sports, click here!