The Philadelphia 76ers travel to Milwaukee on Thursday night to take on the Bucks. Both teams come in with their respective MVP candidates playing at high levels.
The 76ers are led by probable MVP front-runner Joel Embiid. While the Bucks are led by reigning Finals MVP Giannis Antetokounmpo. Thursday nights' game will be a clash of two Eastern Conference titans, and should be a great game. Now, let's break this game down team by team.
Philadelphia 76ers: The Visitors
The 76ers are coming into Milwaukee after being dominated by the Boston Celtics on Tuesday night. Boston was able to bring physical and aggressive defense to battle Embiid and Co., and it worked out nicely. On the same note, the 76ers come in with their offensive rating at 110.9, and defensive rating at 109.0. To go along with those ratings is the fact that the 76ers like to play at a much slower pace than most other teams do. Their ability to get the ball down low to Embiid and him do lots of great work is excellent.
However, Embiid isn't the only good player on the 76ers. Forward Tobias Harris is averaging 18.6 ppg, 7.3 rpg, and 3.6 apg this season and shows no signs of stopping. Also to surround those two are some young, talented players in Mattise Thybulle and Tyrese Maxey. This roster also has its' fair share of veteran shooters too in Danny Green, Furkan Korkmaz, and Georges Niang.
The good news for the 76ers is that they will be getting even better in a few days or so. This is because the team traded for James Harden at the trade deadline so they could team him up with Embiid. Bad news for the 76ers though, Harden is listed as OUT for the Milwaukee Bucks game on Thursday night.
Milwaukee Bucks: Fiserv Forum Defenders
The home team on Thursday night will be coming off a dominant performance by Giannis Antetokounpo. Giannis scored a season-high 50 points against the Pacers while also logging 14 rebounds in the process. The Bucks have also been blessed with some great play by their 2nd All-Star Khris Middleton, and their point guards Jrue Holiday. Middleton is having another great year averaging 19.4 ppg, 5.5 rpg, and 5.3 apg, while Holiday is averaging 18 ppg, 4.6 rpg, and 6.7 apg.
The Bucks however have been plagued by injuries all season long, most recently losing G/F Pat Connaughton to a broken hand. The Bucks have also made two additions to their roster by trading for Serge Ibaka and signing DeAndre' Bembry.
Both of their newly added additions bring more defense to a Bucks team that is already one of the best defensive teams in the league. Grayson Allen and Wesley Matthews are both listed as Day-to-Day for Thursday night's game, and the Bucks hope that they can both play.
Good news for the Bucks is that Giannis doesn't show any sign of slowing down his MVP play. Also, if Holiday and Middleton both play their best then this Bucks team is virtually unbeatable. However, the Bucks defense will have their hands full with Joel Embiid.
Game Plan Summaries for Each Team
76ers:
Giannis will get his, try to find a way to slow down Middleton and Holiday
Contest all outside shooters for the Bucks
Win or keep the rebounding battle close
Bucks:
Slow down Joel Embiid with physicality
Don't let shooters get hot from deep
Win the rebounding battle
Shoot at a good percentage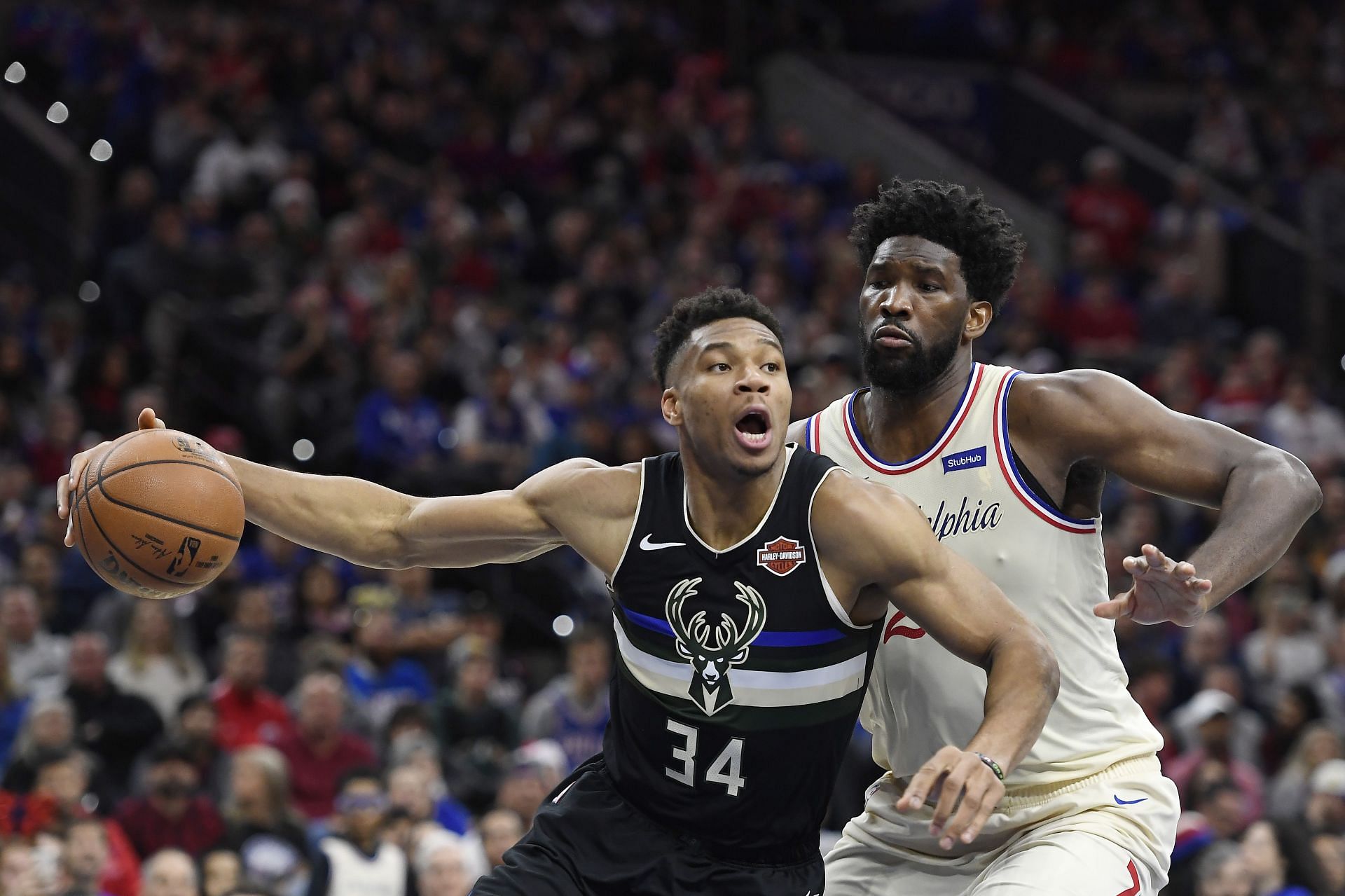 Conclusion
In the end, I believe this game will come down to which of the supporting casts plays better and is more efficient. You already know Embiid and Giannis will get their averages… if not more, it's just the fact of who's supporting cast does more. I believe that Middleton and Holiday are just too much for the 76ers defense to have to overcome, while also having to deal with Giannis. This will be a lower scoring game I think because of the quality of defense that these two teams play.
Final Prediction: 76ers 102, Bucks 110
Follow me on Twitter at @dawson.hoff and follow us at @WiSportsHeroics! For all things Wisconsin sports, click here.