Following a heartbreaking collapse on Tuesday night, the Milwaukee Bucks find themselves in a 3-2 series deficit. From this point forward, the Bucks must play to their potential to keep their season alive. With many questions surrounding the future of the Bucks, execution is the only option. What must be done for Milwaukee to continue chasing an NBA Championship? Let's look at the most important aspects.
Increase Ball Movement
In the final 17 possessions of game five, Milwaukee ran an iso play 11 times. The lack of ball movement has been a focal point among NBA fans and insiders. With this limited ball movement, the Bucks have had difficulty creating shot opportunities. Of those 11 iso plays, Giannis was the one handling the ball on five possessions. Due to Giannis controlling the ball he is forced to take contested midrange shots or three-pointers, an area he has struggled in. With an increase in ball movement, the Bucks will be able to create lanes for Giannis and Brook Lopez. Simultaneously, they will create open shots for the backcourt on the perimeter. Although Milwaukee has players who can run an iso scheme effectively, it has not worked against Brooklyn's defense. Spacing the floor and creating more ball movement will be key to obtaining a game six victory.
Apply More Pressure to James Harden
After exiting game one with a hamstring injury, Harden was sidelined until game five. After returning to the starting lineup, it was clear Harden was not in his natural form. James Harden struggled mightily on offense scoring only 5 points in 46 minutes. Furthermore, Harden had 4 turnovers in game five. Despite his poor stats, Brooklyn was able to come out with the win. The main reason? Milwaukee simply did not attack James Harden. The Bucks did not exploit Harden's limited mobility. Doing so would have lead to easy baskets for Milwaukee. In game six, Milwaukee must use Harden's limitations to their advantage. Whether that be attacking him on defense or using strong defense against him while he handles the ball. With one of the league's best shooters at less than 100%, the Bucks must use that to their advantage.
Allow Giannis to Defend Kevin Durant
NBA fans have pointed out how the former Defensive Player of the Year has spent little time defending Kevin Durant. Durant is one of the best pure scorers in NBA history, and PJ Tucker can only do so much to defend him. However, this is not to say Tucker has done a poor job of defending Durant. Giannis is one of the best interior defenders in the league. Not only that, he can defend any player from any spot on the floor with confidence. Kevin Durant has the ability to rise above nearly any player with his jump shot. However, Giannis has the ability to defend this shot due to their similarities in size. If Giannis is given the green light to defend Kevin Durant in game six, the Bucks should be able to hold him to a less than impressive performance. Giannis most likely won't be able to do it all by himself, but the Bucks should have the upper hand if Durant is Antetokounmpo's assignment.
[pickup_prop id="8338″]
Defend Home Court
In the first five games of the Brooklyn vs. Milwaukee series, the home team has won each game. With game six heading back to Milwaukee, the Bucks are tasked with defending their home court. Milwaukee has been less dominant on their homecourt compared to seasons in the past. However, they will be given another opportunity to defend the court they have been victorious on in all four of their home playoff games. Homecourt advantage is a real aspect in the NBA with fans returning to arenas. Therefore, Milwaukee must execute and force a game seven back in Brooklyn. As the saying goes, the series does not start until the road team takes a game. Milwaukee has the chance to give themselves one more chance at achieving a win in Brooklyn.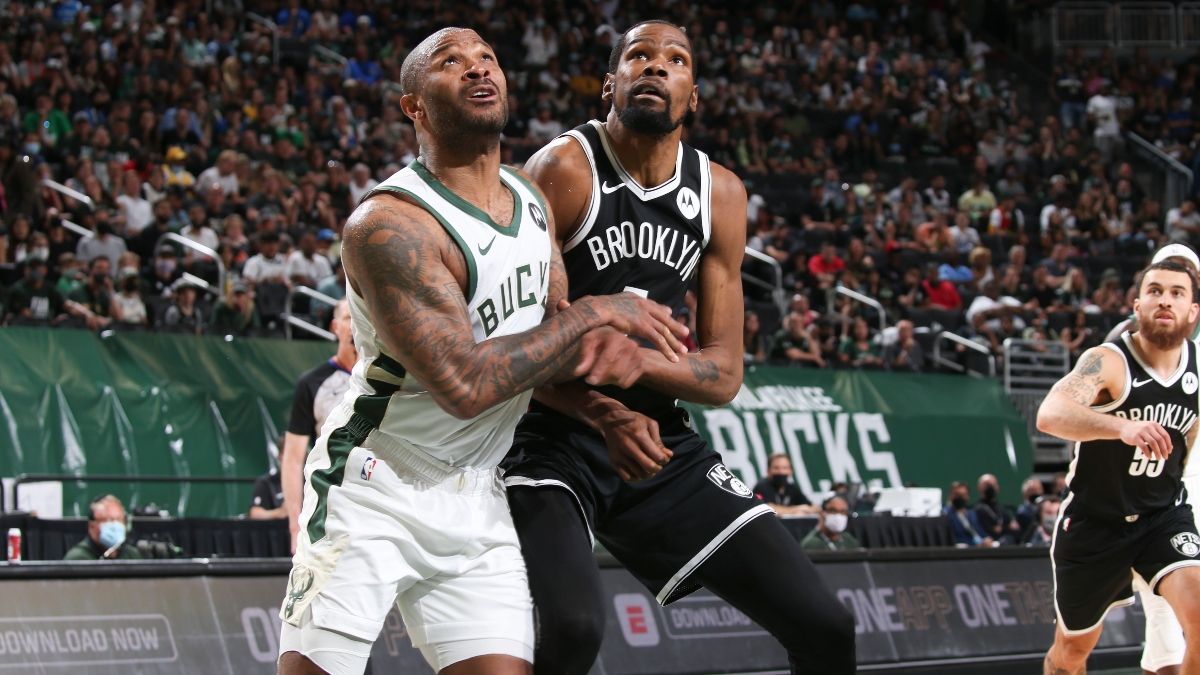 Final Thoughts
Though Milwaukee is on the brink of elimination, some adjustments can be made to force a game seven. If Milwaukee increases their ball movement, they will give themselves easier opportunities to score. If the Bucks attack James Harden, it also gives them easier opportunities to score. Finally, if the Bucks make Giannis the primary defender on Kevin Durant, they could improve their chances of making critical stops. Defending home court will guarantee them one more game. Game six will be on Thursday at 7:30 PM. A win or go home situation is ahead of the Bucks. Execution is the only option.
[pickup_prop id="8320″]
Follow for more great content!
Follow me on Twitter at @JakeJMaier and follow us @WiSportsHeroics for more Wisconsin sports content. Check out our merch page. Use promo code WISCO at checkout for $1 off! To read more of our articles and keep up to date on the latest in Wisconsin sports, click here!