All season long, the Milwaukee Bucks have been sitting comfortably in the third seed in the East.  The two teams ahead of them, the Brooklyn Nets and Philadelphia 76ers, have swapped turns atop the East this season.  As it stands, the Bucks sit half a game behind Brooklyn for second and 3.5 games behind Philadelphia for first.  Tonight, the Bucks will play the first of two straight games against the 76ers in a pair of games that could end up determining playoff seeding.
[pickup_prop id="4481″]
The Milwaukee Bucks
The Milwaukee Bucks enter play today with a record of 35-22.  They are 5-5 in their last 10 games, but have lost two games in a row.  In their latest loss, the Bucks blew a fourth quarter lead to the Phoenix Suns, who are quickly rising to the top of the Western Conference.
The Bucks are currently the NBA's top scoring team.  They average 119.3 points per game, just 0.2 points per game better than the Nets.  They are also the NBA's second-best three-point shooting team at 39.2%.  In terms of overall field goal percentage, the Bucks rank fifth with 48.4%.  No other team in the East is in the top seven.  Milwaukee also leads the NBA in rebounds per game with 48.3.
Defensively, the Bucks are nowhere near as dominant as they were in the past two seasons.  They currently rank 20th with 113.2 points allowed per game.  Additionally, Milwaukee ranks just 23rd in three-point defense, allowing 37.5% shooting from three.
The Philadelphia 76ers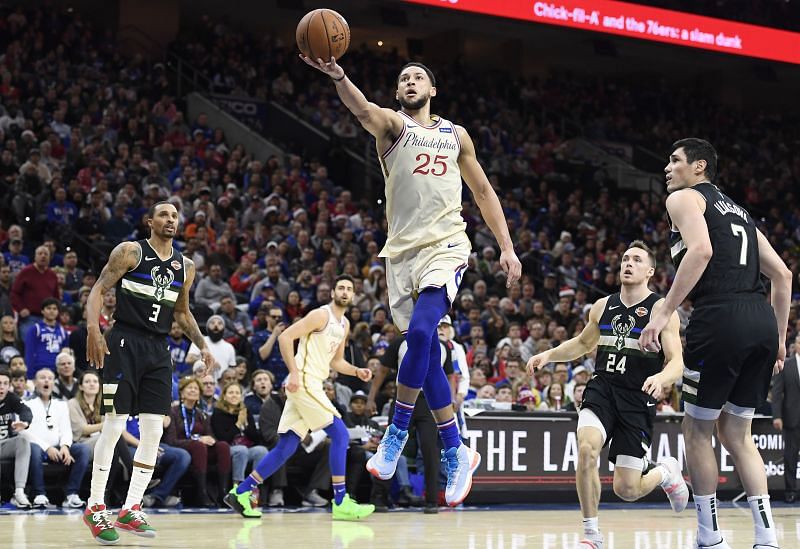 The Philadelphia 76ers enter play tonight with a record of 39-19.  They are 6-4 in their last 10 games and have also lost two games in a row.  Like the Bucks, their last loss came to the Phoenix Suns.
In terms of scoring, the 76ers rank 14th in the NBA with 113.4 points per game.  They are 15th in three-point shooting with 36.8%.  In terms of overall field goal percentage, the 76ers are ninth with 47.8%.  Philadelphia ranks fifth in rebounds per game with 45.6.
Defensively, the Philadelphia 76ers rank seventh with 108.4 points per game.  They also have the ninth best three-point defense, holding opponents to 36.8% shooting from beyond the arc.
What to Watch For The Milwaukee/Philadelphia matchup is one that sees a top-ten offense against a top-ten defense.  It is highly possible that these two teams will face each other in the playoffs, so it will be interesting to see how they play each other.  Undoubtedly, neither team will give away too much in regards to their playoff game strategies.  Regardless, this game will have a playoff-like atmosphere that many regular season games do not have.
Giannis Antetokounmpo, the two-time MVP, will be free to guard Joel Emiid with Tobias Harris out of the Philadelphia lineup.  The clash between these two dynamic players will be one to watch.  Additionally, how the Bucks will guard Ben Simmons will be interesting to see.  Watch for Jrue Holiday, PJ Tucker, and Khris Middleton to take turns on him.
Both teams are coming off two straight losses in games that they should have won.  Milwaukee lost to Phoenix and Memphis.  Philadelphia lost to Phoenix and Golden State.  As both teams ride short losing streaks, this first game will be quite the fight to right the ship.
For More Great Wisconsin Sports Content
Follow me on Twitter at @theotherAdams14 and follow us @WiscoHeroics1 for more great content. Check out our merch page here and use promo code Wisco at check out for $1 off! To read more of our articles and keep up to date on the latest in Wisconsin sports, click here!