The Packers are in good hands with General Manager Brian Gutekunst at the helm. He's been the Packers' GM since 2018 and has made sure the Packers stay competitive. The results are clear, as the Packers are 39-10 through his tenure.
Green Bay coming up short in the playoffs is not on Gutekunst. He's put the best product on the field and compiled Pro-Bowl caliber rosters over the past few years. Gute keeps proving he might be the best GM currently in the NFL. Here is why.
His Drafting in the First and Second Rounds Is Incredible
Jordan Love is still TBD and Josh Jackson was indeed a huge miss. However, outside of those two draft picks, Brian Gutekunst has drafted very well in the first and second rounds. Here are all of his draft picks:
Brian Gutekunst 1st and 2nd round picks

Jaire Alexander
Josh Jackson
Rashan Gary
Darnell Savage
Elgton Jenkins
Jordan Love
AJ Dillon
Eric Stokes
Josh Myers

— Peter Bukowski (@Peter_Bukowski) March 19, 2022
When looking at these picks, Gutekunst has hit on 7/9 of them. That's pretty impressive. Drafting well in the first and second rounds is important because those are the picks that can make and break a football team, especially down the line. Those are the premium draft picks that NFL GMs need to hit on. Gutekunst has done exactly that, leading to the Packers having a 39-10 record the last three years.
A Lot of Great Free Agency Signings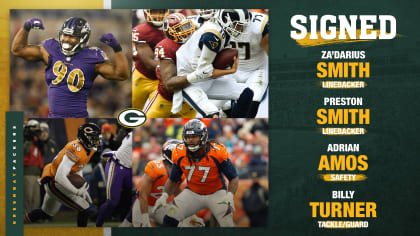 Jimmy Graham wasn't the best signing for the Packers back in 2018. However, outside of that one, Brian Gutekunst has had lots of great pick ups in free agency.
In 2019, he signed Za'Darius Smith, Preston Smith, Adrian Amos, and Billy Turner, which were arguably some of the best free agency signings in NFL history for one team. In 2020, Gutekunst signed Rick Wagner and Christian Kirksey, who both were key contributors to the Packers. Last year, he signed De'Vondre Campbell and Rasul Douglas, who both became All-Pros with the team in 2021.
This year in free agency, Gute has mostly resigned guys to keep last year's team intact, but he did just recently add Jarran Reed to the team. Kenny Clark loved the signing and gave Gutekunst a lot of credit.
Shout out Gute & nem 😂🤝 DL gone be crazy

— Kenny Clark (@KCBoutThatLife) March 22, 2022
What Gutekunst is doing is pretty rare: he's hitting on almost every one of his free agent signings.
Drafting and Investing in Offensive Linemen
One of the biggest qualities of Brian Gutekunst is his eye for offensive line talent. Gutekunst was the head scout before becoming the Packers' General Manager. He discovered players like T.J Lang, Josh Sitton, David Bakhtiari, Bryan Bulaga, JC Tretter, and Corey Linsley.
During his tenure as GM, Gutekunst has made sure to invest in the trenches. He's done that by drafting Elgton Jenkins in 2019, for example, who can play almost any position on the offensive line.
That same year, Gutekunst signed Yosh Nijman as an undrafted free agent. He might become the Packers' starting right tackle this year with Billy Turner gone. Also, in the next two drafts, Gute got steals in guys in Jon Runyan Jr. and Royce Newman, who are now starters for the Packers.
He's Gotten the Packers Two First Round Picks Twice
Twice already in his tenure, Gutekunst has given the Packers two first round picks. In 2019, thanks to the trade with the Saints the year before, Gutekunst used two first round selections on Rashan Gary and Darnell Savage – two players who have helped transform the Packers' defense.
This year, thanks to the trade of Davante Adams, the Packers once again have two first round picks, in addition to two second round picks as well. It's very impressive that Brian Gutekunst has gotten multiple top-round picks for the Packers, putting them in a very good spot to make an impact.
For More…
Follow me on Twitter at @CarlosS29143608 and follow us at @WiSportsHeroics for more content. To keep up on all of your favorite sports in Wisconsin, click here! Also, check out our merch store for some amazing WSH merchandise!
[pickup_prop id="20680″]