The Milwaukee Brewers have a plethora of talent that is under team control all around the diamond. Even though the futures of Avisail Garcia and Lorenzo Cain may be uncertain in the next couple of seasons, the Brewers' depth of high-level prospects at the position give hope for the future. Rowdy Tellez has played well and is under team control for the next three years. Perhaps he will stop the revolving door at first base. Likewise, Willy Adames is under club control for three more years, shoring up short stop for Milwaukee. On major question mark for next season, though, is who will be manning the hot corner?
A Roller Coaster at Third
The last Brewers' player who was considered a lock to start at third in every season he played with Milwaukee was Aramis Ramirez. When he was traded to Pittsburgh in 2015, the Brewers were left with Hernan Perez and Aaron Hill to cover third. Travis Shaw's short stint at third followed in 2017 and 2018. In 2019, Mike Moustakas manned third for the Brewers before leaving in free agency. Finally, in 2020, Eric Sogard started at third for the Brewers, and was one of five players to appear at the position in the short 60-game season. For more in depth analysis of the recent issues at third, click here.
Third Base in 2021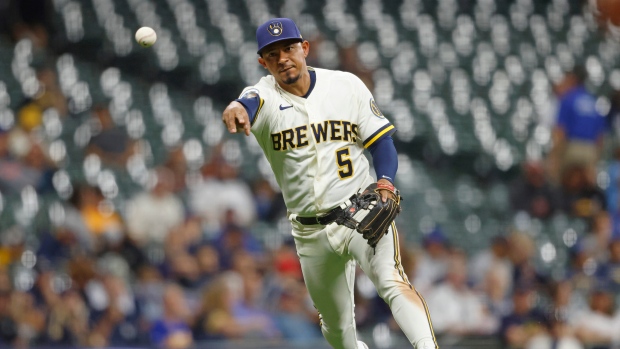 While the Brewers are in first place now, it took a long while for the roster to take formation. Early in the season, Orlando Arcia was taking some time at third base. However, after his trade the position became wide open. Jace Peterson and Pablo Reyes each have seen some time at the hot corner. Luis Urias, who started the season at short, was moved to third following the trade for Adames. Travis Shaw made the team and saw time at third. However, he was injured and placed on the 60-day IL. Upon his recovery, he was released and signed with Boston.
Despite Urias hitting well, the Brewers acquired Eduardo Escobar at the trade deadline to provide the offense with a big bat. Additionally, Escobar is a better defender at third than Urias. As Milwaukee gears up for a fourth straight playoff run, it is Urias and Escobar who will see the majority of playing time. That is, of course, once Escobar comes off of the IL.
The Future Is Unknown
In Luis Urias, the Brewers have a player who is still developing and under club control. This season, Urias is hitting .248/.339/.442 with 17 home runs and 57 RBI. He is not scheduled to hit free agency until 2026.
Eduardo Escobar, the trade deadline acquisition, is hitting .252/.307/.473 with 24 home runs and 73 RBI on the season. With Milwaukee, Escobar has a slash line of .280/.337/.451 with two home runs and eight RBI. Unlike Urias, Escobar is scheduled to become a free agent after this season.
[pickup_prop id="10006″]
Of course, the Brewers could re-sign Escobar after the season ends. His current contract is a three-year $21 million deal, which would be within the Brewers' price range. The fact of the matter is, though, that the Brewers will not win many bidding wars. If another team is willing to pay Escobar more, his days in Milwaukee will be few.
On the other hand, Urias is under control for a few more seasons. With no strong third base prospects, it could very well be that the position is his to lose. After all, the Brewers acquired Urias in the trade for Trent Grisham and Zach Davies. As a former number one prospect in the Padres organization, he certainly has potential. Additionally, he has proven he can be a 20-25 home run player, which is the type of power expected from third base.
Conclusion
In an ideal world, the Brewers would be able to re-sign Escobar and keep Urias as a utility player that can play 120-130 games. Escobar has been seeing some time at first, and can play there when the Brewers face left-handed pitchers.
As mentioned, however, the Brewers will not win any bidding wars and Escobar is likely just a half-season rental. It is likely that Urias is the future at third base barring unforeseen free agent signings or other acquisitions.
For More Great Wisconsin Sports Content
Follow me on Twitter at @theotherAdams14 and follow us @WiscoHeroics1 for more great content. Check out our merch page here and use promo code Wisco at check out for $1 off! To read more of our articles and keep up to date on the latest in Wisconsin sports, click here!