The Milwaukee Brewers finished their first week of 2021 with a 3-3 record.  After losing three games in a row to the Twins and Cubs, such a record seemed improbable.  However, here they are, third in the NL Central, one game behind the St. Louis Cardinals for second place.  It is this Cardinals team that they will play in a three-game series over the course of four days.  The first game of the series is the Cardinals home opener, an important occasion given that it is the first time in over a year that fans will be present at a game in St. Louis.
[pickup_prop id="6159″]
Brewers Starting Pitcher: Corbin Burnes
Corbin Burnes gets the nod to start Game One of the series following his fantastic season debut.  In his first start against the Twins, Burnes took a no-hitter into the seventh inning.  He ended up taking the loss after he served up a solo home run.  However, his outing was nothing short of stellar.  He finished the game with 11 strikeouts, and looked every bit of the Cy Young candidate that he was a year ago.
The St. Louis Cardinals' offense does have several players who have hit Burnes well in the past.  Paul DeJong has a lifetime .364 average against Burnes with a home run.  Paul Goldschmidt, who hits all Brewers pitching well, owns a .455 average against Burnes with a home run.  The Cardinals will likely start the struggling Matt Carpenter against Burnes as well.  Carpenter has a .333 average against the Brewers pitcher with two home runs.
Cardinals Starting Pitcher: Adam Wainwright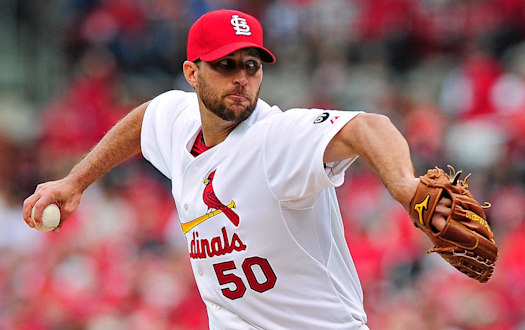 Adam Wainwright had a rough outing in his first start of the season.  The long-time Cardinals' right hander went just 2.2 innings, giving up seven hits and six earned runs.  He walked one and struck out one.  This will be the sixth time Wainwright starts in the Cardinals' home opener, and may be the last.  The 39-year old pitcher is on a one-year contract this season.
Several Brewers players have had some moderate success against Wainwright in the past.  Avisail Garcia has a .429 average in seven at bats in his career against the Cardinals' pitcher.  Omar Narvaez has a .333 average in six at bats.  The four Brewers that have faced Wainwright the most are Travis Shaw, Keston Hiura, Lorenzo Cain, and Christian Yelich.  Shaw has fared the worst, sporting a .222 average in nine at bats.  Both Keston Hiura (.273 in 11 at bats) and Christian Yelich (.286) have fared well against Wainwright.  Hiura has a home run, two doubles, and four RBI in his career against him.  Lorenzo Cain has faced him the most, and sports a .267 average in 15 at bats.
The Brewers Lineup
Corbin Burnes and the Brewers take on the Cardinals at 3:15 p.m.

Watch: @BallySportWI
Listen: @620wtmj #ThisIsMyCrew pic.twitter.com/0pA8PZ3pQ5

— Milwaukee Brewers (@Brewers) April 8, 2021
The Cardinals Lineup

For More Great Wisconsin Sports Content
Follow me on Twitter at @theotherAdams14 and follow us @WiSportsHeroics for more great content. Check out our merch page here and use promo code Wisco at check out for $1 off! To read more of our articles and keep up to date on the latest in Wisconsin sports, click here!