In 2020, former Brewers catcher Ted Simmons was finally elected to the Baseball Hall of Fame. He joined a Hall of Fame class that also included Derek Jeter, Marvin Miller, and Larry Walker. Last year, no players received the 75% of votes necessary for induction. This year, former Brewers first baseman Prince Fielder was on the ballot for the first time. It would be his last, too, as he failed to receive the 5% of votes necessary to remain on the ballot. Next year, two more former Milwaukee players will be on the Hall of Fame Ballot for the first time.
Here are some potential newcomers for the 2023 Baseball Hall of Fame ballot 🗳️ pic.twitter.com/Jm8JhNV1l0

— FOX Sports: MLB (@MLBONFOX) January 27, 2022
JJ Hardy- Brewers Shortstop (2005-2009)
The Milwaukee Brewers drafted JJ Hardy in the second round of the 2001 amateur draft. Along with Prince Fielder, Ryan Braun, Rickie Weeks, and Corey Hart, Hardy formed a young core of talented players who reignited excitement for baseball in Milwaukee. While the Brewers only had one winning season during Hardy's time with the team, his solid defense and occasional power made him a immensely popular among the growing fanbase.
JJ Hardy made his Major League debut with the Brewers in 2005. After an injury limited him to just 35 games in 2006, Hardy returned in 2007 better than ever. He made his first career All-Star team while slashing .277/.323/.463 with 26 home runs and 80 RBI. The next season, 2008, would see the Brewers end their 26-year long postseason drought. Hardy was no small part of this achievement, hitting .283/.343/.478 with 24 home runs and 74 RBI.
2009, however, saw Hardy drop off dramatically at the plate. In addition to being limited to just 115 games, Hardy hit .229/.302/.357 with 11 home runs and 47 RBI. After the season, the Brewers traded him to the Minnesota Twins for Carlos Gomez.
After leaving Milwaukee, Hardy played for the Twins for one season and the Baltimore Orioles for seven seasons. With the Orioles, Hardy became one of the hardest hitting short stops in the American League for a period of about three seasons. From 2011-2013, Hardy hit 30, 22, and 25 home runs respectively. In 2013, he made his second career All-Star team and his only Silver Slugger. From 2012-2014, he was the Gold Glove recipient at short stop in the American League.
Overall, JJ Hardy hit .256/.305/.408 in his Major League career. He had 1,488 hits, 188 home runs, and 688 RBI. Despite being a solid, even above average player for a good portion of his career, it is highly unlikely that Hardy will be elected into the Hall of Fame.
Francisco Rodriguez- Brewers Relief Pitcher (2011-2013, 2014-2015)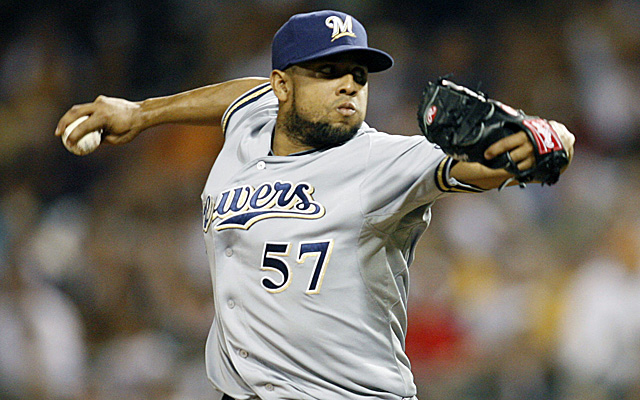 Unlike JJ Hardy, Francisco Rodriguez was an established Major League player by the time he came to Milwaukee. By the time he arrived in 2011 via trade (for Danny Herrera and Adrian Rosario), Rodriguez had 291 career saves. In 2008, K-Rod set the Major League record for saves in a season with 62 as a member of the Los Angeles Angels.
Francisco Rodriguez played for the Brewers for nearly five seasons. In 2011, as a midseason acquistion, K-Rod filled the role of setup man to John Axford. In that role, K-Rod went 4-0 in 23 appearances with a 1.86 ERA and 1.14 WHIP. After a down 2012, Rodriguez bounced back in 2013 with a record of 1-1, 10 saves, a 1.09 ERA, and 1.05 WHIP in 25 games. Halfway through the year, Milwaukee traded Rodriguez to the Baltimore Orioles for Nicky Delmonico.
After the 2013 season ended, Rodriguez became a free agent and chose to re-sign with the Milwaukee Brewers. From 2014-2015, Rodriguez served as the team's closer and notched 44 and 36 saves respectively. He was also an All-Star in each of those seasons.
Following the 2015 season, the Brewers traded Francisco Rodriguez once again. This time, he was sent to the Detroit Tigers in the trade that brought Manny Pina to Milwaukee. K-Rod had 44 saves for the Tigers in 2016, but injuries and poor production ended his career in 2017.
Francisco Rodriguez ended his career with 437 saves, fourth all-time in baseball history. The three players ahead of him on that list are Mariano Rivera, Trevor Hoffman, and Lee Smith. All three are in the Hall of Fame. Trailing Rodriguez, though, are John Franco and Billy Wagner, neither of whom are in the Hall of Fame.
It will be interesting to see if the voters are any kinder to Francisco Rodriguez than they were to Franco and Wagner.
For More Great Wisconsin Sports Content
Follow me on Twitter at @theotherAdams14 and follow us @WiSportsHeroics for more great content. To read more of our articles and keep up to date on the latest in Wisconsin sports, click here! Also, check out our merch store for some amazing WSH merchandise!