The Milwaukee Brewers' Opening Weekend series against the Minnesota Twins did not go as well as hoped.  After an exciting Opening Day walk-off win, the Brewers dropped two in a row.  Outside of the first game, the Brewers' bats struggled to get going.  They will look to turn the tide in their first series at Wrigley Field this year against the Cubs.
Game One: Monday, April 5- Brett Anderson vs. Trevor Williams
The Brewers will face Trevor Williams in Game One of the series.  The Cubs' right-hander had a fantastic spring, finishing with a 1.32 ERA in over 13 innings pitched.  He also has a 3.09 ERA in his career against Milwaukee.
That being said, however, three Brewers in particular have historically done well against Williams.  Orlando Arcia is batting .313 with a home run in 16 career at bats against the Cubs' righty.  Keston Huira has faced him seven times, and has hit three home runs while batting .571.  Finally, Kolten Wong, who has faced Williams the most, has a .389 average against him in 18 at bats.
The Brewers will counter with left-hander Brett Anderson.  Last season, Anderson missed his first start against the Cubs with a blister.  The fact that Anderson is pitching game one of this series will be a key role in the Brewers winning this series.  Unlike the two pitchers that will follow him (Peralta and Woodruff), Anderson is a control pitcher who will not allow the Cubs to get an idea of what to face from the other pitchers.
[pickup_prop id="2855″]
No Cubs' hitter has faced Anderson more than five times, but Kris Bryant does have a home run against him in three at bats.  Former Brewer Eric Sogard has one hit against Anderson in two career at bats.
Game Two: Tuesday, April 6- Freddy Peralta vs. Adbert Alzolay
The Cubs will send young right-hander Adbert Alzolay to the mound in Game Two of the series.  The young righty came on late last season out of the pen.  This spring, he pitched well enough to earn the last starting role in the Cubs' rotation.  He has a 95-mph fastball to go with a slider, curveball, and changeup.
Kolten Wong is the only current Brewer with official at bats against Alzolay.  In four career at bats, Wong is hitting .500 against him.
The Brewers will counter with Freddy Peralta, who earned the fifth starting role away from Josh Lindblom.  Peralta did appear out of the bullpen on Opening Day, throwing two innings of scoreless relief.  He boasts a new slider that he struggles to control at times.  He walked three batters on Opening Day, but also recorded six strikeouts.
Javier Baez (.333 average in six at bats) and Wilson Contreras (.400 average in five at bats) are the only two current Cubs with any kind of success against Peralta in the past.  Both Kris Byrant and Anthony Rizzo have yet to get a hit off of him.
Game Three: Wednesday, April 7- Brandon Woodruff vs. Kyle Hendricks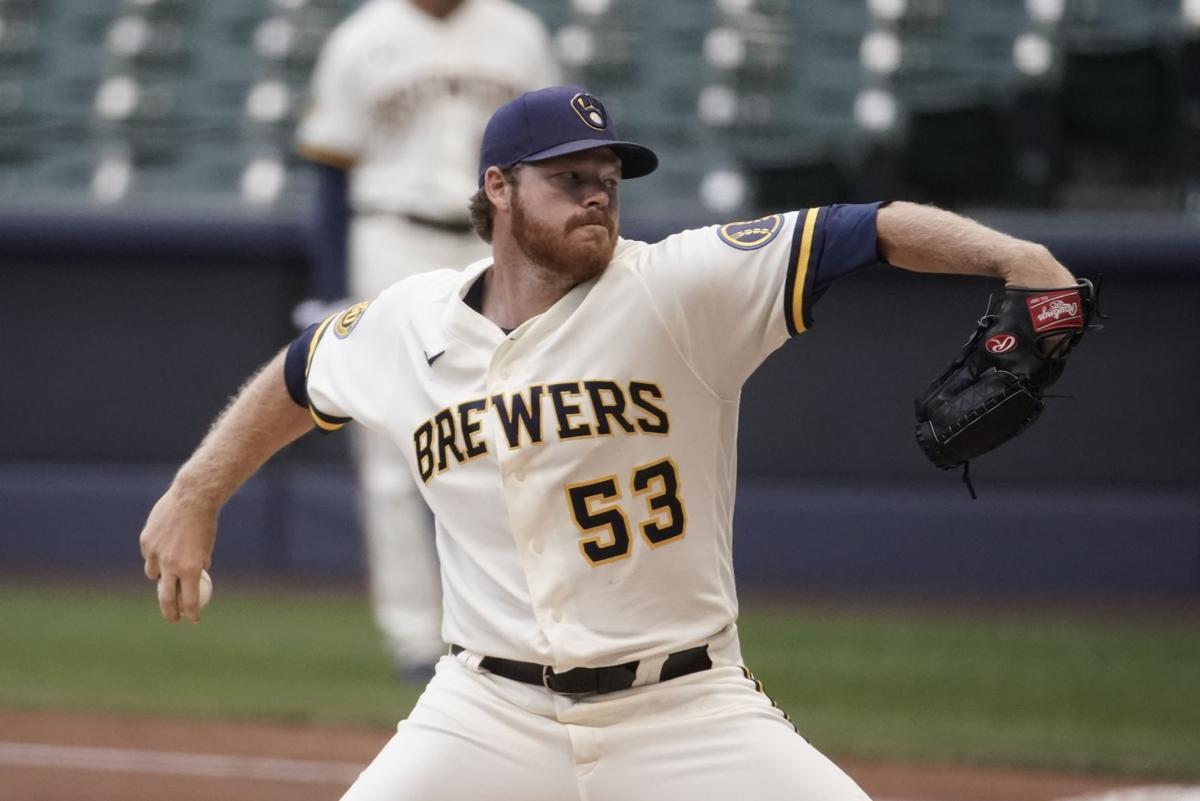 The Brewers will hope for a better first game against Kyle Hendricks than they did last season.  The Cubs' right-hander tossed a three-hit shutout against the Brewers on Opening Day in 2020.  He struggled in his first start this season, pitching just three innings and giving up three runs on four hits and three walks.
Unlike the previous two Cubs' starters, the Brewers have had plenty of opportunities to face Hendricks.  Kolten Wong, by far, has had the most success against him.  The former Cardinal has a .323 lifetime average against him in 31 at bats.  Orlando Arcia, who had all three of the Brewers' hits last Opening Day, has a .276 lifetime average against him in 29 at bats.  The only other Brewer with significant numbers against Hendricks is Travis Shaw.  The Brewers' third baseman has a .259 average against the Cubs' hurler with three home runs in 27 at bats.
The Brewers will send staff ace Brandon Woodruff to the mound in a rematch of last season's Opening Day matchup.  Woodruff also will look to rebound from a rough Opening Day start this season where he failed to make it out of the fifth inning.
The Cubs have historically struggled against Woodruff, but one new addition has had some success.  Former Dodger outfielder Joc Pederson, now with the Cubs, has hit two home runs off of Woody in just three at bats.  Both Kris Bryant and Anthony Rizzo are hitting below .200 against Woodruff in 13 and 12 at bats respectively.
For More Great Wisconsin Sports Content
Follow me on Twitter at @theotherAdams14 and follow us @WiscoHeroics1 for more great content. Check out our merch page here and use promo code Wisco at check out for $1 off! To read more of our articles and keep up to date on the latest in Wisconsin sports, click here!