Corbin Burnes was named the 2021 NL Cy Young winner last night. He narrowly defeated Philadelphia Phillies ace Zack Wheeler, who finished second. Max Scherzer, a three-time Cy Young winner, came in third. Burnes' teammate, Brandon Woodruff, came in fifth. With the Cy Young under his belt, Burnes joins Rollie Fingers and Pete Vuchovich as the only Brewers' pitchers to win the award. Burnes is the first to do it in the National League. His win came 30 years after the team's first Cy Young season, but hopefully will not be the last given the amount of talent in the Brewers' rotation. Here, we take a look at the three Cy Young seasons in franchise history and how they compare to each other.
Rollie Fingers- 1981
In December of 1980, the San Diego Padres traded Rollie Fingers to the St. Louis Cardinals in a massive 12-player transaction. Four days later, the Cardinals sent Fingers, Pete Vuckovich, and Ted Simmons to the Milwaukee Brewers in exchange for David Green, Dave LaPoint, Sixto Lezcano, and Lary Sorensen. Fingers pitched for four seasons in Milwaukee, but his 1981 season was one for the record books.
Rollie Fingers, returning to the American League with Milwaukee, had the best season of his Hall of Fame career. The right-handed reliever went 6-3 with a 1.04 ERA and 0.87 WHIP. He notched a league-leading 28 saves while pitching in 47 games. Fingers only allowed nine runs in 78 innings of work while compiling a FIP of 2.07. 61 of the 297 batters he faced struck out while only 13 of them walked. For his efforts, Fingers not only won the American League Cy Young Award, but the MVP as well.
Pete Vuchovich- 1982
As great as the trade was that brought Christian Yelich to Milwaukee, the trade that brought Fingers, Pete Vuckovich, and Ted Simmons to Milwaukee might be the best in franchise history. After all, it netted the Brewers two Cy Young winners and a Hall of Fame catcher. Even though he is not always mentioned among the best pitchers in Brewers' history, Pete Vuckovich's 1982 might have been the best season by a Brewers' starter until 2021.
One thing that is lost on even the most diehard of Brewers fans is that when Rollie Fingers won the AL Cy Young in 1981, Vuckovich finished fourth. He led the AL in wins with 14 and winning percentage (.778). The next year, 1982, Vuckovich led a rotation that pitched Milwaukee all the way to the World Series. Vuckovich ended the regular season with a 18-6 record, 3.34 ERA, and 1.50 WHIP. Vuckovich pitched 223.2 innings, striking out 105 while walking 102. He threw nine complete games that year, one of them being a shutout. Vuckovich's FIP that year was 4.03 in 30 starts. He won the AL Cy Young while coming in 18th in MVP voting.
Corbin Burnes- 2021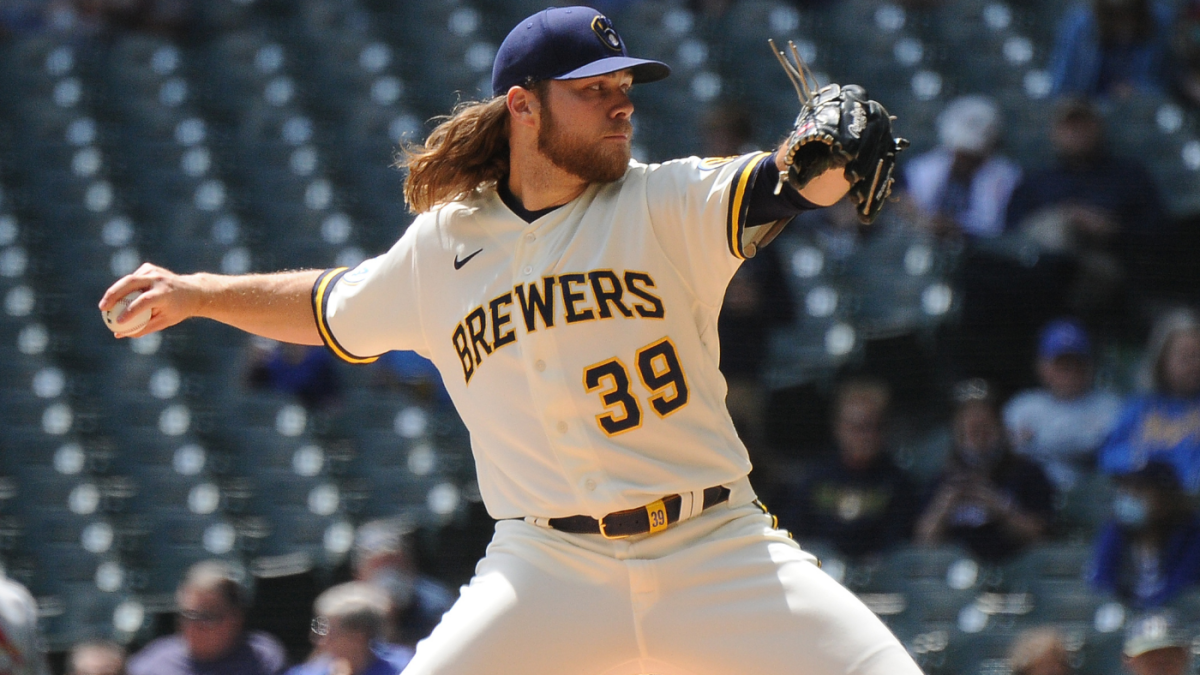 Back in 2019, Corbin Burnes struggled so badly that he was demoted all the way down to double-A. However, after a strong 2020 campaign, Burnes cemented himself as one of the best pitchers, not only in Milwaukee, but in all of baseball. This past season, Burnes set multiple Major League and team records en route to the Brewers first National League Cy Young Award.
Corbin Burnes finished the season 11-5 with a 2.43 ERA and 0.94 WHIP. He also had 234 strikeouts in 167 innings. Additionally, Burnes led the NL in FIP (1.63), ERA+ (176), home runs given up per nine innings (0.4), strikeout/walk ratio (6.88), and strikeouts per nine innings (12/6).
For More Great Wisconsin Sports Content
Follow me on Twitter at @theotherAdams14 and follow us @WiSportsHeroics for more great content. To read more of our articles and keep up to date on the latest in Wisconsin sports, click here!