The Milwaukee Brewers are brewing up something special this season. Already postseason bound, the next step is to win the division. To get there, they have to put their best out on the field for every single game for the rest of the stretch. The crew will finish up their last two weeks against the Cardinals, Mets, and Dodgers, keeping a close eye on the Wild Card race. It's likely that the crew will be facing the Phillies or the Braves in the NLDS series, which is slated to kick off October 8.
Here's what an ideal playoffs roster for the crew should look like. Note: This is just a prediction, things could change and injuries could occur to where some players would be taken off the table for consideration.
Pitchers (12)
Brandon Woodruff (R/SP), Corbin Burnes (R/SP), Freddy Peralta (R/SP), Devin Williams (R/SU), Josh Hader (L/CL), Jake Cousins (R/RP), Brad Boxberger (R/SU), Hunter Strickland (R/RP), Adrian Houser (R/RP,SP), Brent Suter (L/RP), Aaron Ashby (L/RP), Eric Lauer (L/RP,SP)
Milwaukee's pitching has been elite all season. Corbin Burnes has broken records left and right. Freddy Peralta has emerged as a third ace for the team, and Brandon Woodruff continues to show his ace status, respectively. With postseason, the rotation gets shortened, so it would be smart of the Brewers to put the three (potentially four) best pitchers on the mound when it matters most. Nonetheless, should the Brewers need a fourth starter in a best-of-five series, having Eric Lauer and Adrian Houser available might not be a bad idea.
As for the bullpen? Arguably the best in baseball. Even though they aren't 'starters', all pitchers that need to be the postseason roster have some sort of uniqueness that makes them a strong, competitive bullpen.
Not to mention, many players on opposing teams have expressed that Milwaukee's bullpen is a tough one to face; Kudos to the amazing pitching staff. When offense seems to be at times lacking, the pitching has been the knight in shining armor.
Catchers (2)
Omar Narvaez (L), Manny Pina (R)
Both of the Brewers' catchers have been having amazing seasons. Omar Narvaez is posting .279/.357/.423/ with an OPS of .779 and OPS+ of 153. Manny Pina is slashing .201/.312/.459/ with an OPS of .771 and OPS+ of 104. While Pina has become the backup catcher, he's been providing a lot of power for the crew.
Pina's two homers against the Chicago Cubs on Saturday helped the crew secure their fourth consecutive postseason ticket. Both catchers have seen time on the IL this year, but have come back and been strong. Having these two available and healthy for October will be crucial for the crew's success.
Infielders (7)
Eduardo Escobar (S/IF,OF), Luis Urias (R/SS,3B), Kolten Wong (L/2B), Rowdy Tellez  (L/1B), Daniel Vogelbach (L/1B), Willy Adames (R/SS), Jace Peterson (L/IF)
Honorable Mention: Pablo Reyes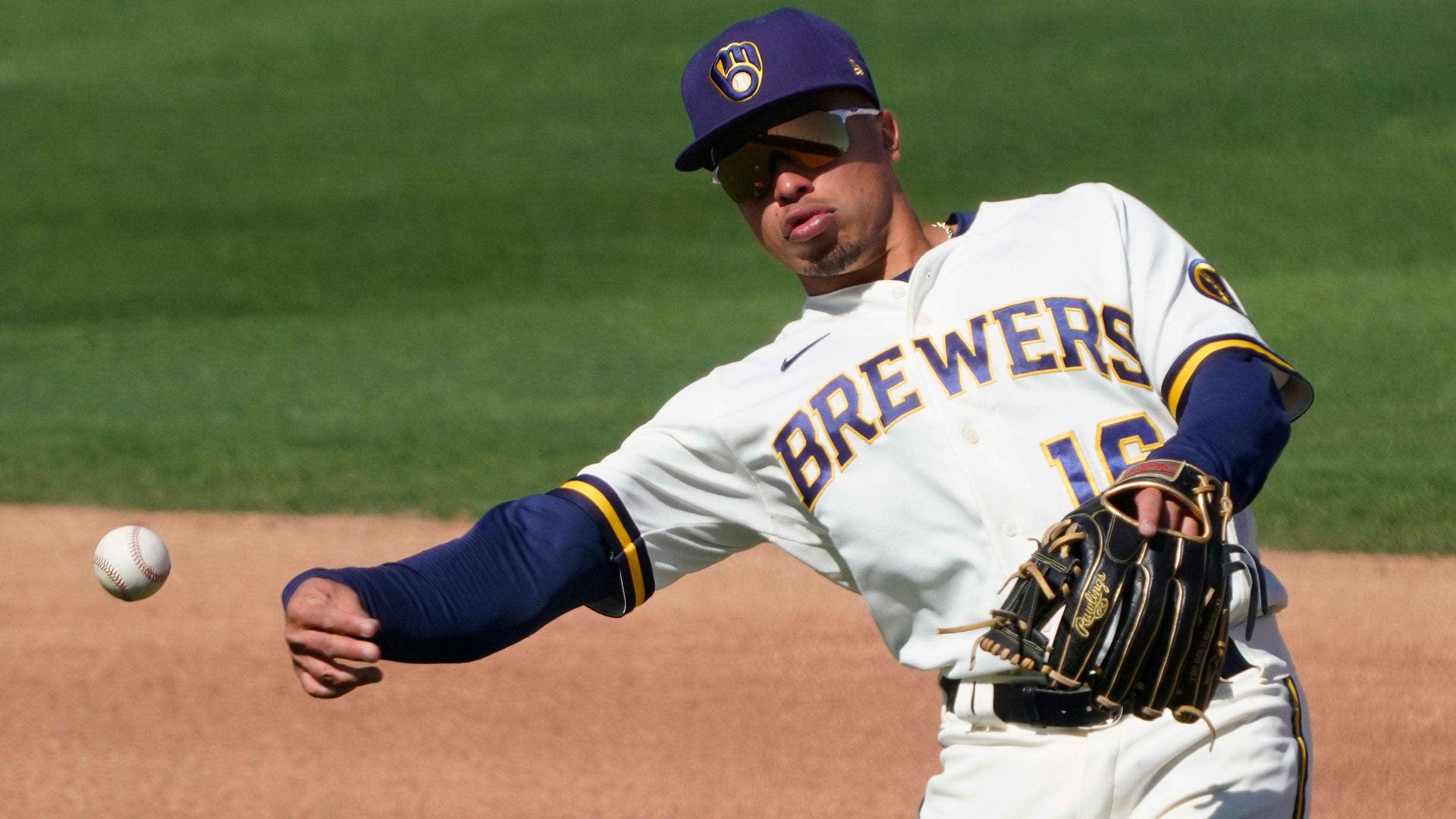 The Brewers have definitely upped their game in terms of who's playing the infield. Acquiring Willy Adames in May really kicked off the Brewers' stretch of success, but at the same time, Rowdy Tellez and Eduardo Escobar have been huge contributors to the offense with their strong bats. Kolten Wong has yet had another amazing defensive season, which puts him in the Gold Glove conversation, respectively.
Rowdy Tellez recently went on the IL with a patella strain, which probably will be longer than a 10-day trip. However, with Daniel Vogelbach being back and healthy, the lefty could see more time at 1B with Tellez down. Willy Adames is slated to return from the IL after an initial Sept 5 trip with a quad strain; With just two weeks left in the regular season, having Adames back and getting him at the plate and on the field will be enough before the postseason.
If another injury were to occur to a position player, the Brewers do have Pablo Reyes available. Not only do they have Reyes available, but Jace Peterson also stands as an option for the crew if they need the utility players.
Outfielders (5)
Christian Yelich (L), Lorenzo Cain (R), Avisail Garcia (R), Tyrone Taylor (R), Jackie Bradley Jr. (L)
Tyrone Taylor is slated to return from his rehab assignment in Nashville anytime now, meaning he'll be healthy for October. Lorenzo Cain missed Sunday's game against the Cubs after expressing some right hip discomfort.
Moreover, we're unsure on if Cain will miss any time due to that discomfort, but it sounds like he was out just as a precaution. Avisail Garcia will return to the lineup in the series against the St. Louis Cardinals.
It really becomes a huge question mark when discussing Jackie Bradley Jr; Are the Brewers willing to have someone on their roster that's been hitting a disappointing .500 OPS? Having JBJ in the outfield over someone like Jace Peterson makes sense in terms of experience. JBJ won a Gold Glove for his defensive efforts in 2018 and has World Series experience with the Red Sox; But Bradley currently is 1-for-31 in the month of September with one walk and 14 punch outs.
The outfield is pretty stacked even without JBJ being in that picture; So I have no doubt that they'll end up making the right decisions with who they put out there for October.
Overall, the Milwaukee Brewers have a pretty decent roster to choose players from going into October. They've had a ton of success this season, postseason will be exciting to watch as they go for a potential World Series appearance and win.
For More..
Follow me on Twitter at @sarahspooon and follow us at @WiSportsHeroics! For all things Wisconsin Sports, click here!