The trade deadline is two days away and the rumor mill is FLYING! Most recently, the New York Yankees are rumored to be shopping struggling outfielder Joey Gallo. New York just acquired outfielder Andrew Benintendi from the Kansas City Royals, and Gallo is hitting just .159/.282/.339 with 12 home runs and 24 RBI. With Aaron Judge and Giancarlo Stanton having monster seasons, Benintendi gives the Yankees a formidable outfield second to none in MLB. Joey Gallo has become expendable. According to Jon Heyman, the Brewers are one of the teams that has inquired about Gallo:
Yankees and Brewers have indeed talked a bit about Joey Gallo, who may fit Milwaukee much better than NYC. The Crew was in on Benintendi and could use OF help. @BNightengale mentioned Twins and Rays in addition to Brewers.

— Jon Heyman (@JonHeyman) July 31, 2022
Should the Brewers Trade for Joey Gallo?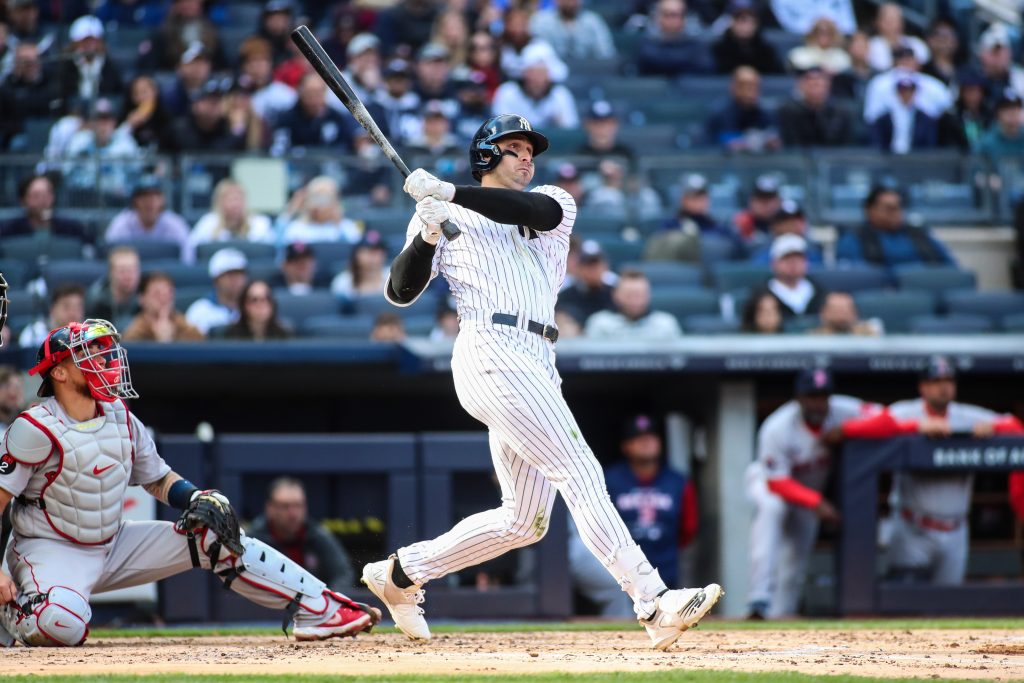 Listen. When I first saw this, my reaction was, "No, thank you!" The poor batting line is reminiscent of Jackie Bradley Jr. last year. That is a hard pass for me.
HOWEVER, I started to think about it a bit. "Well, if the Yankees want to dump him, he's going to be cheap. What is the worst that will happen?"
After looking into Gallo's value on Baseball Trade Values, I confirmed that he is, indeed, going for cheap. The Brewers are not going to have to give up much to get him. That is not the concern. The real question is: who will lose their 40-man roster spot?
Of the players not on the Major League roster, I found three position players I could see losing their 40-man spot if the Brewers were to add Gallo:
Mark Mathias
Pablo Reyes
Alex Jackson
None of these three, in my opinion, are in the Brewers' long-term plans anyway.
Related: Ramon Laureano is NOT an ideal trade target for the Brewers
What Would It Cost to Get Joey Gallo?
As mentioned previously, Baseball Trade Values does not give Gallo a very high trade value. His assigned value of 0.8 makes him extremely "gettable." Here is a list of Brewers' players and prospects with a trade value similar to Gallo's (this would mean a straight-up trade):
Nick Bennett (RHP): 0.7
Alec Bettinger (RHP): 0.7
Taylor Floyd (RHP): 0.7
Logan Hendeson (RHP): 0.8
TJ Shook (RHP): 0.8
To be clear, in theory it would only take one of these players to get Joey Gallo.
Conclusion
In my opinion, the question "should the Brewers trade for Joey Gallo?" has nothing to do with what they would need to give up. I believe the Brewers could part with any one of these prospects and be just fine. In my humble opinion, the better question is "who loses their 40-man roster spot?" In this case, I would propose Alex Jackson. The Brewers already have Mario Feliciano on their 40-man.
However, to be completely honest, I would just rather the Brewers cut Pedro Severino, who will be ineligible for postseason play anyway due to his PED suspension during Spring Training. The ideal scenario, if a trade for Gallo takes place, is that the Brewers would only give up a High-A level pitcher and designate Severino for assignment. If they do this, it would be an EXTREMELY low risk move with a VERY high reward. If all Gallo needs is a change of scenery, his bat would be lethal at American Family Field.
Related: A Brewers trade centered around Tyrone Taylor could bring immediate help
To Read More Brewers Rumors, Click Here!
For More Great Wisconsin Sports Content
Follow me on Twitter at @theotherRobin19 and follow us @WiSportsHeroics for more great content. To read more of our articles and keep up to date on the latest in Wisconsin sports, click here! Also, check out our merch store for some amazing WSH merchandise!