The Milwaukee Brewers, at one point, had one of the best farm systems in baseball.  Indeed, the Brewers drafted and developed stars like Prince Fielder, Ryan Braun, Rickie Weeks, Yovanni Gallardo, and Lorenzo Cain.  However, over the years, the farm system has fallen to the bottom ranks of baseball, with few prospects reaching star potential.  There is, though, hope on the horizon, especially with the top nine prospects in the Brewers' system.  Here, we begin a breakdown of these prospects and when fans can expect to see them in Milwaukee.  Be sure to check back every day for a new prospect spotlight.
*Note: These prospects are ranked based off of Keith Law's rankings in his recent article for The Athletic.
Prospect #7- OF Hedbert Perez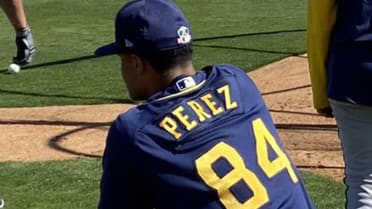 The Milwaukee Brewers' website has Hebert Perez listed as the organization's ninth ranked prospect.  Keith Law ranks him seventh.  The amazing thing about Perez's high ranking on both lists is that he has yet to play a professional season.  Clearly, this outfielder is packed with potential.
The other amazing aspect of Perez's high ranking is that he is just 17 years old.  He is the son of Robert Perez, who played for five MLB teams in six seasons between 1994-2001.  The scouts have nothing bad to say about Perez, who is garnering comparisons to St. Louis outfielder Tyler O'Neill.  For reference, O'Neill has 162 game averages of 20 home runs and 55 RBI.  He also won a Gold Glove in 2020.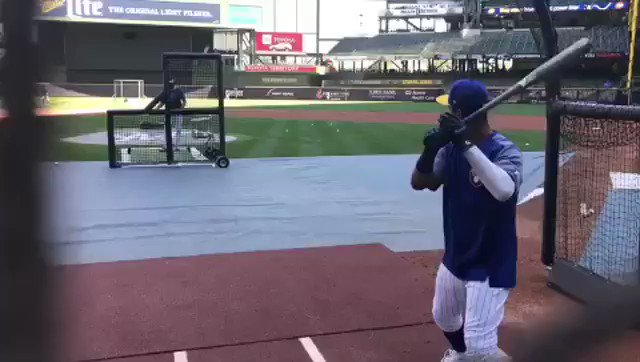 Hedbert Perez was brought to Miller Park (now American Family Field) after signing as an international free agent in 2019.  During his first batting practice, he hit booming home runs prior to receiving any instruction from Brewers' coaches.  He impressed even more in the Brewers' instructional league.  So impressive was he that the Brewers kept him in Appleton at the team's alternate training site as a member of their taxi squad in 2020.
Perez's bat, while impressive, is not the only thing scouts love about him.  His speed and instincts in the outfield make him an ideal center fielder.  However, his arm is also good enough for him to be a candidate to play any of the corner outfield spots.  In short, by the time he reaches Milwaukee, Perez should boast above average hitting, above average power, and above average defense.  Some are already calling him a future All-Star.
Just 17 but he has a Big League swing.

Outfield prospect Hedbert Perez is getting to work in the cages. pic.twitter.com/obWwrEEXf0

— Milwaukee Brewers (@Brewers) February 26, 2021
The Brewers expect Perez to reach the Majors in 2024.  However, given his potential, he could be up sooner.  Keep in mind, he is just 17 years old.  He will be 20 in 2024.  Clearly, Brewers' fans have a great deal to be excited about when it comes to Hedbert Perez.
For More Thoughts on Hedbert Perez
Here at Wisconsin Sports Heroics, we have a great group of podcasts that cover all of your favorite Wisconsin sports.  One of these is The Nasty Nine, a Brewers/Nashville Sounds podcast.  On our latest episode, we broke down the top nine prospects according to Keith Law.  You can listen to our complete analysis here.
[pickup_prop id="3927″]
More in the Series
For More Great Wisconsin Sports Content
Follow me on Twitter at @theotherAdams14 and follow us @WiscoHeroics1for more great content. To read more of our articles and keep up to date on the latest in Wisconsin sports, click here!