The Milwaukee Brewers have had a poor history of retaining productive third basemen.  Ever since Paul Molitor left in the early 1990's, no player has manned the hot corner consistently for more than three seasons.  This season, the Brewers will hope that third base will go from a position of weakness in 2020 to a position of strength.  In order for this to happen, one or more of these players will have to step up.
Travis Shaw
Travis Shaw, for a time, was a productive third baseman for the Brewers.  In 2017, he hit .273/.349/.513 with 31 home runs and 101 RBI.  The next season, he hit .241/.345/.480 with 32 home runs and 86 RBI.  The wheels, fell off, though, in 2019.  In 86 games, Shaw was hitting just .157/.281/.270 with seven home runs and 16 RBI.
After a better year last season with the Toronto Blue Jays, Travis Shaw signed a Minor League contract with the Brewers.  He had a March 15 deadline to opt out if he wished, but was informed that he did make the Major League roster.
So far this spring, Shaw is hitting .171/.326/.400 with two home runs and seven RBI.  While the batting average appears terrible, the reality of the situation is that he is hitting the ball well.  Shaw has just as many strikeouts as he has walks (seven), which indicates that the ball is just not falling for him right now.  Given the fact that the Brewers face a right-handed pitcher on Opening Day, it is very likely he will be the team's Opening Day third baseman once again.
Orlando Arcia
You read that right.  The Brewers starting short stop over the last four and a half seasons will be spending some time at third base this season.  Just how much time is yet to be seen, but manager Craig Counsell stated that he will seen at third base and short stop this season.
#Brewers manager Craig Counsell sheds some light on Orlando Arcia's move to third. 👀

Expect a bit of a timeshare between SS and 3B. 🔁 pic.twitter.com/9gWQhkp8Wc

— Bally Sports Wisconsin (@BallySportWI) March 23, 2021
The move to play part-time at third base is to allow Luis Urias to play his natural position at short stop.  Urias, the Padres' former top prospect, came to the Brewers last year in the trade that sent Trent Grisham and Zach Davies to San Diego.
Offensively, Arcia can be both brilliant and frustrating.  For his career, he is hitting .244/.295/466, and averages about eight home runs and 36 RBI per season.  This is less than ideal from a third baseman, which is usually a position of power.  However, Arcia was one of the Brewers' most consistent hitters last season, and tied the team record for career post season home runs (four).
In short, Arcia has never played third base outside of this Spring Training.  How long he lasts will depend on two factors.  First, his own production must be good enough to keep him in the lineup every day.  Second, Luis Urias must play well enough to stay in the lineup as the starting short stop.  If he cannot, look for Arcia to resume the everyday duties at that position instead.
Daniel Robertson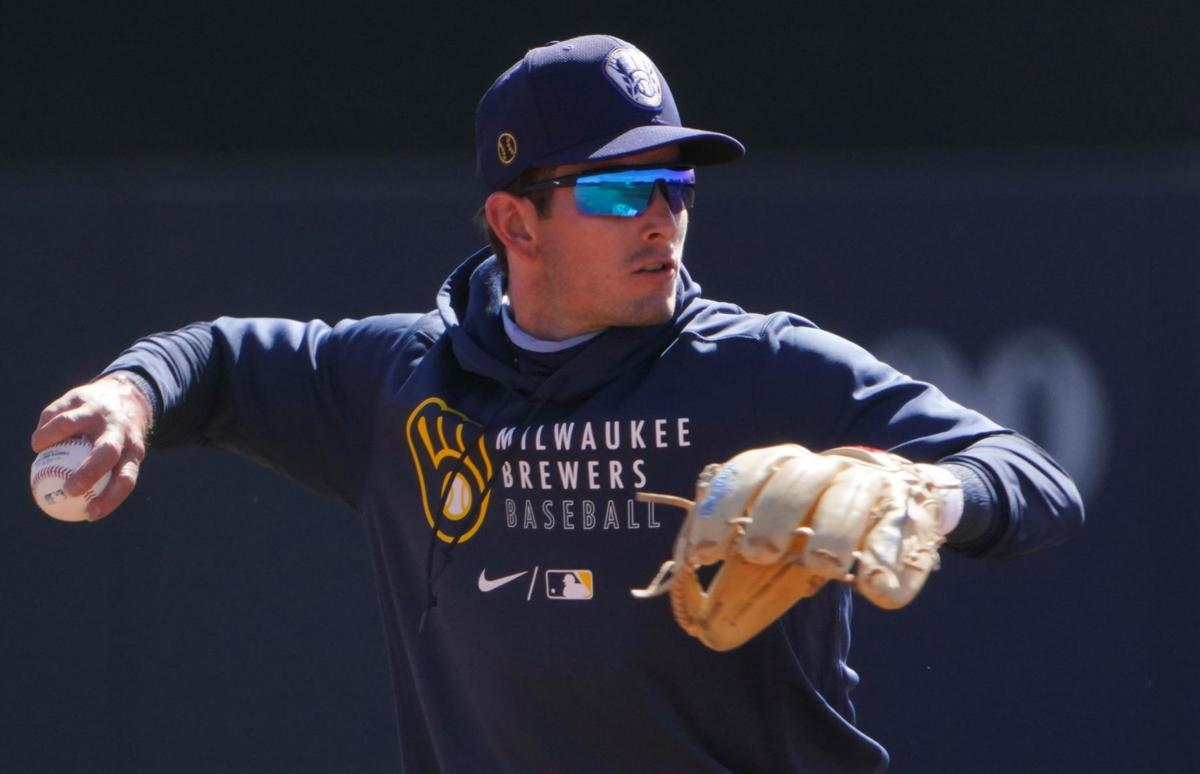 Daniel Robertson was signed by the Brewers this offseason with the chance to earn a place on the roster as a bench player.  Robertson seems likely to make the team, especially given the shoulder injury suffered by Mark Mathias.  He is a player that can play just about anywhere on the field, providing depth at many positions.
Robertson has played most of his career games at second base (109), but also has spent significant time at third base (81) and short stop (74).  Additionally, he has made appearances at first base (one), left field (seven), right field (one), and even pitcher (two).  For curious minds, he has pitched two innings with a 0.00 ERA and just one hit given up.
So far this spring, Robertson is hitting .269/.457/.385 with a home run and a RBI.  Interestingly, he has walked more times (eight) than he has struck out (seven).  The Brewers' third base situation, as wide open as it is, is an ideal opportunity for Robertson who believes he can be much more than just a utility player.  If Travis Shaw and/or Orlando Arcia struggle, he certainly can earn significant playing time this year.
[pickup_prop id="3927″]
Conclusion
There is no indication of which of these three will spend the most time at third base this season.  The position is truly up for grabs and any one can seize it for themselves with consistent production.  Look for Shaw to start on Opening Day and the second game against the Twins (right-handed pitchers).  However, after that it is anyone's position.
For More Great Wisconsin Sports Content
Follow me on Twitter at @theotherAdams14 and follow us @WiscoHeroics1 for more great content. Check out our merch page here and use promo code Wisco at check out for $1 off! To read more of our articles and keep up to date on the latest in Wisconsin sports, click here!