Possibly one of the greatest in baseball today, this player has been a vital figure within the Brewers' lineup. In this edition of Brewers Past and Present, we're taking a look at Christian Yelich.
Before the Brewers
A first round selection by the Miami Marlins in 2010, Christian Yelich started to make a name for himself in high school. Attending Westlake High School, Yelich was named Second Team All-America. He also ranked an impressive 34 out of the top 100 high school players in the nation. Yelich then went on to accept a scholarship to play baseball for the Miami Hurricanes. 
Yelich's Professional Career
Christian Yelich signed a $1.7 million contract in August of 2010 with the Miami Marlins where he went on to play for the Gulf Coast League Marlins. In 2011, Yelich had 43 hits, four home runs and batted a .261; These stats helped him be named the Marlins' Minor League Player of the Year in both 2011 and 2012.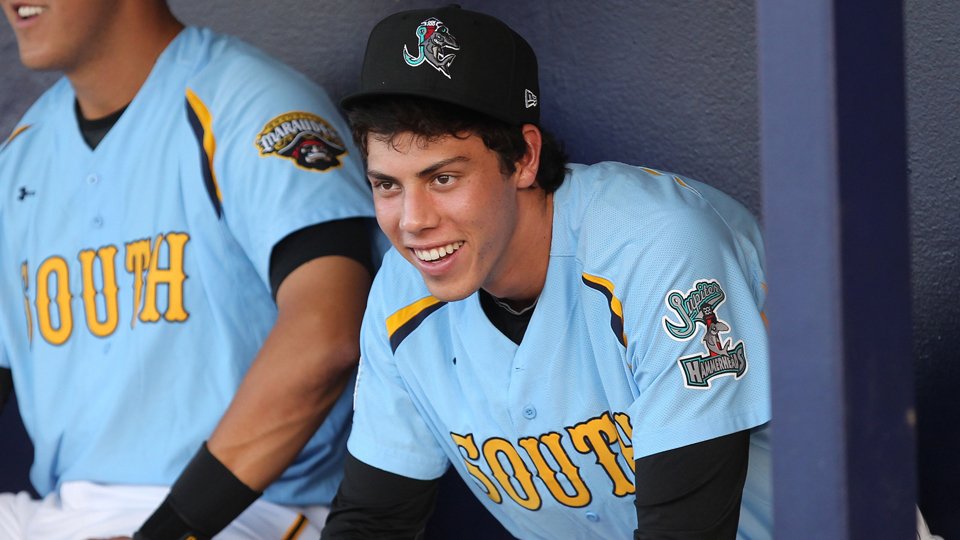 Yelich made his MLB debut in 2014 with the Marlins where he batted a .284, nine home runs, 54 RBI's and 21 stolen bases. In that same year, he won the Gold Glove Award for left field; Making him the youngest in the Marlins' franchise history and first outfielder to win this award. 
2018: The Wonder Year
The Miami Marlins decided to part ways with Christian Yelich, trading him to the Milwaukee Brewers for Lewis Brinson, Isan Diaz, Monte Harrison, and Jordan Yamamoto. The trade to Milwaukee was quite literally a blessing in disguise.
Yelich hit for the cycle for the first time against the Cincinnati Reds on August 29 and would do it 19 days later, making him the fifth player in MLB history to hit two cycles in the same season. He was the first in MLB history to do it against the same team. 
He would end up finishing the 2018 season hitting a slash line of .326/.402/.598 with 36 home runs and 110 RBIs. Christian Yelich won the first NL Batting Title for the Milwaukee Brewers, respectively.
Not only did Christian Yelich win the NL batting title, he also helped lead the Brewers to the 2018 NL Central title. The Brewers were just one game shy of making another World Series appearance. It would've been the first time since 1982 that the Milwaukee Brewers would be in the World Series. However, things didn't play out for them, and they moved on to next season. 
Probably most notable in 2018 for the all-star was receiving the NL MVP title after his first year with the Brewers. Christian Yelich was unstoppable in 2018 and Brewers fans are quite thankful that we have an amazing MVP in our lineup.
2019: The good….then the worst.
2019 started off great for Yelich; Coming off of an MVP year, he was determined to make 2019 his year once again. He played in 130 games where he batted a slashline of .329/.429/.671 and had an OPS of 1.100. Yelich led the league in pretty much every offensive stat and was well on his way to becoming back-to-back MVP for the National League.
However, things took a turn for the worst on September 10th during a game at Marlins stadium. Yelich was up to bat when he fouled a ball off of his knee. It was really uncertain at that point whether or not we would see Christian Yelich return for the remainder of the season. At the end of the game, fans were informed that our mvp would miss the remainder of the 2019 season due to a fractured kneecap. It was quite devastating, honestly. He was well on his way to becoming MVP again and that dream was shattered.
Though he was out for the rest of the season, no one could really top his stats and even though he wasn't playing, he still led the league in most stats. It didn't matter, apparently, as Cody Bellinger of the Los Angeles Dodgers would be crowned the 2019 NL MVP over Christian Yelich. 
The Brewers would go on to make their second postseason appearance, however. They would lose to the Washington Nationals in the Wild Card game on October 1st, 2019. 
2020: Let's pretend this year didn't happen.
2020 was a weird year for everyone. We're in the midst of a global pandemic, and baseball didn't really know their future. The pandemic kicked off right around opening day for baseball. Spring training was put to a halt, and owners all around the country didn't really have a plan as to how they were going to approach this pandemic. They came to an agreement with the Players Union: a 60-game season with expanded playoffs and health protocols would be put in place. 
For the Brewers, however, things were a little….rough. I'm not sure if it was just the whole pandemic affecting everyone in different ways, but by the ways the crew was playing? The playoffs picture didn't look promising. Christian Yelich especially was having a very off year. Bouncing back from an injury isn't very easy to do and it was very prevalent in Yelich's performance this season.
Playing in 58 games, Yeli batted a slashline of .205/.356/.430/.786; Which isn't terrible, but there's always room for improvement. He just wasn't himself and it worried a lot of people. He was the talk of many discussions when talking about the Brewers 40-man roster; It became increasingly clear that 2020 was just not Christian Yelich's year for baseball. Heck, it wasn't really anyone's year; Except the LA Dodgers, they won the World Series and got Mookie Betts, so I think they won 2020.
Looking into the future…
Going into the 2021 season, no one really knows what's going on. Baseball is a couple of months away yet, and the pandemic is still trucking along. Fans are hoping to be able to attend some baseball games in person instead of sitting at home on their couches. Players are hoping to be able to travel to more than their region and many teams are looking to comeback and put in 110%. And for the Milwaukee Brewers? World Series would sound really nice.
More "Brewers' Past and Present" Features
Follow For More!
Looking for more great content on all things Wisconsin sports? Follow me on Twitter at @sarahspooon and us at @WiscoHeroics1 for more!