The Milwaukee Brewers made it official on Wednesday morning that OF Andrew McCutchen would be joining the crew on a one-year contract. The rumors started to roll around on Monday, when both Jeff Passan and Adam McCalvy reported McCutchen had reached an agreement with Milwaukee, pending a physical exam.
Entering this season at 35, McCutchen brings a lot to the clubhouse and the field. The 2013 NL MVP has had some playing experience at American Family Field, where he appeared in 77 games. His slashline of .289/.350/.581 at AmFam Field is the highest slugging percentage of any ballpark where he's played more than six games, per Adam McCalvy.
After the Philadelphia Phillies declined a club option for 2023 with McCutchen, he became a free agent. Previously, he had signed a $50M, three-year contract with the Phillies in December of 2018. In his three seasons, he hit .237, drove in 143, and smacked 47 homers.
He is coming off a pretty decent season in Philadelphia. He appeared in 144 games; Posting a line of .222/.334/.444 with an OPS of .778, 27 homers, and drove in 80.
This isn't McCutchen's first round in the National League, however. From 2009-2017, he was a power piece with the Pittsburgh Pirates before being traded.
Where does McCutchen Fit?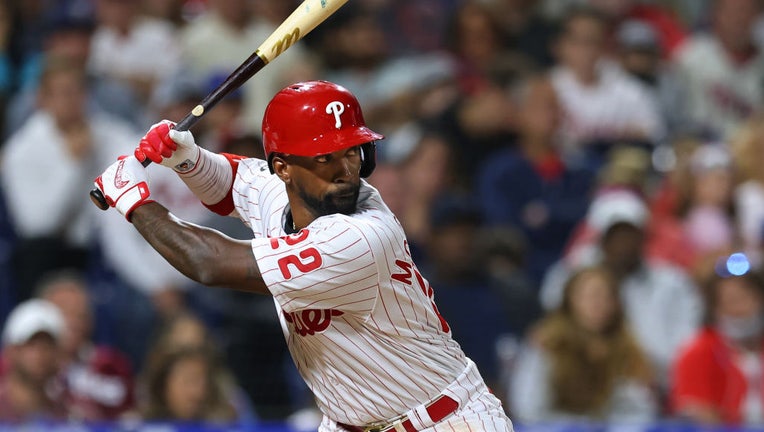 Thanks to the new CBA, the universal designated hitter has been implemented in the National League. For someone like McCutchen, this will be super beneficial. Additionally, from an offensive perspective, McCutchen sees the most success against left-handed pitching as he hit 15 homers and had a 1.027 OPS in 2021.
For someone like McCutchen, he'll probably end up splitting time between DH and the stacked outfield. In Philadelphia last year, he started 131 games in left-field, which may help in a case where Yelich is helpful in facing certain left-handers. With Lorenzo Cain in his last contracted year, if he were to get injured or just needs time off, McCutchen will definitely be a help in center.
Adding both Renfroe and McCutchen to the lineup will probably be the only 'big' moves the Brewers make prior to Opening Day.  Adding these power bats to the roster will definitely help in aiding towards that fifth consecutive postseason run.
For More…
Follow me on Twitter at @sarahspooon and follow us at @WiSportsHeroics! For all things Wisconsin sports, click here!