Being a switch hitter is rare enough as it is. However, it is still fairly common for a team to have at least one on their roster. What is rarer, though, is having a switch pitcher. That is a pitcher who can throw with both hands equally well. The Brewers grabbed such a pitcher in the 18th round of the MLB Amateur Draft: Jurrangelo Cijntje.
In the 18th round, the @Brewers select Jurrangelo Cijntje, who throws 92 mph as a lefty. And 96 as a righty!

More on the Dutch switch-pitcher: https://t.co/9ys99wIrRN pic.twitter.com/HTcGHJpzym

— MLB Pipeline (@MLBPipeline) July 19, 2022
Here is pre-MLB Draft footage of him pitching in-game, first as a lefty, then as a righty:
One of the most intriguing prospects in the Draft went to the @Brewers in the 18th round.

Will switch-pitcher/infielder Jurrangelo Cijntje sign with Milwaukee? https://t.co/eIj6gNw4Yd pic.twitter.com/h5iF4SzgNw

— MLB Pipeline (@MLBPipeline) July 19, 2022
What Fans Need to Know about MLB Draft Pick Jurrangelo Cijntje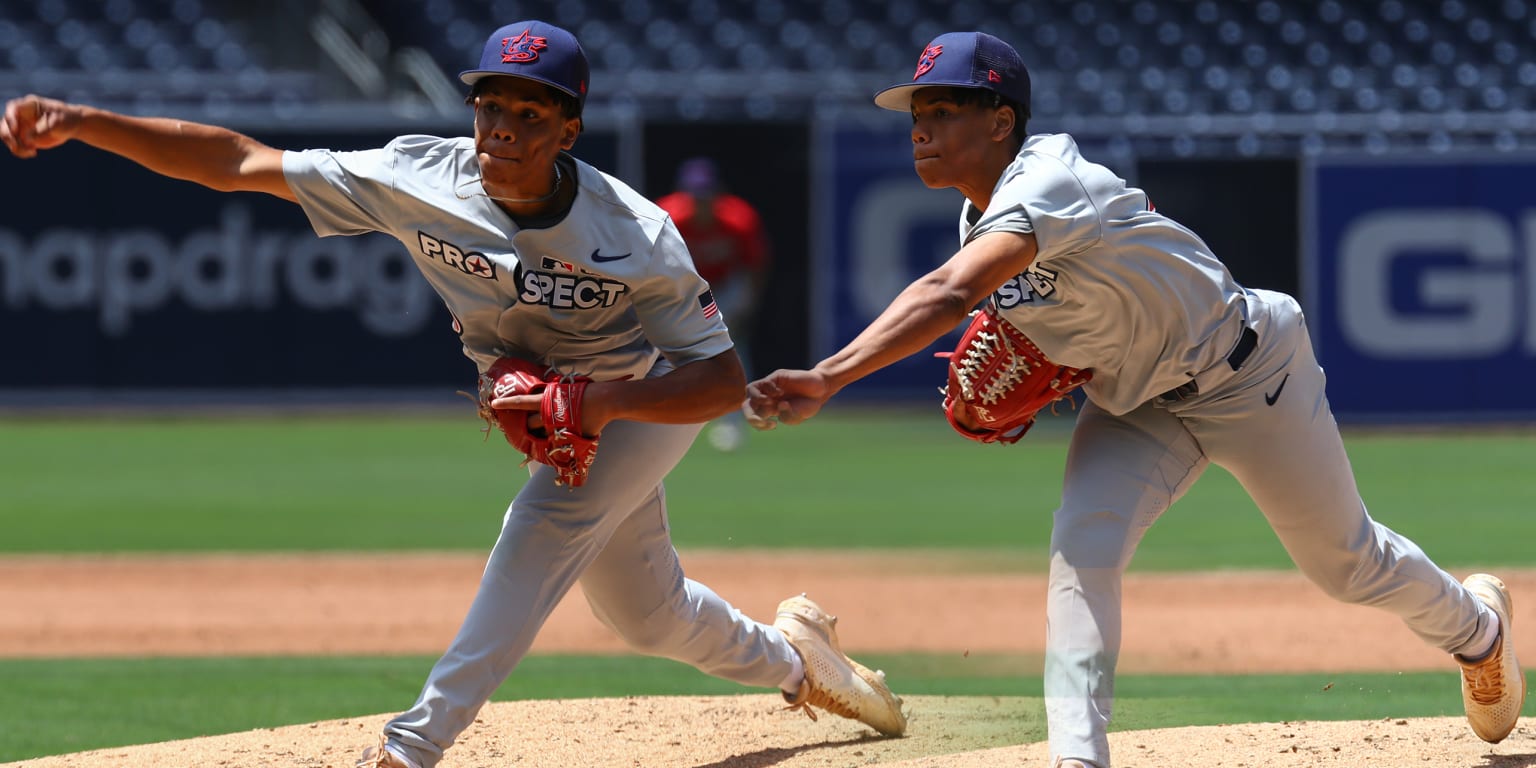 Jurrangelo Cijntje is 19 years old and, yes, pitches with both arms. He was born in the Netherlands and raised in Curacao. Cijintje graduated from Champagnat Catholic High School in Hialeah, Florida this past year. There may, however, be a challenge in the Brewers' signing of him. Cijntje has received a full scholarship to pitch at Mississippi State University. Should he choose to go to college, the Brewers could miss out on his services. He could re-enter the MLB draft in a few years and be taken in an earlier round.
Related: Brewers Draft Josh Misiorowski in the Second Round
The Brewers May Convert Him to an Infielder
Being able to pitch with both arms is what has launched Jurrangelo Cijntje onto the radar of MLB Draft scouts. However, according to reports, he is also an excellent shortstop. He credits having to throw around the infield with his right hand as the reason why his fastball velocity is better when he pitches right-handed. Astoundingly, Cijntje is naturally left-handed.
Perhaps unsurprisingly, Cijntje is also a switch hitter. On how the Brewers plan to develop him, Tod Johnson, the Brewers' vice president of domestic scouting, said the following to Adam McCalvy:
"First and foremost, he is an amazing athlete. To be able to pitch like he does with both hands … and I don't know if every team sees it this way, but we also think he's a really good infielder. He shows incredible body control and hands and actions in the infield and has a pretty good left-handed swing. His right-handed swing will probably take a little bit of work to get there.

"So, should we sign him, we'll explore a lot of different options with him potentially. The pitching thing is what has got him to be the most famous, but I wouldn't rule out him making some waves as a position player, whether he goes to college and tries to do it, or signs with us and tries to do it."
Whether he signs with the Brewers or not, following the MLB Draft, switch pitcher Jurrangelo Cijntje is a name baseball fans should pay attention to.
To Read the Latest Milwaukee Brewers News Following the MLB Draft, Click Here!
For More Great Wisconsin Sports Content
Follow me on Twitter at @theotherRobin19 and follow us @WiSportsHeroics for more great content. To read more of our articles and keep up to date on the latest in Wisconsin sports, click here! Also, check out our merch store for some amazing WSH merchandise!