The Milwaukee Brewers have been rather quiet so far in the short time frame that they have had to negotiate with free agents. Thanks to the owner-enforced lockout, there were 99 days in which Major League teams could not sign free agents. Despite trading for outfielder Hunter Renfroe before the lockout, the team has not made any big moves. Pedro Severino was signed to replace Manny Pina, and Brad Boxberger was re-signed to a one-year deal. Unfortunately, the Brewers lost out on former prospect Nelson Cruz, who signed with the Washington Nationals. Now, it is being reported that the team is interested in 2013 NL MVP Andrew McCutchen.
Free-agent outfielder Andrew McCutchen in talks with Brewers, source tells @TheAthletic.

— Ken Rosenthal (@Ken_Rosenthal) March 14, 2022
Andrew McCutchen: Well-Known to the Brewers
Andrew McCutchen is a name well-known to Brewers fans. For nine seasons, the five-time All-Star crushed Brewers (and most other NL) pitching. In 2013, he was voted the MVP of the National League when he hit .317/.404/.508 with 21 home runs and 84 RBI. In addition to All-Star games and the MVP, McCutchen won four Silver Sluggers and a Gold Glove during his time with Pittsburgh.
Life After Pittsburgh
Andrew McCutchen played with the Pittsburgh Pirates until 2017. During that offseason, the Pirates traded him to the San Francisco Giants for Kyle Crick, Bryan Reynolds, and international bonus slot money. Halfway through the 2018 season, the Giants traded him to the New York Yankees for Juan De Paula and Abiatal Avelino. In total, McCutchen hit .255/.368/.424 with 20 home runs and 65 RBI between the two clubs.
In 2019, Andrew McCutchen signed with the Philadelphia Phillies. However, he was limited to just 59 games in 2019 due to injuries. Of course, his 2020 season was limited, as everyone's were, due to COVID-19. In 2021, McCutchen saw his power return more than it had in years. He hit just .222/.334/.444 at the plate, but had 27 home runs and 80 RBI.
Why Would the Brewers Be Interested in Andrew McCutchen?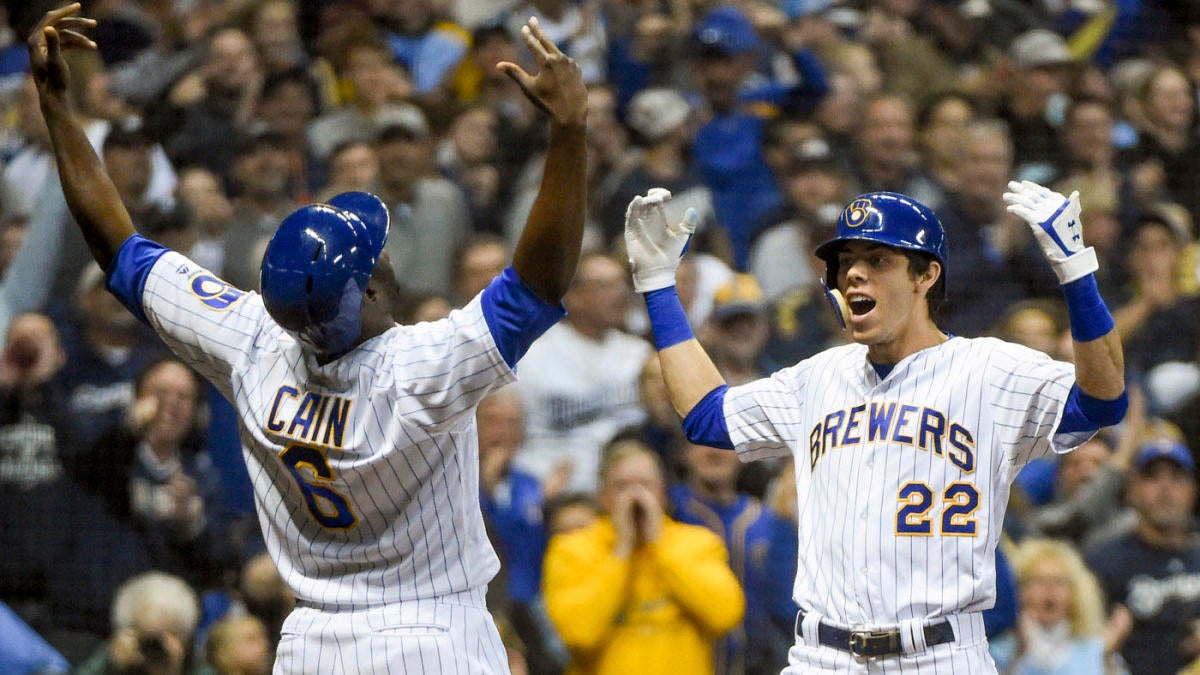 The Milwaukee Brewers appear to have a crowded outfield. Hunter Renfroe, Christian Yelich, and Lorenzo Cain project to be the starters. Tyrone Taylor played very well last season and is more than deserving of a spot on the roster. Super-utility man Jace Pederson also sees time in the outfield. Additionally, Keston Hiura is rumored to be trying his hand in the outfield.
So, why Andrew McCutchen, who is, in fact, an outfielder? With the addition of the DH in the National League, the Brewers will have more flexibility with which to move players around. At age 34, McCutchen and Cain (who is 35) can rotate with the other outfielders to give their bodies rest on defense while keeping bats in the lineup.
Besides depth, the allure of McCutchen to the Brewers is his power-bat. Last year, Avisail Garcia led the Brewers with 29 home runs. Luis Urias had 23 and Willy Adames had 20. However, no one else had more than 14. Garcia is gone, having signed a multi-year deal with the Miami Marlins.
Of course, the Brewers are hopeful Christian Yelich will return to his MVP form and hit 30 or more home runs. However, even if Yelich does return to form, the Brewers need more power in their lineup. Hunter Renfroe will help, too, but the offense needs a lot of help. As a whole, the offense disappeared in the playoffs against the eventual champion Atlanta Braves. While McCutchen will not be the MVP he used to be, 20+ home runs per season would be a great addition to the team.
[pickup_prop id="21270″]
For More Great Wisconsin Sports Content
Follow me on Twitter at @theotherAdams14 and follow us @WiSportsHeroics for more great content. To read more of our articles and keep up to date on the latest in Wisconsin sports, click here! Also, check out our merch store for some amazing WSH merchandise!