Fresh off of a series loss to the lowly Pittsburgh Pirates, the Milwaukee Brewers are heading West to take on the highly popular San Diego Padres.  The Padres, once an afterthought in Major League Baseball, now boast one of the best and most entertaining rosters in professional sports.  The Padres themselves are coming off a series loss to the Los Angeles Dodgers.  Fortunately for the Brewers, they have their two best pitchers slated for the first two games of the series.
Game One: April 19- Brandon Woodruff vs Joe Musgrove
Brandon Woodruff boasts a low 2.12 ERA through three starts this season.  Despite this, he is still searching for his first win of the season.  In his previous start, Woodruff struggled to find his rhythm.  Despite this, he still delivered six innings of one-run ball while striking out six.
Not many Padres players have seen Woodruff in their careers.  However, Victor Caratini is hitting .429 against him in seven at bats.  No other Padres player has faced him more than five times.  Eric Hosmer, the one who has faced him five times, has not gotten a hit off Woodruff yet.
Joe Musgrove, the Padres starter, is making his first start since throwing the first no-hitter in franchise history.  On Friday, due to a lack of position players in extra innings, Musgrove appeared in left field for the Padres. The right-hander is 2-1 with a 0.47 ERA so far this season.
The Brewers' player with the most success against Musgrove is Keston Hiura.  Musgrove, formerly of the Pirates, has given up three hits in eight at bats (.375 average) against Hiura.  One of those hits is a home run.  Travis Shaw has one hit, a home run, in six at bats against Musgrove.  Omar Narvaez has no hits against Musgrove in six at bats.  No other Brewers' player that will appear in this series has faced him more than three times.
Game Two: April 20- Corbin Burnes vs Chris Paddack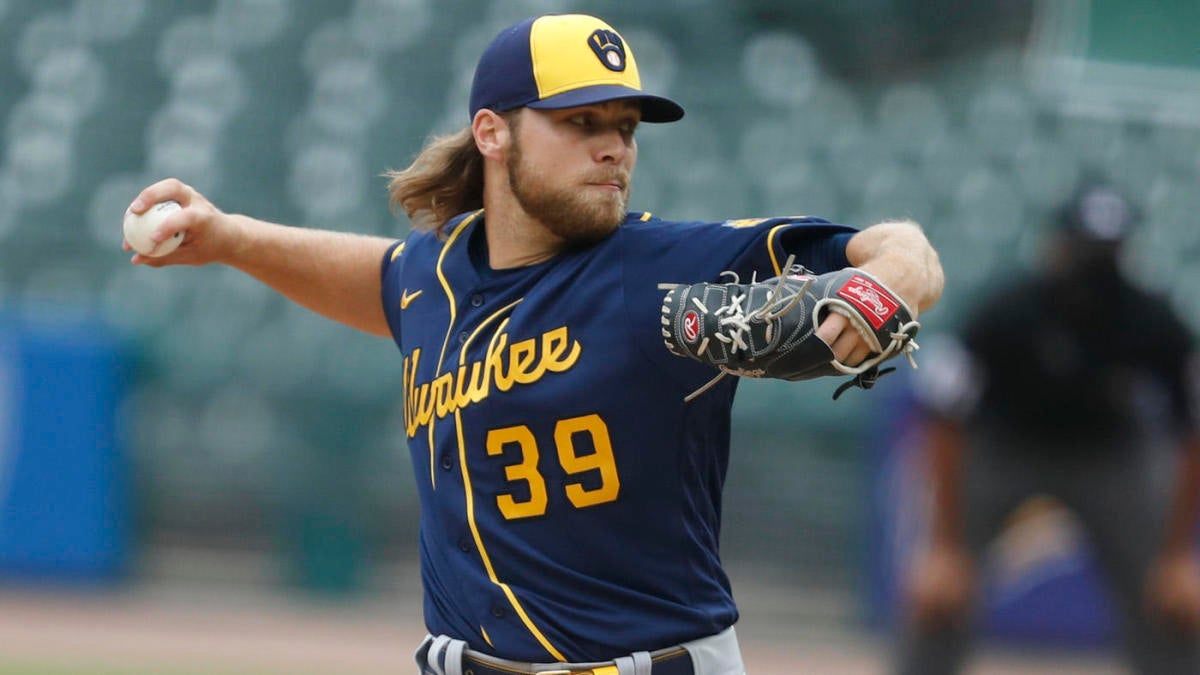 Corbin Burnes is having an absolute historic start to his season.  He is currently 1-1 with a 0.49 ERA.  He also has 30 strikeouts and no walks.  If he strikes out six Padres before issuing an walk, he will break the Major League record for the most strikeouts to start a season before issuing a walk.  Adam Wainwright set the record with 35 in 2013.
[pickup_prop id="6161″]
It appears the Victor Canatini will be a player to watch in this series, as he also has had previous success against Burnes.  In four at bats, Canatini has two hits including a home run.  No other Padres' player has gotten a hit off of Burnes, though.  Just three, Eric Hosmer, Manny Machado, and Fernando Tatis Jr., have faced him previously.  Each of them has no hits in just one at bat.
The Padres will counter with Chris Paddack, who has not lived up to expectations thus far.  He is 1-1 with a 4.15 ERA and has given up three runs in each of his three starts.  He has yet to give up a home run this season, though.
No current Brewers' player that will appear in this series has a hit off of Paddack.  Hiura, Narvaez, Jace Pederson, and Daniel Vogelbach are the only ones who have faced him.  None have more than three at bats against him.
Game Three: April 21- Adrian Houser vs TBD
Adrian Houser will take the bump in game three of the series.  He will be looking to bounce back after a rough start against the Pirates.  In his last start, Houser pitched just 4.1 innings and gave up three runs.  He is currently 1-2 with a 3.14 ERA.
No Padres player has had any significant success against Houser.  Canatini is the only one with numerous at bats against him, and he is hitting just .125 in eight at bats.  Fernando Tatis Jr. is the only other player with a hit against Houser.  That hit came in his only at bat against the Brewers' right-hander.
The Padres have not announced who will start the third game of the series.
For More Great Wisconsin Sports Content
Follow me on Twitter at @theotherAdams14 and follow us @WiscoHeroics1 for more great content. Check out our merch page here
 and use promo code Wisco at check out for $1 off! To read more of our articles and keep up to date on the latest in Wisconsin sports, click here!