The Milwaukee Brewers are in the midst of an organization-changing off-season.  The biggest news of the off-season was Matt Arnold taking over as leader of baseball operations after David Stearns surprisingly stepped down into an advisory role.  Since then the Brewers have made a few moves, however, they have stayed away from free agency.  One specific stat has surfaced that has Brewers fans extremely upset.
Milwaukee Brewers Have Spent Zero Money In Free Agency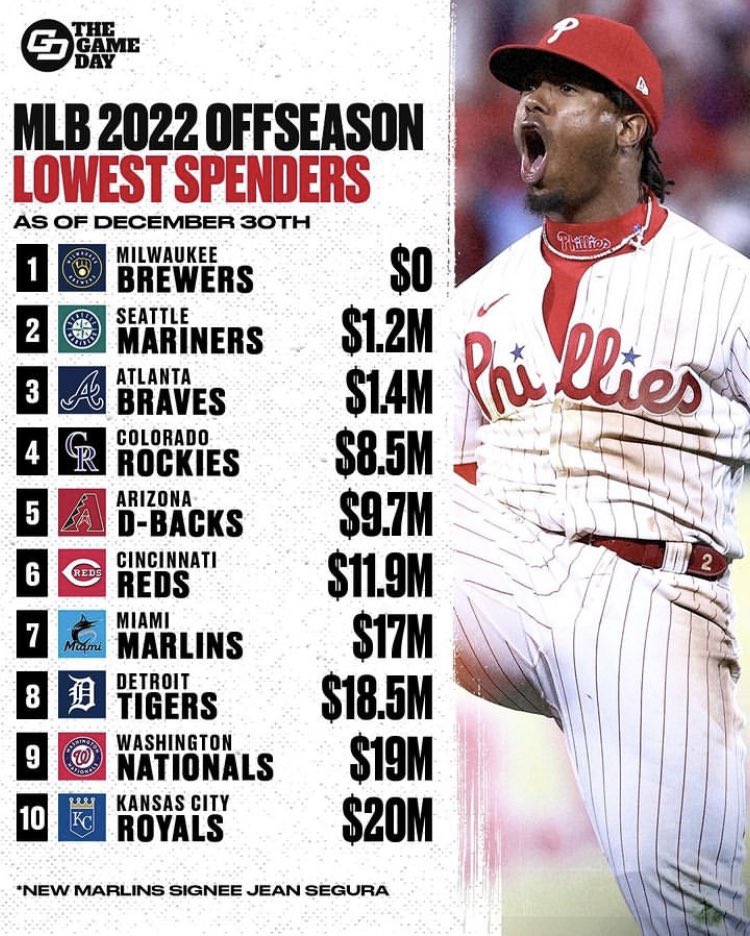 The Milwaukee Brewers have not opened their wallet this off-season.  Many Brewers fans have reacted negatively to this news.
— NHammertime (@NHammertime) December 31, 2022
@Brewers the fans deserve better. This is embarrassing.

— Martin_Mart (@TheREALmartyGK) December 31, 2022
If this doesn't scream we do not care idk what else will

— Sean Davis (@seandavis131519) December 31, 2022
Unacceptable @Brewers

— Chris B (@brewaukee) December 31, 2022
Early this month Matt Aarnold gave an interview with Fox 6.  Arnold discusses what it is like being the new guy in charge.  He also discusses the William Contreras trade, not spending money in free agency, Jesse Winker's clubhouse concerns, and the Owen Miller trade.
In regards to the Contreras trade, here is what Arnold had to say.
I mean, obviously, you know, he's (Contreras) a guy that we've followed for a long time, and, you know, we've seen his brother a ton here in this division, so we're excited to have him. He's been a guy that we've had our eye on. Once we thought he had a chance to become available, he was a guy that we actively tried to pursue, and we're thrilled to get it done."
When asked about not spending money, here was the response.
 "It's not always just about spending dollars: It's about spending dollars responsibly."
The response to Jesse Winker's clubhouse concerns were as followed.
"Every situation is different, and we try to do our homework on everybody to the extent that we can, and having a long history with Jesse in our division, we've gotten to know him. You know, I've spent time around him, around the batting cage in Cincinnati. Our coaches know him. We have people on our team that know him. Whatever happened in Seattle, you know, that's in the past for him. We're hoping it's a really good fit for us because we have a lot of people here that are big supporters of him. When I spoke to him, he was thrilled to be a Brewer and that made us happy as well."
There is still plenty of time between now and the start of the season for the Brewers to make some moves.  However, this mid off-season stat does not show the Brewers trying to get better for the 2023 season.
For More Wisconsin Sports:
Follow me on Twitter at @mcquadewarnold, follow us @WiSportsHeroics, and listen to our Podcast, The Cheese Dads NOW with Legendary DT Gilbert Brown! You can also reach out to McQuade Arnold via email at mcquadewarnold@gmail.com. To read more of our articles and keep up to date on the latest in ALL of Wisconsin sports, click here!