In Omar Narvaez's second season since joining the Brewers, fans were able to witness a mix of excitement and desire for more. Narvaez joined the crew in 2020 after Yasmani Grandal departed in free agency. At the fairly low price of Adam Hill and a competitive balance pick, Narvaez was well worth the relative uncertainty around his ability at the big leagues.
Narvaez came into 2021 off a lackluster, COVID-shortened 2020. He hit just .176 with two home runs and .562 OPS through 40 games. Narvaez came to Milwaukee with a reputation for being able to hit the long ball but having work to do defensively. In 2020, Brewers fans were stretching to see this potential. However, in 2021 things began to take shape for the Venezuelan lefty.
Narvaez Offensively
Narvaez's season offensively was starkly noted as a tale of two halves. He came out of the gates blazing hot hitting .368 with three home runs in the first month of the season. Unfortunately, a tweak to his left hamstring would land Narvaez on the 10-day injured list at the end of April. Narvaez returned in mid-May and was able to get back to form in early June. Through the first half of the season, he hit .300 with eight home runs .865 OPS. This performance earned Narvaez a trip to his first MLB All-Star Game in Denver. He was the only Brewers position player to earn this honor and collected a hit in his two plate appearances at the Mid-Summer Classic.
We can still call this a four bagger, right?

That's two more runs, courtesy of Omar Narváez #VoteBrewers | #ThisIsMyCrew pic.twitter.com/wkqeGUifui

— Milwaukee Brewers (@Brewers) June 5, 2021
Unfortunately for Brewers fans, Narvaez struggled in the coming months. Following the all-star break, Narvaez hit just .225 with three home runs and .592 OPS. He fell victim to the Brewers' offensive struggles down the stretch, turning just a .178 batting average and 25% strikeout rate. Narvaez's fall-off coincided with Milwaukee's poor offense in September and he was unable to gain his mojo in the Brewers' early playoff exit. To Narvaez's credit, he had played in 123 games coming off a shortened season. Overall, Narvaez finished batting .266 with 11 home runs and 49 RBIs. For a back-of-the-order every day catcher, that is nothing to shake a stick at.
Final Offensive Grade: B+
Narvaez Defensively
Narvaez came into 2021 with a lot to prove defensively and he took a big step forward. The most obvious way to see this was his ability to catch every day for two of the National League's Cy Young candidates, including the winner – Corbin Burnes. Narvaez improved and became one of the best pitch-framers in the bigs. He led all of baseball with 10 runs saved from extra strikes. This stat becomes even more impressive noting that Narvaez was ranked 10th in the league in pitches received.
While Narvaez improved tremendously at receiving, there is still an opportunity for improvement when it comes to arm strength. He ranked 31st in baseball of 34 qualified catchers throwing out just 21.53% of steal attempts. However, he was able to save several extra runs behind the plate from his blocking skills. Allowing five passed balls, Narvaez ranked in the top half of the league. Overall, Narvaez improved defensively and is showing his capabilities as a reliable everyday catcher. With just one more year before free agency, he will surely be trying to perform for his payday.
Final Defensive Grade: B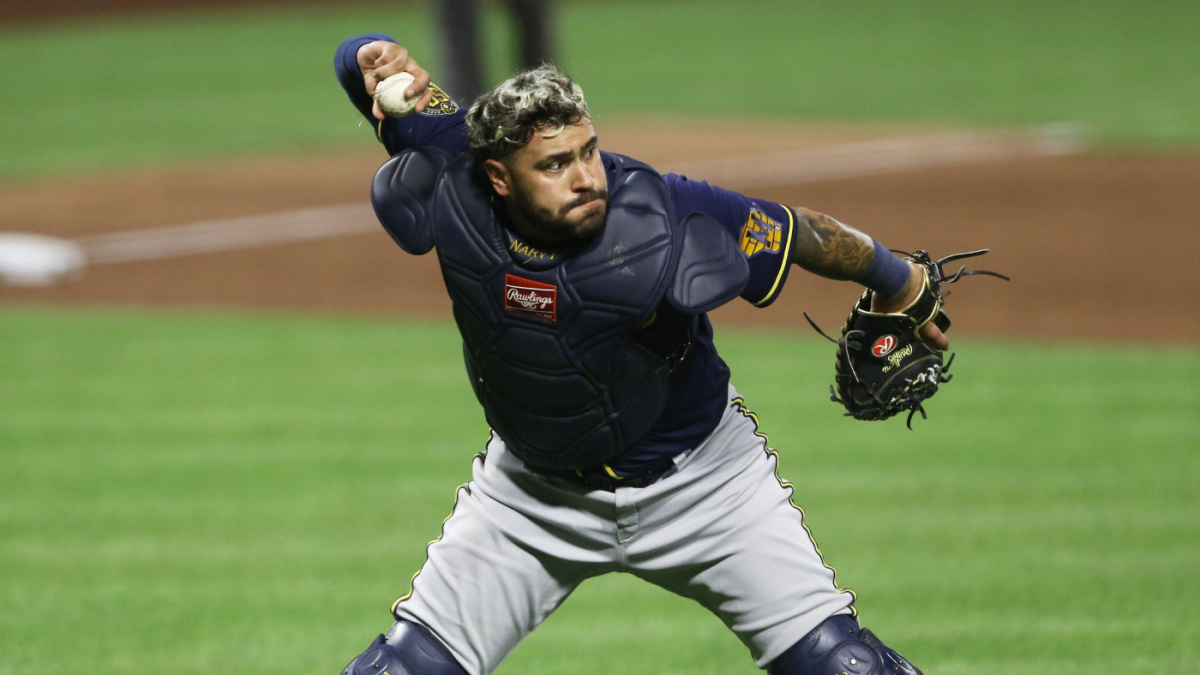 For More Wisconsin Sports Content:
If you'd like to read more articles from our 2021 Brewers report cards series, be sure to check out the Wisconsin Sports Heroics website!
Follow me on Twitter @zachlensmire for additional Brewers content and follow us @WiSportsHeroics to keep up with everything Wisconsin sports. To read more about Wisconsin sports click here. Also, check out our merch store for some amazing WSH merchandise!