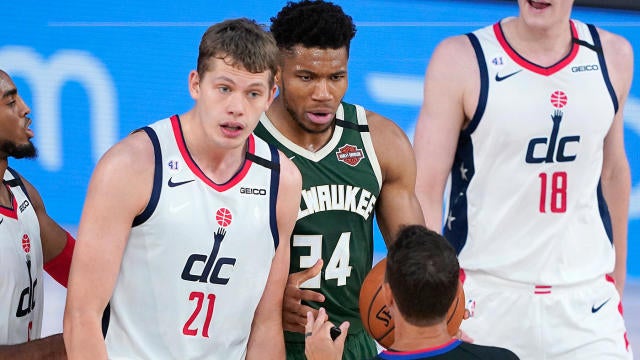 ORLANDO, Florida – The NBA made the decision on Wednesday evening to suspend Giannis Antetokounmpo for Milwaukee's final seeding game against the Memphis Grizzlies. This comes 24 hours after Antetokounmpo was assessed a flagrant 2 foul for his headbutt on Wizards forward Mo Wagner, sources tell ESPN. 
What It Means
This can potentially benefit the Grizzlies in their final regular season game, as they are vying for a playoff spot.  This game was already seen as a must-win for them, and Giannis' suspension really helps their case.
If this suspension were to have been handed out at any other point, it may show cause for concern. However, with the one-seed already clinched and the playoffs just days away, this should not be blown out of proportion for the sake of the Bucks. 
Giannis' Reaction
With so much attention fixated on officials during the bubble, Giannis may have alluded to some no-calls that led him to lose his cool vs. Washington. 
"I wasn't frustrated with Wagner," he said. "It was just a whole buildup of dirty plays in my mind. Guys tripping me, falling in front of my feet, pulling me, hitting me, and all of that. I have nothing against Wagner."
"Terrible action. If I could turn back time and go back to that play. I wouldn't do it." pic.twitter.com/Vt2cMKK7Mw

— Milwaukee Bucks (@Bucks) August 12, 2020
This will be the second time in five years Giannis has been suspended by the league. In 2015, he was suspended for 1 game for infamously tackling Mike Dunleavy in a playoff series. Other than that, he has been maintaining a relatively clean sheet for his entire career. 
The Bucks face the Grizzlies on Wednesday, August 13th at 4:00 p.m. E.T. on FOX Sports Wisconsin. On a quick turnaround, the Bucks will face the Orlando Magic in the first round of the NBA playoffs, starting on Monday, August 17th. 
Follow me on Twitter at @donchiarel and follow us @WiscoHeroics1 for more great content. To read more of our articles and keep up to date on the latest in Wisconsin sports, click here!