LeRoy Butler finally got the knock on his door (from Charles Woodson, no less) that let him know that he had finally been chosen for induction into the Hall of Fame. Now that one wrong has been set right, the Hall of Fame voters have begun the process of fixing another on-going injustice. Sterling Sharpe, often regarded as one of the best wide receivers in the NFL during his short playing career, has been named as a semi-finalist for the Pro Football Hall of Fame. The Green Bay Packers broke the news on social media.
Former #Packers All-Pro WR Sterling Sharpe & Super Bowl-winning Head Coach Mike Holmgren are semifinalists for the Pro Football Hall of Fame's Class of 2023 in the senior & coach/contributor categories. 📰#GoPackGo https://t.co/X6Eff66BmO

— Green Bay Packers (@packers) July 7, 2022
Along with Sharpe, former Packers head coach Mike Holmgren has also been made a semi-finalist.
Related: Sterling Sharpe's case for induction into the Hall of Fame
Sterling Sharpe Is One of the Greatest Wide Receivers in Packers History Sterling Sharpe was drafted by the Green Bay Packers with the seventh overall pick in the 1988 NFL Draft. In his first season, he 55 receptions for 791 yards and a single touchdown. However, the best was yet to come. In 1989, Sharpe led the NFL with 90 receptions while posting 1,423 receiving yards and 12 touchdowns. He was named to his first Pro Bowl and was a First-Team All-Pro.
Sharpe continued to dominate the NFL throughout his career. His best season came in 1992 when he led the NFL in receptions (108), receiving yards (1,461), and touchdowns (13). In 1994, his last year in the NFL, Sharpe also led the NFL in touchdown receptions with 18. This season total has been matched just once, by Davante Adams in 2020.
Unfortunately, Sterling Sharpe saw his career cut short due to a serious neck injury. He retired after just seven seasons. In that time, he was a five-time Pro Bowler and three-time First Team All-Pro.
Mike Holmgren Gets a Deserving Nod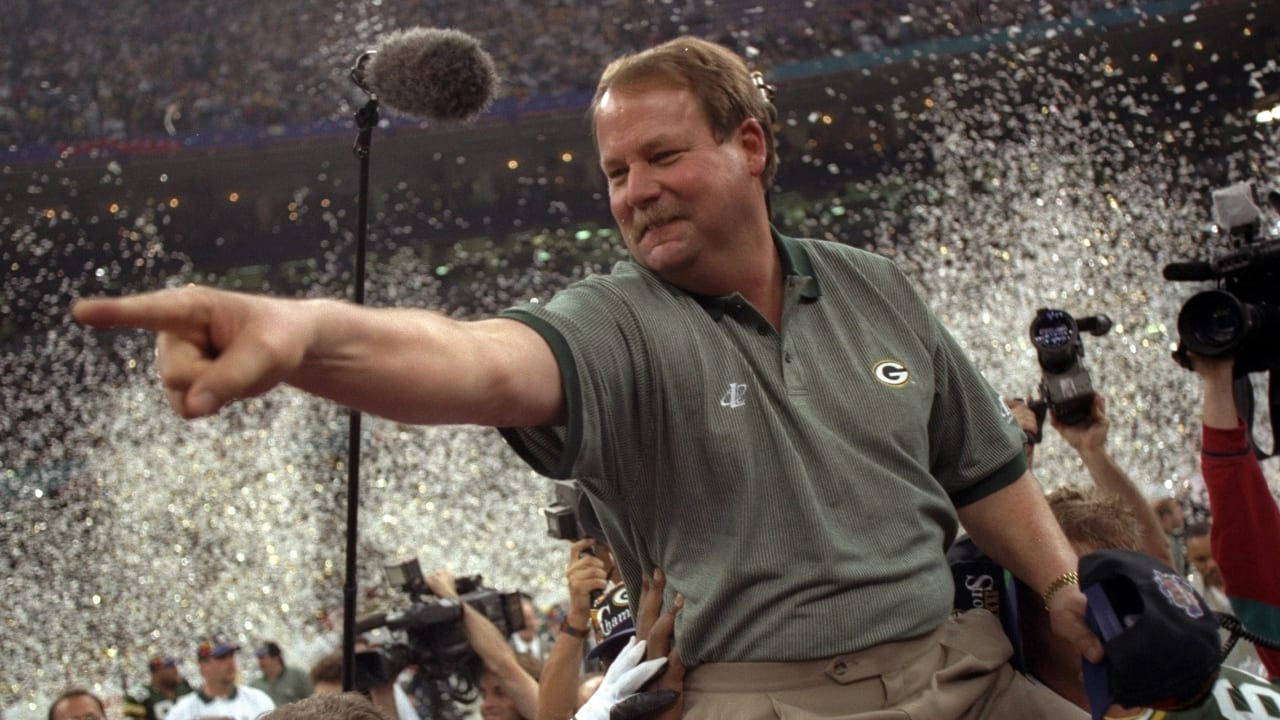 The city of Green Bay does not have a street named "Holmgren Way" for no reason. Mike Holmgren played an instrumental role in rebuilding a winning culture in the Packers locker room. In addition to handling the young Brett Favre, Holmgren was instrumental in recruiting Reggie White to come play in Green Bay.
In seven seasons as the Packers' head coach, Holmgren was 75-37 and led the Packers to two Super Bowl appearances. Of course, Green Bay brought the Lombardi Trophy home in Super Bowl XXXI against the New England Patriots. Holmgren is one of just three Packers head coaches to win a Super Bowl, the others being Vince Lombardi and Mike McCarthy.
After leaving Green Bay, Holmgren was the head coach of the Seattle Seahawks, whom he led to a Super Bowl appearance in 2005. He is one of just seven coaches in NFL history to take two different teams to the Super Bowl. His 161 career wins as a head coach rank 16th all-time, ahead of Hall of Famers Tony Dungy, Joe Gibbs, and Bill Cowher, among others.
To Read the Latest Packers News, Click Here
For More Great Wisconsin Sports Content
Follow me on Twitter at @theotherRobin19 and follow us @WiSportsHeroics for more great content. To read more of our articles and keep up to date on the latest in Wisconsin sports, click here! Also, check out our merch store for some amazing WSH merchandise!