The Milwaukee Bucks' offseason was, for lack of a better term, a roller coaster.  They supposedly had a trade in place for Bogdan Bogdanovich.  The supposed trade fell through and the NBA initiated an investigation that led to the Bucks losing a second round draft pick.  They traded Eric Bledsoe, George Hill, and three first round picks for Jrue Holiday, a rare blockbuster trade by the franchise.  And then there was the wait for Giannis Antetokounmpo to sign his extension.  While he eventually did and the entire city of Milwaukee breathed a sigh of relief, the tension leading up to his signing was thick. Flying under the radar of these headline-grabbing stories was the signing of Bobby Portis.
Bobby Portis' Career Before Milwaukee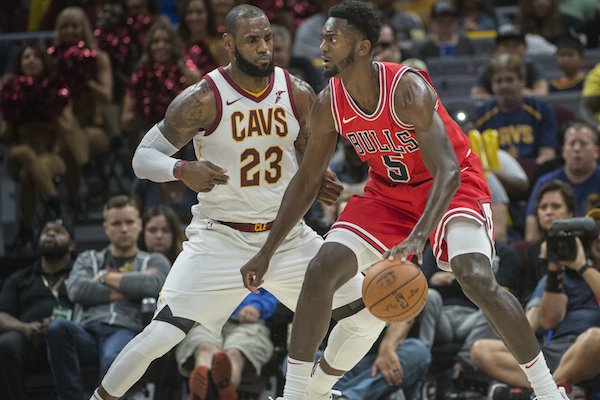 Bobby Portis entered the 2020-2021 season as a five-year NBA veteran.  He was drafted in the first round (22nd overall) of the 2015 NBA draft by the Chicago Bulls.  In three and a half seasons in Chicago, Portis averaged 9.7 points and 5.8 rebounds.  His fourth year in the league was a breakout year.  That season, the 2018-2019 season, Portis split time between the Bulls and Wizards averaged 14.2 points and 8.1 rebounds.  Following the season, Portis signed with the Knicks for the 2019-2020 campaign.  Last year, Portis averaged 10.1 points and 5.1 rebounds.
Bobby Portis Signs with Milwaukee
Free agent Bobby Portis has agreed to a deal with the Milwaukee Bucks, sources tell @TheAthleticNBA @Stadium.

— Shams Charania (@ShamsCharania) November 21, 2020
The Milwaukee Bucks signed Bobby Portis on November 24, 2020.  Entering the season, Portis had career averages of 10.2 points, 5.9 rebounds, and 1.2 assists.  His career shooting splits entering this season stood at 45.6% overall, 36% from three, and 75% from the line.  Portis had spent the majority of his career as a bench player, so it was assumed that that would be his role on the Bucks as well.  This is especially true considering Giannis and Brook Lopez are mainstays in the starting lineup at the power forward and center positions.  The Bucks likely expected that Portis would be a solid role player for them off the bench.  However, they have gotten so much more than what they initially thought they would.
An Offensive Spark Off the Bench
Not only has Bobby Portis been a solid bench player for the Bucks, he brings an energy off the bench that the Bucks have not had for years.  In eight games so far, Portis is averaging 11.4 points, 8.0 rebounds, and 1.5 assists.  He has also recorded a double-double in three of those games, all coming off the bench.
The level of production that he is exhibiting is very efficient as Portis is only averaging 23.5 minutes per game.  When he takes the court, fans can expect him to be around the ball.  While some worried that he may look to score too much, he has found his niche in Coach Bud's system and is constantly moving the ball, participating in pick-and-rolls, and crashing the boards.
Last year, George Hill was the Bucks' main bench piece, and was a borderline Sixth Man of the Year candidate.  Portis is different, though, and not in a bad way.  When Bobby Portis enters the game, things get exciting.  There is movement, there is hustle, there is energy.  And this is not just coming from Bobby.  He is bringing it out of the rest of the players on the floor, whether they are starters or other bench players.
Perhaps it's the Bucks' system.  Perhaps it's Portis' own excitement about finally playing for a winning team.  Or perhaps it's a combination of both.  Whatever it is, Bobby Portis is obviously a perfect fit on the Bucks and he is bringing energy out of them that no bench player has for a long, long time.
For More Great Wisconsin Sports Content
Follow me on Twitter at @theotherAdams14 and follow us @WiscoHeroics1for more great content. To read more of our articles and keep up to date on the latest in Wisconsin sports, click here!