The Wisconsin Badgers football team surprised a lot of people last season by reaching the Rose Bowl after tumbling down to #17 in the AP Poll in Week 10. They had a great second part of the season though; they won the Big Ten (B1G) West and fell just short in the B1G Championship game against Ohio St.
A lot of the Badgers' key contributors from that big second half of the 2019 season are no longer on the team. Jonathan Taylor, Zack Baun, Tyler Biadasz, Quintez Cephus and Chris Orr are now all in the NFL.
If the Badgers want to repeat the success from last year, they will need some players to step up and fill the shoes of those key contributors from last year. Here are four Badgers who will need to step up in the 2020 season.
1. Kayden Lyles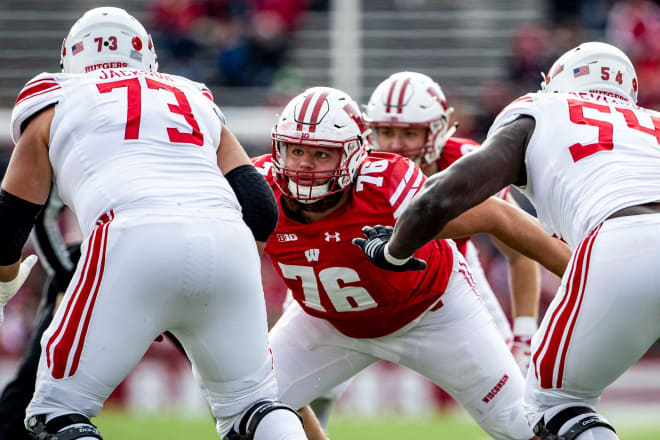 Lyles came to Wisconsin as a highly-rated recruit. His dad, Kevin Lyles, played quarterback and tight end for the Badgers in the '90s. His brother, Karé, had a brief stint in the quarterback room at Wisconsin as well. So, there really wasn't a whole lot of concern that he would go somewhere other than Wisconsin.
Since he's been in Madison, he has had trouble breaking through on the offensive line. With as stacked as the line has been while he's been in Madison, it's not hard to see why. He also spent a season on the defensive line after the position was decimated by injuries.
With the departure of Biadasz. Lyles should be able to find a spot on the line this year, possibly at center, replacing Biadasz. He will be depended upon to be an anchor on O-Line this season.
2. Izayah Green-May
Izayah Green-May (IGM) actually began the 2019 season as a starting outside linebacker. He quickly lost snaps and totaled just five total tackles and a sack last year.
Since the Badgers have lost Zack Baun, they will be in need of someone who can supply pressure to opposing quarterbacks. They will need IGM to step up and make an impact on the defense this season. Otherwise, there are sure to be other edge rushers who would be more than happy to get in and attempt to chase down the quarterback.
3. Danny Davis III
Danny Davis III was a big recruit for the Badgers in 2017. A four-star receiver isn't all that common in Madison, since they tend to be a run-first team. Davis has been making an impact since his freshman season.
He's always had some competition on the depth chart, however. He had to sit behind A.J. Taylor and Quintez Cephus. Now it is about to be his show with Kendric Pryor. He will have to fill the shoes of Cephus, who came back and had a huge season for the Badgers after he missed a season due to his legal concerns. Davis will need to be able to make some big plays down the field when the Badgers are in need of a good chunk of yards.
4. Nakia Watson
It's almost impossible to replace a player like Jonathan Taylor, but Nakia Watson is going to try. Wisconsin is a run-first team who consistently pumps out running backs for the NFL. Jonathan Taylor was drafted in the second round by the Colts in the NFL Draft.
That is a lot of production to replace, and I'm sure Watson won't be able to do it by himself, but he will have a good head start to land the starting job. Wisconsin has quite the stable of running backs with Julius Davis, Garrett Groshek and incoming freshmen Jalen Berger. If Watson can't get the job done, there are plenty of other options behind him ready to step up to be the next great running back out of Wisconsin.