Badgers Volleyball Advances to the Elite 8 after beating Penn State just rolls off your tongue.  No. 1 Wisconsin looked as though they were going to sweep the No. 9 Penn State after winning the first two sets and leading late in the third set.  After Wisconsin dropped set three and then four,  fans lucky enough to watch, listen or attend witnessed a 5 set thriller.  Wisconsin advances to the Elite 8 for the fifth straight season.
Fifth-straight season to the Elite Eight ✅#RoadtoOmaha | @SummitDoMore pic.twitter.com/8zCSLLDPLR

— Wisconsin Volleyball (@BadgerVB) December 9, 2022
During the regular season, the Badgers beat the Nittany Lions both times they met.  A 3-0 sweep at home and a 3-2 thriller on the road. It's no surprise that the third time both teams knew the stakes and delivered an exciting match.  Beating a conference opponent feels sweet but none sweeter than beating them to advance to the Elite 8.
Match results: 25-21, 25-19, 23-25, 20-25, 15-8.
Dancin our way into the Elite 8!💃#RoadtoOmaha pic.twitter.com/ghR5p7Nlpf

— Wisconsin Volleyball (@BadgerVB) December 9, 2022
Athletes of the Match
All night long, hitters were attacking the nets on both sides.  Caroline Crawford stuck true to her position and was blocking shots all night. Wisconsin blocked in total 24 shots and Crawford recorded 12 of those blocks.  She had two solo blocks and 10 block assists.  Crawford also chipped in two kills on the night as well.  In total, she was responsible for nine total team points.
NOTHING GOT BY CAROLINE CRAWFORD 🙅‍♀️@ccpaigee9 put up 1️⃣2️⃣ blocks to lead @BadgerVB to its most blocks in a match since 2000 in (1) Wisconsin's five set victory against (4) Penn State.#NCAAWVB pic.twitter.com/6AxIa1omXb

— NCAA Women's Volleyball (@NCAAVolleyball) December 9, 2022
Anna Smrek: Sophomore – Middle Blocker/Right Side Hitter
Like Crawford, Smrek stuck true to her position and was a dominant blocker.  Standing 6-9, Smrek tallied eight total block assists.  She also finished the match as the most efficient hitter posting 13 kills on 19 total attempts with only two hitting errors.  Smrek's 13 kills tied her for team high with talented all-around teammate, Sarah Franklin.  Smrek led all Badgers with a total of 17 team points.
These two Badger stars consistently lead the offensive attack for the team.  Sarah Franklin is a fantastic all-around player.  She tied for the team high in kills with 13 on 43 attempts with only three hitting errors.  Franklin never wavered and was a constant calming presence for the team in a tough match.  Additionally, she chipped in 6 digs and one solo block and five block assists totaling 16.5 team points.
Devyn Robinson provides a spark in just the right times.  Her energy and passion are infectious and it's evident with how the team responds when Robinson is in the game.  Robinson ended up with the third most kills on the team with 11 on 26 attempts and six hitting errors.  She also recorded 6 block assists and ended the match with 14 team points.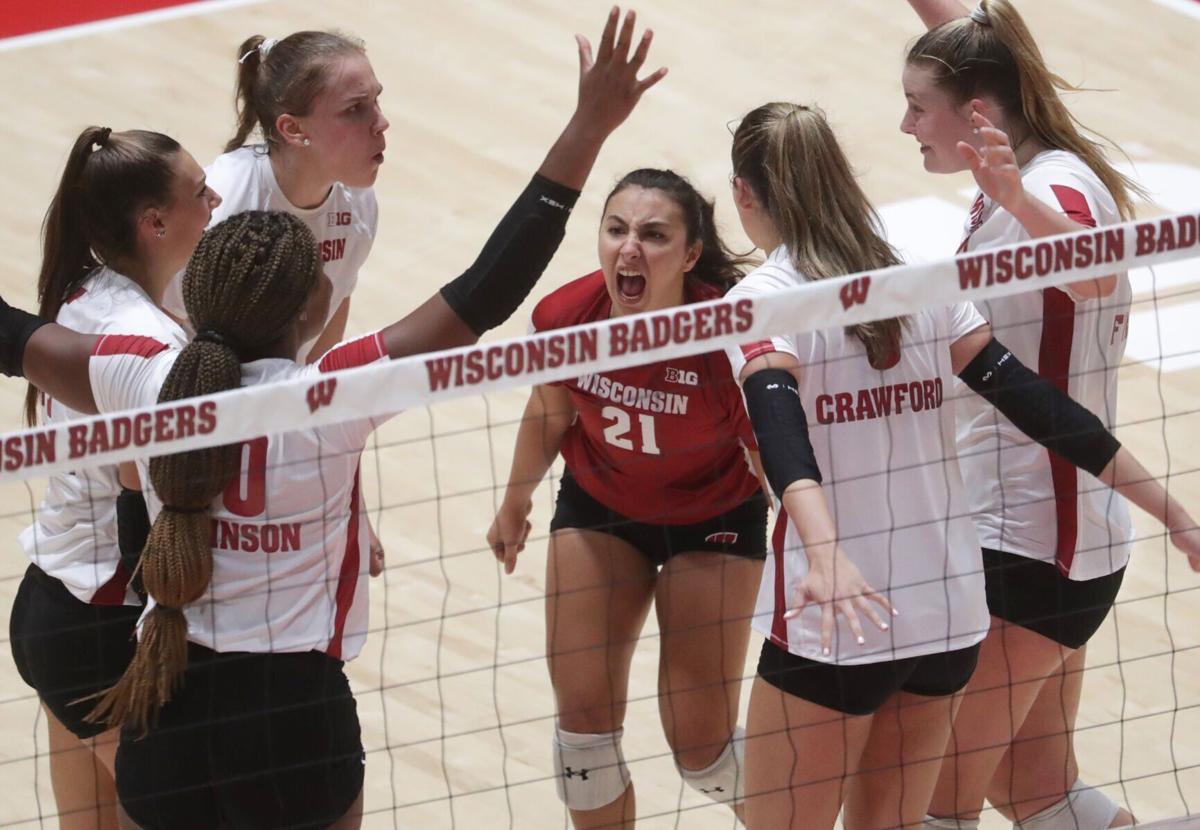 Up Next..
No. 1 Wisconsin will take its 21 match win streak on to the Elite 8 verse No. 2 Pittsburg.  Pittsburg advanced to the Elite 8 after beating No. 3 Florida 3-1.  Florida was one of three teams that were able to serve up a loss to this Wisconsin team.
Wisconsin vs. Pitt will be broadcast on ESPNU at 7:00 PM CST.
For More Wisconsin Sports Content
Follow me on Twitter at @wifecallsmecarl and follow @WiSportsHeroics as well for more great Wisconsin sports content! To keep up to date on the latest in Wisconsin Sports, click here! Also, check out our merch store for some amazing WSH merchandise!