The Wisconsin Badgers hosted a notable name recently amid the junior day chaos. However, one particular recruit was not a junior, but rather a two-star 2023 recruit. It may seem odd that a two-star recruit is making headlines, but there is a particular reason Wynn Stang has been in the news. 
Badgers Host 2023 Wisconsin Recruit Wynn Stang
Wynn Stang, a two-star 2023 recruit from Mukwonago, Wisconsin who blew away his competition in 2022. The running back recorded 2763 yards and 42 touchdowns on 8.4 yards per carry. His statistics were good enough to earn him the honor of being named Wisconsin Gatorade Player of the Year for 2022. His team made it to the State Championships for football and lost last season. Stang is also a lacrosse player and has been scouted by Virginia and Duke.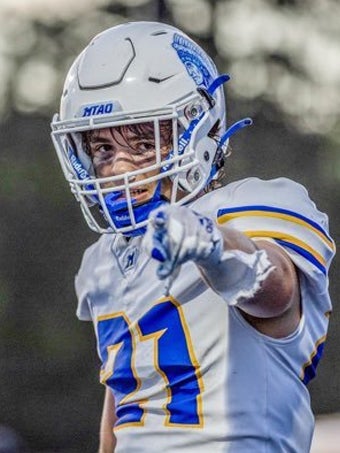 The biggest part of Wynn Stang's game is his speed and ball carrier vision. Stang can accelerate through a hole and find the next few gaps he needs to score. The majority of his scores in the 2022 season came from reverses and cutbacks where Stang found the open field. When he is given open space, Stang makes the most of it and moves past the slower players.
Despite his success, Stang only has four teams that have contacted him thus far, according to 247 Sports. Purdue has given Stang an opportunity as a preferred walk-on, but has not received any scholarship offers. Stang stands at six foot one and 190 pounds, which factors into why he does not have the offers or star rankings. There is not much Stang can do about his size, but his speed and quickness is truly one of a kind. 
Amazing time at @BadgerFootball this past weekend! @PatLambert13 @_maximus347 @CoachSpalding_ pic.twitter.com/ZJcFmZLvXk

— Wynn Stang (@WynnStang) January 26, 2023
After his visit to see the Badgers culture and campus, Stang seems excited to experience more of Madison. The Badgers have pretty much solidified their 2023 class, however there are still gaps. The Badgers will hold try-outs and open practices before too long, and Stang could receive a special invite. Much like the Purdue offer, Wisconsin could provide the same and bring in a potentially overlooked weapon.
For more:
Follow us @WiSportsHeroics for more great content. To read more of our articles and keep up to date on the latest in Wisconsin sports, click here! Check out 97.3 The Game on iHeart Radio!