The Wisconsin Badgers have had massive amounts of success pulling in transfer portal players. Along with this success, the Badgers have also been busy with high school recruits as well. Since the hiring of Luke Fickell and Phil Longo, multiple high school recruits have announced their commitment, or reassured Badgers' fans of their intentions.
Fickell and Longo secured a hard commit in 2024 four-star QB Mabrey Mettauer from Texas. The Badgers have also secured a spot in two recruits' latest school lists. 2024 three-star RB Mekhai White added Wisconsin to his top 15 after receiving an offer in late December. 2026 WR Naeem Burroughs, who is related to transfer target Quincy Burroughs, added Wisconsin to his list following a visit to Madison with Quincy.
The Badgers are heating up in the high school scene
So far the Badgers only have two commitments for the 2024 class. Along with Mettauer, three-star CB Austin Alexander from Illinois announced his commitment to the Badgers. Currently, most Wisconsin targets are adding and dropping schools to make more concise lists. However, there are a few key players who are nearing their decisions behind the scenes.
#OnWisconsin Let's keep this Hawaii pipeline going!!! pic.twitter.com/tiEMQ8R5DE

— Scoobie227 (@Scoobie_227) January 7, 2023
One recruit the Badgers have pushed heavily for is 2024 four-star Edge Anelu Lafaele from Hawaii. Lafaele has been recruited by Luke Fickell and Bobby April III, and now holds an offer from the team. Recently, Lafaele released a list of 16 schools and included Wisconsin in his list. The Badgers' fans and players have since tweeted and re-tweeted about where he should commit to. Lafaele responded with multiple likes and re-tweets from Wisconsin accounts, which could be a sign of where his heart lies.
Landing another big tackle could be possible for the Badgers
Currently, the Badgers have secured transfer tackle Joe Huber and signed three-star IOL James Durand from Arizona. There are no 2024 offensive line commits and no other line transfers for Wisconsin thus far. Wisconsin needs to improve their line, and they have been moving fast on their high school prospects.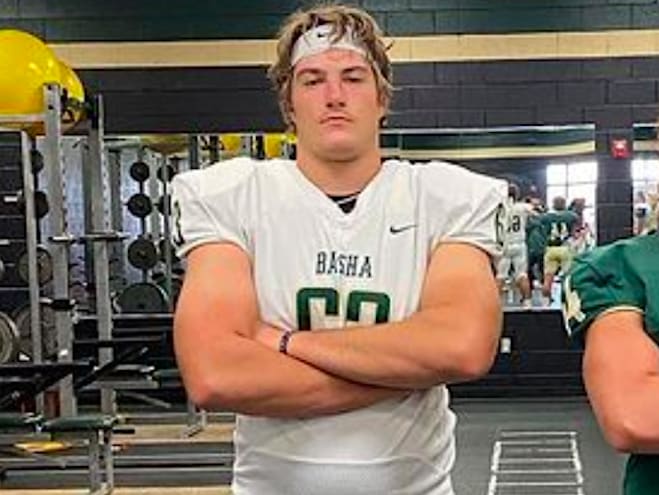 2024 four-star OT Fletcher Westphal left the Badgers out of his recent top ten list. Westphal was offered by Paul  Chryst and visited Madison to meet with him before his ultimate firing. Fickell and company have tried to mend their relationship and Westphal remains a top target for the staff. The attention has been turned to 2024 three-star OT Marques Easley from Illinois.
Easley is on the cusp of becoming a four-star recruit and has garnered serious attention from Michigan. Four-star ATH and Michigan signee Jyaire Hill is a former teammate of Easley. Easley played alongside Hill throughout high school and expressed an interest to play with him at the next level. The Badgers offered Easley again in December following the hiring of Fickell, and since have pushed harder on social media.
Social Media, likes, and re-tweets mean almost nothing. However, the consistency and persistence that has been shown towards Marques Easley and Anelu Lafaele has made progress. Each player remains a major target for the 2024 class. The Easley path is starting to go cold, but expect the staff to push harder in the coming weeks.
For more:
Follow us @WiSportsHeroics for more great content. To read more of our articles and keep up to date on the latest in Wisconsin sports, click here!