The 2022 NCAA Women's Volleyball Tournament kicked off Friday, December 2nd.  Wisconsin earned a number one seed for this years tournament and they begin their quest to repeat as champions.  The lady Badgers have dominated their first two matches with complete sweeps.
Complete Dominance against Quinnipiac
Wisconsin matched up against the Quinnipiac Bobcats in round 1.  The 14-14 Bobcats were outmatched from the opening set.  The Badger women made quick work of the Bobcats winning 25-15, 25-9 and 25-4.  Junior middle blocker, Devyn Robinson was the athlete of the match.  Robinson had 11 kills with one error on 15 total attempts.  Defensively, Robinson had five block assists, one shy of team leader, Caroline Crawford.  Next up Wisconsin welcomed a rematch against TCU.
Clean Sweep 2.0
Entering the second round, Wisconsin sought an opportunity to beat a TCU team for the second time this year.  Wisconsin swept TCU the first match of the season and again in the second round, 25-9, 25-11, 25-23.  Redshirt sophomore, Sarah Franklin was the athlete of the match.  Franklin led all Badgers with 13 kills on 28 attempts and chipped in two block assists on defense.  Danielle Hart led the defense with 5 total block assists.
Who's Next?
Wisconsin will face a familiar opponent in the third round.  Wisconsin will take on fourth seeded Penn State.  During the regular season, Wisconsin beat Penn State both matches.  At home the Badgers won 3-0 but on the road, Penn State put up a fight but ultimately came up short 3-2.  The time and location of the game are TBD but the date of the game is set. Thursday, December 8th will be round three between these two powerhouse teams.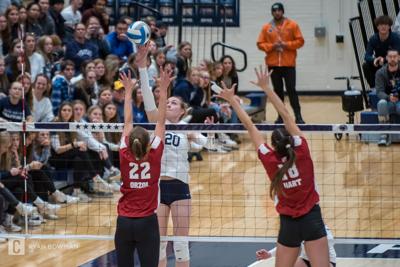 Read about potential Final 4 matchups here.
For More Wisconsin Sports Content
Follow me on Twitter at @wifecallsmecarl and follow @WiSportsHeroics as well for more great Wisconsin sports content! To keep up to date on the latest in Wisconsin Sports, click here! Also, check out our merch store for some amazing WSH merchandise!