The NFL Preseason kicked off in full this past weekend, and Badger fans were able to see some of their favorites in NFL action for the first time. Three Badger receivers from last year's team caught my eye this weekend, and made important strides to making their respective rosters. Lets take a look at how these former Badgers fared in their debuts:
Jake Ferguson, TE Dallas Cowboys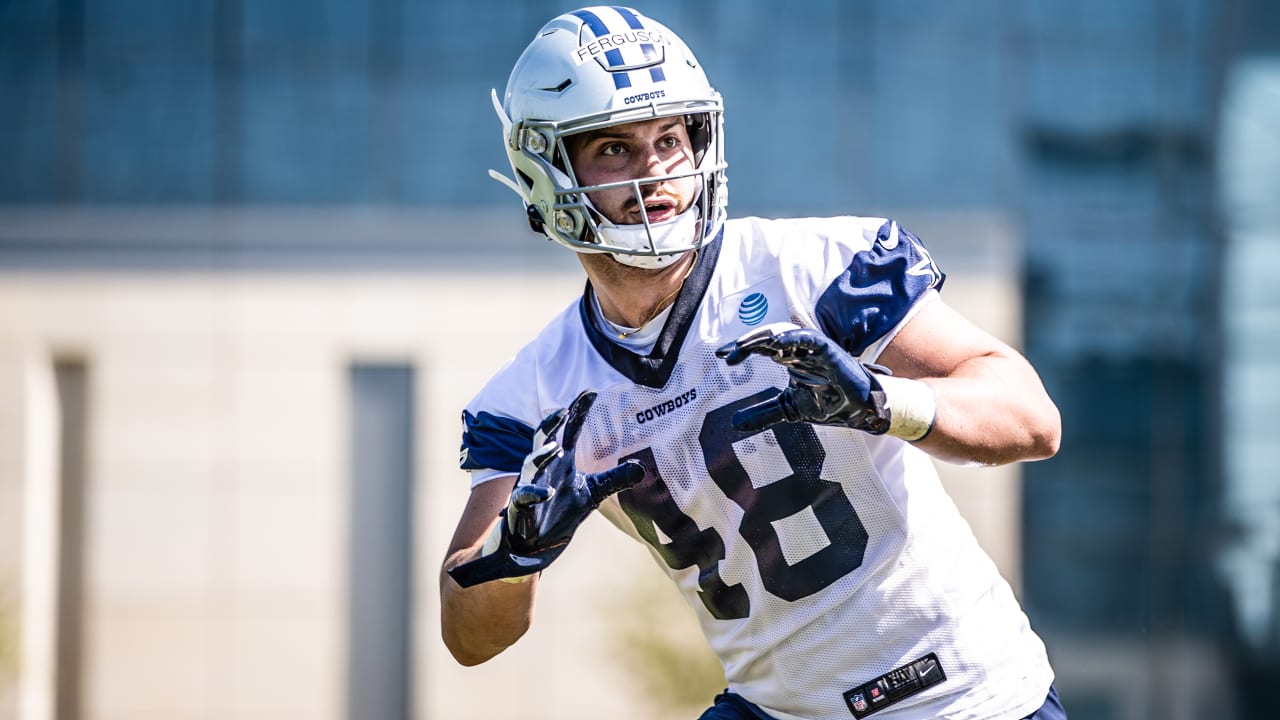 If you weren't aware, former Badger tight end Jake Ferguson is Barry Alvarez's grandson.
Now that we have that obligatory statement out of the way, we can talk about Jake's debut for the Cowboys. Ferguson tied for the team lead with 3 receptions (on 3 targets) and was second on the team in receiving yards with 29. Dallas struggled to move the ball most of the night, only mustering 7 points, but Ferguson was efficient when targeted and turned in a solid debut. Nothing flashy, just a rock-solid debut from the Wisconsin product. Considering the draft capital the Cowboys used to get him, you would figure his spot on the roster is secure in year 1, but he made a solid impression to work his way into the rotation come the regular season.
Kendric Pryor, WR Cincinnati Bengals
Former Badger Wide Receiver Kendric Pryor has turned heads early in Bengals camp, and on Friday night he delivered an outstanding performance. Pryor recorded 4 catches for 89 yards, including a 25 yard touchdown grab from Drew Plitt in the 4th quarter.  Arguably more impressive was this acrobatic catch along the sideline on the same drive:
KENDRIC PRYOR. What a catch! @Bengals

📱: Stream #AZvsCIN on NFL+ https://t.co/DqhJvWly2R pic.twitter.com/1LCrBSNjxv

— NFL (@NFL) August 13, 2022
The defending AFC Champion Bengals are very deep at wide receiver, but if Pryor can keep making plays like this, it will be very hard to keep him off the roster or at least the practice squad. He was also in on special teams as a punt gunner, which makes sense considering his 4.37 speed. Effort plays on special teams combined with answering the bell when your number is called on offense is a great combination for an undrafted rookie.
Danny Davis, WR Green Bay Packers
Packer fans love seeing a Badger don the green and gold, and we were treated to just that on Friday night. Another undrafted free agent Badger wide receiver, Danny Davis, reached the end zone in the second quarter on a 33 yard strike from Jordan Love. Davis made a nifty adjustment to the ball in mid air and was able to stretch the ball over the goal line for the touchdown right before the half:
The adjustment 🔥@jordan3love gives @DDIII_7 a chance and he makes a play! @Packers

📺: #GBvsSF on @NFLNetwork (check local listings)
📱: Stream on NFL+ https://t.co/IPaxU4rWJN pic.twitter.com/HfC95GiKRD

— NFL (@NFL) August 13, 2022
Davis is in a similar position to Pryor, where if he keeps making plays with the backup offense and special teams, he will stick around in this league. He does too many things well to not stick around with someone. The practice squad also increased to 16 players across the league, and Davis seems like a great candidate for that if he is unable to make the final 53.
BONUS BADGER RECEIVER: Jack Sanborn, ILB Chicago Bears
This article has focused on Badger receivers on the offensive side of the ball to this point, but I have to give some love to the defense here. Jack Sanborn did catch this pass after all! Another undrafted free agent, Sanborn picked off Chiefs quarterback Shane Buechele early in the 3rd quarter and ignited a 16 point Bears 3rd quarter after they trailed 14-0 at halftime:
Rookie LB Jack Sanborn with the INT 💪@ChicagoBears | @BadgerFootball

📺: #KCvsCHI on @NFLNetwork
📱: Stream on NFL+ https://t.co/3mvoWh7UD3 pic.twitter.com/qxkPWUcOwQ

— NFL (@NFL) August 13, 2022
Sanborn blankets the tight end in coverage here with inside leverage, and makes a strong play on the ball to secure the INT. I personally was shocked that Sanborn went undrafted, but am not shocked to see him making plays already. A native of Lake Zurich, IL, Sanborn is making a case for the 53 man roster for his hometown team.
Takeaways
Two former Badger wide receivers reached the end zone, a tight end caught everything thrown his way, and a linebacker picked off a pass. That is a banner weekend for the Wisconsin program. Wisconsin is known for churning out hard-working players who stick around in this league no matter where (or if) they were drafted, and this year's class appears to be no different. I am excited to see what these rookies can do the rest of the preseason after their stellar debuts.
For More Great Wisconsin Sports Content
Follow me on Twitter at @AJdonaldson_1 and follow us @WiSportsHeroics for more great content. To read more of our articles and keep up to date on the latest in Wisconsin sports, click here!