After a long and awaited offseason, Badger basketball is finally back! After dealing with program turmoil and a large roster turnover, Wisconsin is set for their first game of the season.
Up first, non-conference foe St Francis Brooklyn. Playing a conference-only season, the Terroirs finished 7th in the ten-team Northeast Conference. Tip-off is set for 7:00 pm CT at the Kohl Center.
Roster Turnover for Both Teams
It's to no surprise for Wisconsin fans that this year's team is going to look entirely different than a season ago. The Badgers are replacing six of their seven seniors who provided over 70% of the scoring last season. With Brad Davison as the only remaining senior from last year, coach Gard turned to many different avenues to help fill out the roster. With four commits and three players from the transfer portal, nearly half the roster is entirely new to the program this year.
However, St Francis is in a similar position as the Badgers. The Terroirs lost their top three scorers from a season ago and will have an entirely different core. Averaging over 77 points per game last season, St Francis departing top scorers combined for 43 of their total points. With just one double-digit scorer from a season ago, the Terroirs will look to their mixture of experience and young players to propel them throughout the season.

Early Program History?
One new player that coaches and players have been chatting about throughout the off-season is freshman guard Chucky Hepburn. The Nebraska native was a highly touted guard coming out of high school, ranking as one of the top 125 players in the 2021 class. With the turnover on the roster, many thought Hepburn might come in and be the starting point guard to start the season. After battling through training camp, all signs point to just that.
Looks like Chucky Hepburn has entered the starting line up. Note that it says potential starters, so things could change. Hepburn bumps out Carlson. pic.twitter.com/Deh1FphtNK

— Abby Schnable (@AbbySchnable) November 8, 2021
If Hepburn starts, he would be the first true freshman to start the season since Badgers legend Devin Harris back in 2001. Although not confirmed, Gard has never hidden what he thinks about Chucky. "I want to temper expectations a little bit because he's a freshman, but he has approached every day wanting to learn," said Gard. "He's been very eager to continue to improve to get better."
With such high praise comes a lot of expectations. Although Hepburn has looked like the top player in high school, he's still likely to struggle early in his career. Freshmen take time to get a feel for the jump from high school to college. However, with the way Hepburn attacks each day at practice, there's no one more ready for the moment than Chucky.
Who Will Provide Scoring for the Badgers?
With such a large turnover, the biggest question this offseason has been who will be the one to provide scoring this year. The first quick answers are sophomore guard Jonathan Davis and Brad Davison. Both have provided scoring from a season ago with Brad's three-point shooting and Johnny's swiss army knife scoring abilities. After these two, that's when the real debate begins.
Although Davis and Davison will be the main two, other guys are going to be the X factor each night. Junior Tyler Wahl provides the offense with his ability to attack the paint and play in the post. Freshman Steven Crowl saw late opportunities last year for minutes and Gard is very high on his ability to score inside and out. Freshman Ben Carlson looked like a great rebounder and finisher before he was injured for the majority of the season.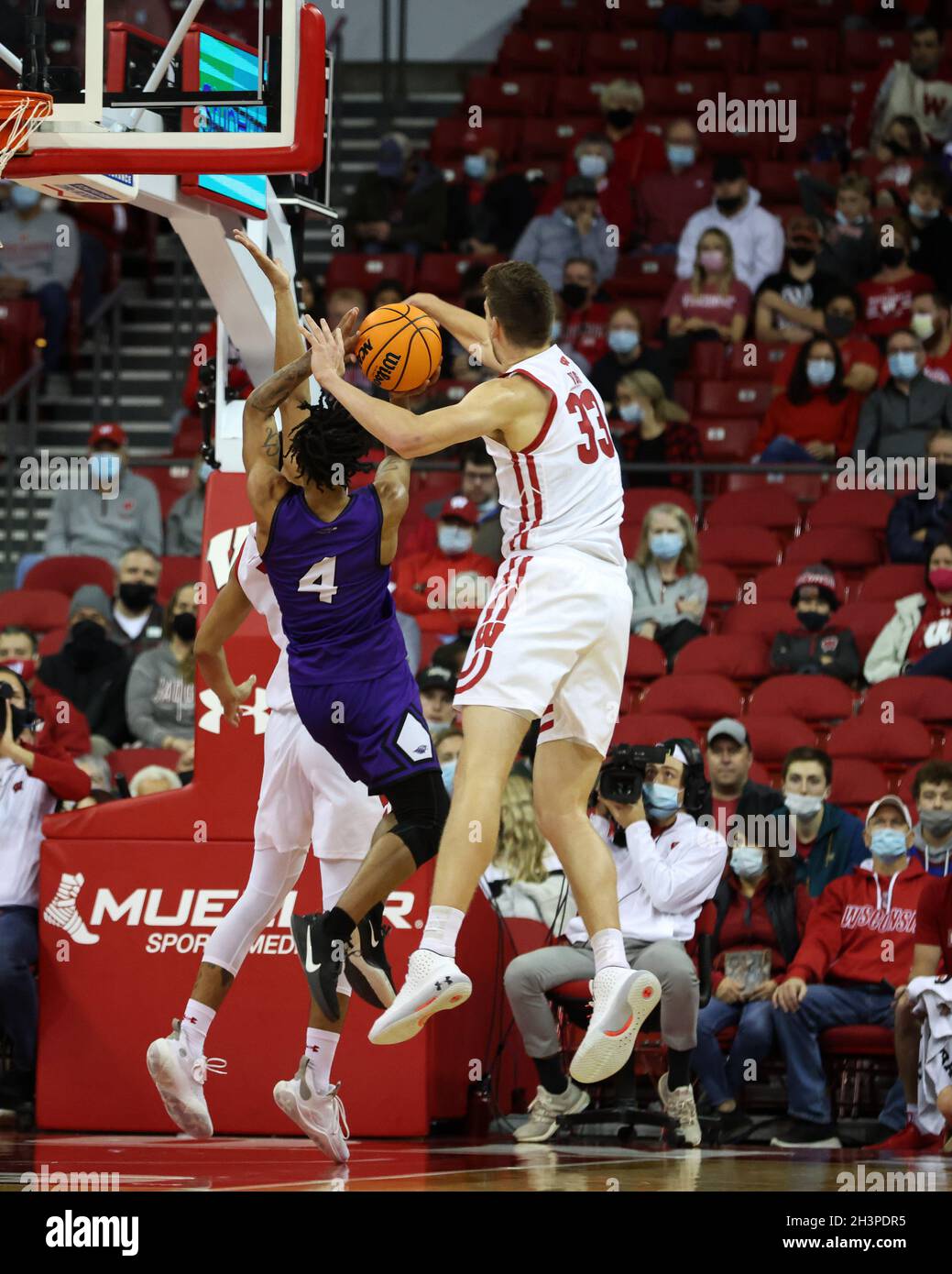 Throw in other players like Hepburn, transfers Chris Vogt and Jahcobi Neath, and the other young players on the roster, and who knows. In the end, it's going to be the next-man-up mentality for most of the season. Each night one player might have the hot hand and that's who Gard sticks with. Looking back to a season ago, Gard wasn't afraid to play certain guys more if he felt they were playing better on offense or the defensive end.
Luckily Gard has a long season ahead of him to figure these things out. It may be challenging early but later in the season, I think Wisconsin will be a team to keep an eye on. Especially for stealing a potential spot in the NCAA tournament.
Prediction
Even though Wisconsin has a lot of questions to answer this year, it's hard for me to think they come out struggling. With the Badgers' ability on defense, I expect this to carry them through the game. The saying defense creates offense couldn't be more true for this team. With the uncertainty of scoring, the defense needs to be sharp throughout the season. Creating turnovers and difficult shots will be key for this team.
The hope however is the offense will find life with many different players. Don't get me wrong, I don't expect this team to outshoot their opponent to victory. However, if they can find life on the offensive end of the floor, this would be a good sign to start the year. Three-point shooting is going to be key this year and the only proven shooter is currently Brad Davison. Not saying this can't change but it's still unclear who will be the next best.
Again, it's game one of the season. An opportunity like this against Saint Francis is the perfect game to figure that out.
Final Score: Wisconsin 74 Saint Francis 57
[pickup_prop id="10818″]
For More Great Wisconsin Sports Content
Follow me on Twitter at @bennyboy615 and follow us @WiSportsHeroics for more great content. To read more of our articles and keep up to date on the latest in Wisconsin sports, click here!