After a 20-13 win the Las Vegas Bowl, the Wisconsin Badgers are now looking to the 2022 season. While it is still early, it's never a bad idea to look at who Badgers fans could see a lot of next year. Here are who I think will be at each offensive position in 2022.
Quarterback- Graham Mertz
There isn't a debate here. Graham Mertz will be the starting quarterback in 2022. I do believe Mertz needs a good year in 2022. If not, look for a potential transfer and quarterback battle.
Running Back- Braelon Allen (1A) and Chez Mellusi (1B)
Chez Mellusi was the starting running back until he suffered a season ending injury against Rutgers. It's hard to believe that Braelon Allen began the year as the fourth string running back. Until Mellusi's injury, he was 1A and Allen was 1B. There is not doubt those roles will flip. Allen is already one of the best running backs in the Big Ten and country.
Fullback- Jackson Acker
I liked what I saw from Jackson Acker in his limited role. John Chenal was the focal player in that position and rightfully so. This could change, but I think right now this is Acker's job to lose.
Wide Receiver- Chimere Dike, Markus Allen, Skyler Bell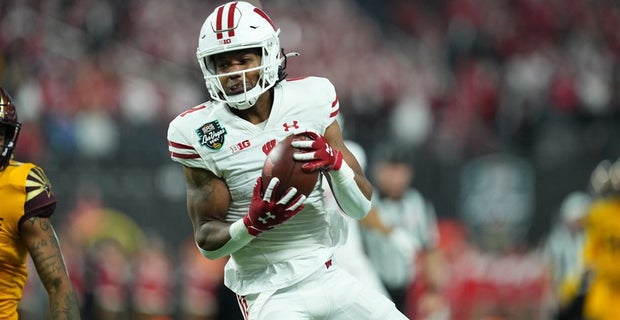 Dike will be the go-to receiver in 2022. There isn't much debate on that. He will draw each teams top corner. I like the flashes that Dike has shown in his first two years. He now gets his change to head up the wide receiver room.
We saw limited action from Bell and Allen, However, both flashed in the bowl game and make key plays that kept drives alive. They are still raw talent, but the flashes are there.
Tight End- Jack Eschenbach
There could be a lot of players in this role in 2022. I think Eschenbach is the best of the group and has played a lot of snaps over the course of his career. I also see Hayden Rucci and Jack Pugh cracking the rotation as well. This will be an inexperienced group after the departure of Jake Ferguson.
Offensive Line- Logan Brown (LT), Tanor Bortolini (LG), Joe Tippmann (C), Jack Nelson (RG), Trey Wedig (RT)
Three positions I believe are locks. That is Brown, Tippmann, and Nelson. We saw a lot of Tanor Bortolini in the bowl game as he started at right tackle for Logan Bruss. Bortolini can play any position on the offensive line. The goal is to play the best five offensive linemen. I believe he is one of them.
Right Tackle is a difficult position, but it's a good problem for the Badgers. I can easily see Bortolini at right tackle and Michael Furtney at left guard. There are so many option. As a result, I will stick with Trey Wedig for now.
Other Linemen To Crack The Rotation: Michael Furtney, Cormac Sampson, Riley Mahlman, Nolan Rucci
Paul Chryst loves to play multiple linemen. It's similar to a platoon in baseball. Sampson and Furtney have now played a lot of college football in this role. While I don't think they will start, they will absolutely be in the rotation as injuries also happen.
I'm also including Mahlman and Rucci because these two will be stud linemen. After not seeing the field much or at all in 2021, I think Badgers fans will get to see these two high recruits in 2022.
Follow me on Twitter @DylanBuboltz and follow us @WiSportsHeroics! For all your Wisconsin Sports content, check out our home page here!