Every season, a global panel of sportswriters and broadcasters vote on the All-NBA teams.  If Giannis is a unanimous All-NBA First Team selection, he would be the first to do it four years in a row since at least 1966-67.  Could Giannis Antetokounmpo make NBA history by accomplishing this feat?
If Giannis is a unanimous All-NBA First Team selection this season, he would be the first to do it FOUR years in a row since at least 1966-67.

The only others to have done it three years straight are Michael Jordan, LeBron James and James Harden 😳

(h/t Rh1No/Reddit) pic.twitter.com/LfAyebQKLw

— NBA on ESPN (@ESPNNBA) March 5, 2022
Milwaukee took a gamble drafting Giannis 15th overall in 2013.  At the time, 18 year old Giannis was 6'9″ and 205 pounds.  Giannis had the intangibles to become a generational talent and would be put on a five year plan.  Since the day Giannis was drafted, he's grown to 6'11" and weighs 242 pounds.  It's safe to say Giannis was well ahead of the five year plan, as he became an All-Star for the first time in his fourth NBA season.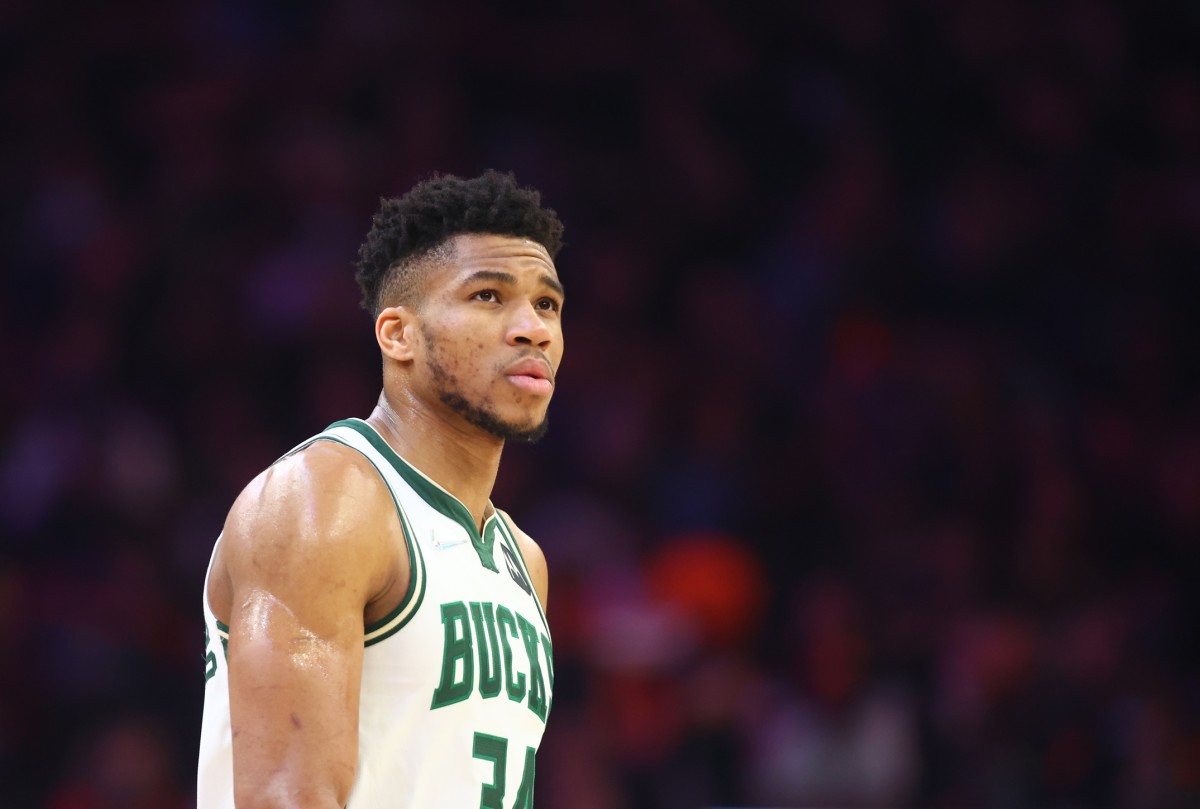 Giannis Current All-NBA Selections
In just his ninth season, Giannis has already generated All-NBA honors five times.  The first year Giannis was voted to All-NBA was in 2016-17 when he earned second team honors.  Giannis has earned second team twice, and first team 3 straight years.  Below are the All-NBA First Team's Giannis has been voted on.
2018-19: Giannis, Paul George, Nikola Jokic, James Harden and Steph Curry
2019-20: Giannis, LeBron James, Anthony Davis, James Harden and Luka Doncic
2020-21: Giannis, Kawhi Leonard, Nikola Jokic, Steph Curry and Luka Doncic
A fourth unanimous selection is a testament to Giannis consistency as a player.  Not only does this honor speak to his consistency but his ability to stay healthy and almost never take a day off.
[pickup_prop id="19420″]
Cementing his Bucks Legacy
24 players in the history of the NBA have been selected 10 or more times to one of the three All-NBA teams.  Oscar Robertson and Kareem Abdul-Jabbar, formerly Lew Alcindor, are former Milwaukee Bucks among the list.
Oscar Robertson played the tail end of his career with Milwaukee.  Robertson was voted to just one All-NBA Second Team selection during his Bucks tenure.  In total, Robertson was voted to All-NBA 11 times in his career.
Lew Alcindor was selected to one first team and one second team with Milwaukee.  After changing his name,  Kareem Abdul-Jabbar earned first team honors two more times before leaving the Bucks organization.  Abdul-Jabbar is tied with Kobe Bryant and Tim Duncan for the second most All-NBA selections with 15 total.
Giannis has already more All-NBA selections as a Buck than any other player in the organizations history.  On his current trajectory, it would be hard to imagine that Giannis won't be among the top selections in NBA history.
All-NBA Voting
In the beginning, the NBA only had two All-NBA teams but added one more team in 1988.  The global panel of sportswriters and broadcasters turn in three ballots.   On their ballots, voters must vote for two guards, two forwards and one center for each team.  A player is awarded five points for first team, three points for second team and one point for third team.  The players with the highest point totals at their respective position are named First Team All-NBA. The Second Team is then comprised of the players getting the next most votes at their position and so forth.
All-NBA voting can be difficult for the panel.  Some players in the NBA play multiple positions.  Voters are urged to vote for the position the player plays most often.  Another difficult task for a voter is determining how many "games played" is enough to be placed on a ballot.  Every year, a superstar in the NBA loses a significant number of games to injury.  This injury almost certainly removes themselves from consideration for All-NBA.  In addition, the recent trend of load management leaves the voting panel with questions of how many games is enough?
For More Wisconsin Sports Content
Follow me on Twitter at @wifecallsmecarl and follow @WiSportsHeroics as well for more great Wisconsin sports content! To keep up to date on the latest in Wisconsin Sports, click here! Also, check out our merch store for some amazing WSH merchandise!