Aaron Rodgers led the Green Bay Packers to a resurgence late in the 2022 season, going from 4-8 to 8-8 in the blink of an eye. A win against the Detroit Lions on Sunday night would have marked the Packers' fifth win in a row and provided a ticket to the playoffs. However, Green Bay came up short in Week 18 against the Lions. A 20-16 loss sent the Packers packing as they missed the playoffs for the first time since 2018.
Aaron Rodgers Turns Down Jameson Williams Jersey Swap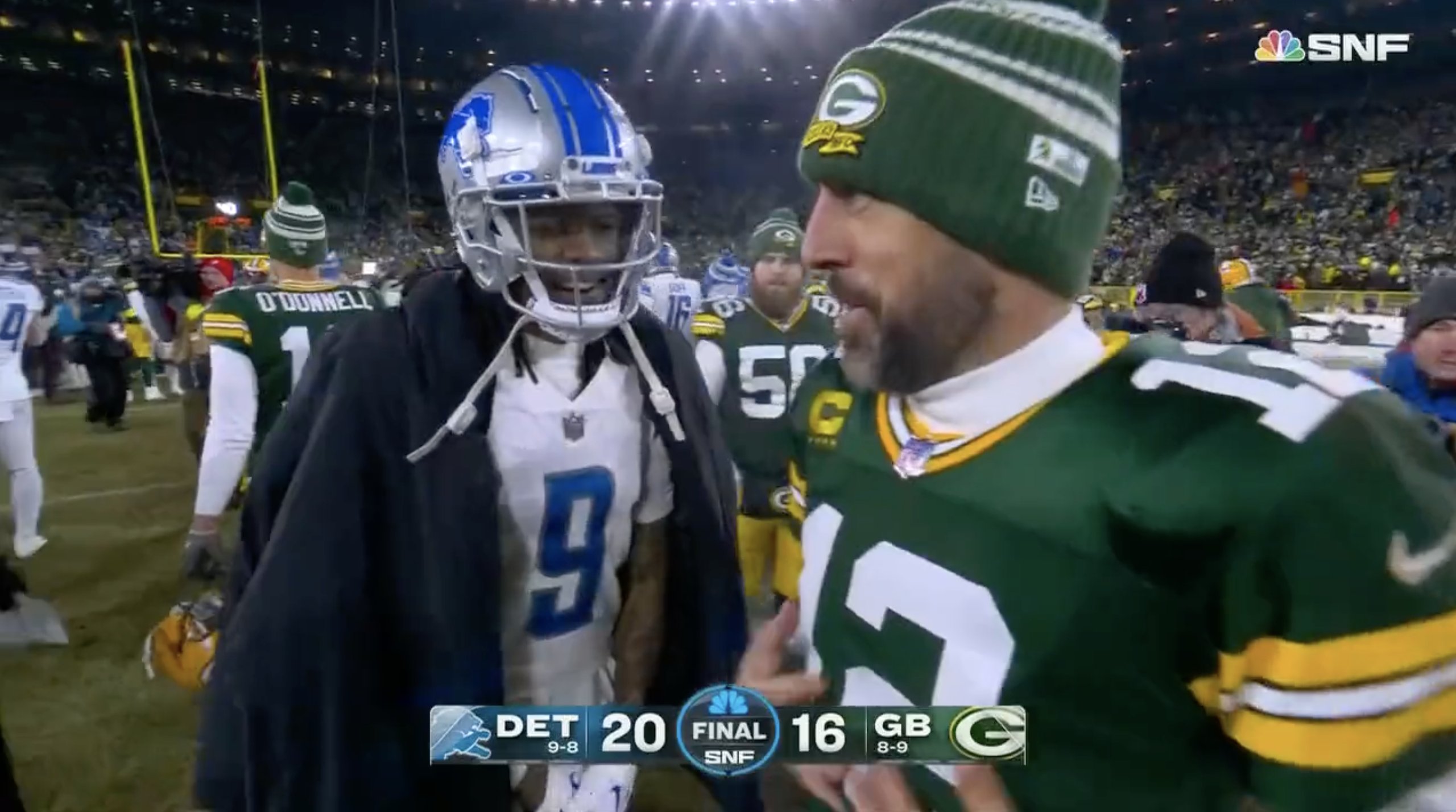 Speculation has been made that Aaron Rodgers may have already played his last game, due to an incident after the game. Rodgers rejected Lions' wide receiver Jameson Williams' attempt at a jersey swap, possibly hinting at retirement.
However, Rodgers provided some clarity on the situation.
"There are just some special ones that I like to keep. So it was nothing against Jameson. I'll make sure I send him one, but I kind of want to keep this one," Rodgers said, per Sporting News. "It's [a] night game [at] Lambeau, Week 18. There's just certain jerseys you like holding onto like, you know, playing Chicago or [playing a] big Sunday night game, so just a little bit different I guess."
Aaron Rodgers didn't completely leave Jameson Williams high and dry.
"I think I might have told him I'd give him a jersey when we played in Detroit, so I'll probably have to send him a jersey," Rodgers added.
It will be interesting to see what Aaron Rodgers decides to do in the offseason. The Packers might not be able to keep Rodgers, but at least Rodgers got to keep his jersey.
For More Wisconsin Sports News:
Follow me on Twitter at @alex_ratliff and follow us @WiSportsHeroics for more great content. To read more of our articles and keep up to date on the latest in Wisconsin sports, click here!