It is no secret that Aaron Rodgers has had an estranged relationship with his family for years.  Dating back to his relationship with Olivia Munn, Aaron Rodgers' relationship with his family has been under scrutiny.  Back in 2018 the intensity really turned up when Aaron Rodgers' brother opened talked about it.  Jordan Rodgers was quoted calling Aaron Rodgers a "fraud who ignored his own mother during the California wild fires."  Four years later it seems as though Aaron Rodgers is ready to make amends.
Aaron Rodgers' Recent Comments on Family: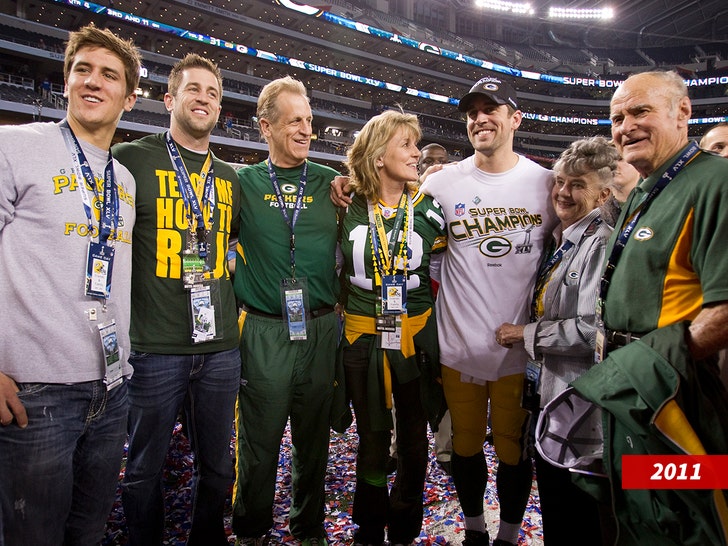 "I do believe in healing and I believe in the possibility of reconciliation at some point," Rodgers said on the "Aubrey Marcus Podcast" this week. "But, it's a different journey for all of us, and to judge on the outside about what should be or what it should look like, or who's wrong or who's right is just a game I've never wanted to play and still don't want to play."

"The most important thing for me is deep love and gratitude for them, and for the lessons I learned, and for the way I was raised, and hope for the future," he added.

"But, who knows what that future is gonna look like, when it's gonna look like, when time is gonna come."
This may be one of the first times that Aaron Rodgers has addressed the rift with his family on an open forum.  Rodgers has often kept his cards close to his chest.  This podcast was anything but that.  Aaron seems to be in a better place than recent years, and while some fans may only want him to "score touchdowns" or "win the Super Bowl" it is nice to remember that these people are humans too.  It is okay to be involved and understanding of their vulnerable side.
For More Wisconsin Sports News…
Follow me on Twitter at @mcquadewarnold and follow us @WiSportsHeroics for more great content.  To read more of our articles and keep up to date on the latest in Wisconsin sports, click here!