Last season, Green Bay Packers third string quarterback Kurt Benkert was the only quarterback that was tatted up. This year, Benkert is gone, but legendary QB Aaron Rodgers is inked up.  The future Hall of Famer took to Instagram show fans his "third eye."
Aaron Rodgers' Tattoo: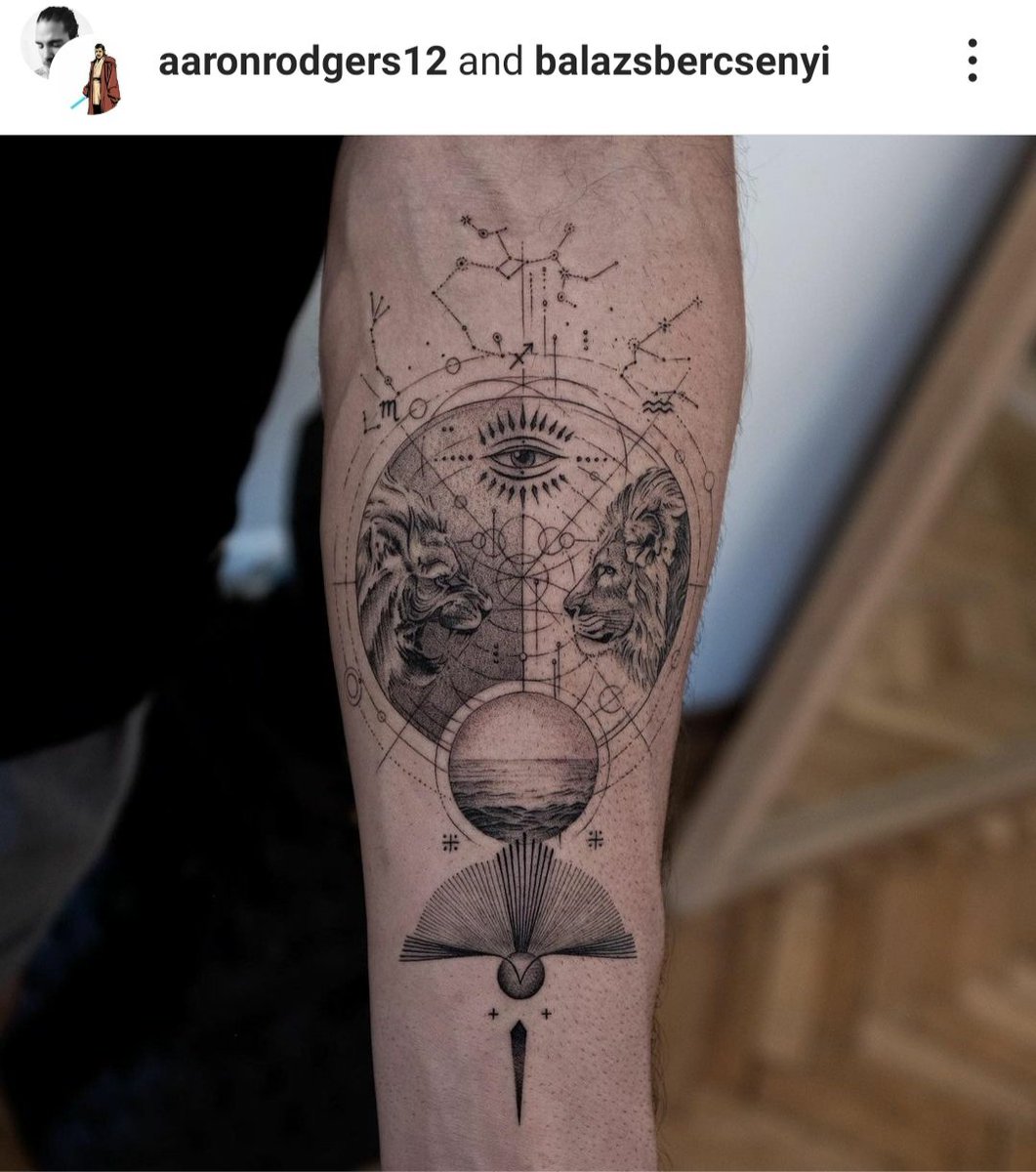 The elements of Rodgers' ink include two lions staring at each other, an eye, and some line-work that — not being students of astrology — could be challenging to interpret. Folks can likely trust that Rodgers, a Sagittarius, knows what he's doing here.  Rodgers has since opened up, though, claiming that you need to be deep in astrology to really get it.
"If you're not a student of astrology, there's going to be some weird things in there."
Some fans reacted to comments:
Granted, some fans were pretty harsh in their responses to Aaron Rodgers' comment:
Aaron Rodgers is basically just a middle aged Sedona woman who can throw for over 300 yards a game

— Cale Campbell (@calecampbell88) July 30, 2022
"Student of astrology" ah the covid denial makes a lot more sense now

— ⚡️Jeff⚡️ (@452Bullmoose) July 30, 2022
No one is a "student" of astrology because astrology isn't real. I don't know what happened between them but I know his family was right

— cwel87 (@cwel87) July 31, 2022
Aaron Rodgers consistently faces criticism in many aspects of his life.  People on the internet attempting to tear him down over something that has nothing to do with them, is interesting.  Either way it seems like Aaron Rodgers is happy with his tattoo and that is honestly the only thing that matters.
For More Wisconsin Sports News…
Follow me on Twitter at @mcquadewarnold and follow us @WiSportsHeroics for more great content.  To read more of our articles and keep up to date on the latest in Wisconsin sports, click here!