Aaron Rodgers and the Green Bay Packers' season ended on January 8th, 2023. After the clock hit zero during that game cameras captured Aaron Rodgers and Randall Cobb walking off the field together in an emotional moment.  From that moment on, Aaron Rodgers' future in Green Bay and the NFL was a question mark.  On February 26th, we are still in the dark as to whether or not Aaron Rodgers will continue his playing career for the Packers, or in general for that matter.  Recently, Aaron Jones made a comment on The Pivot's podcast that had fans questioning his future in Green Bay more than anything else.
Aaron Jones Casts Doubt On Aaron Rodgers' Future In Green Bay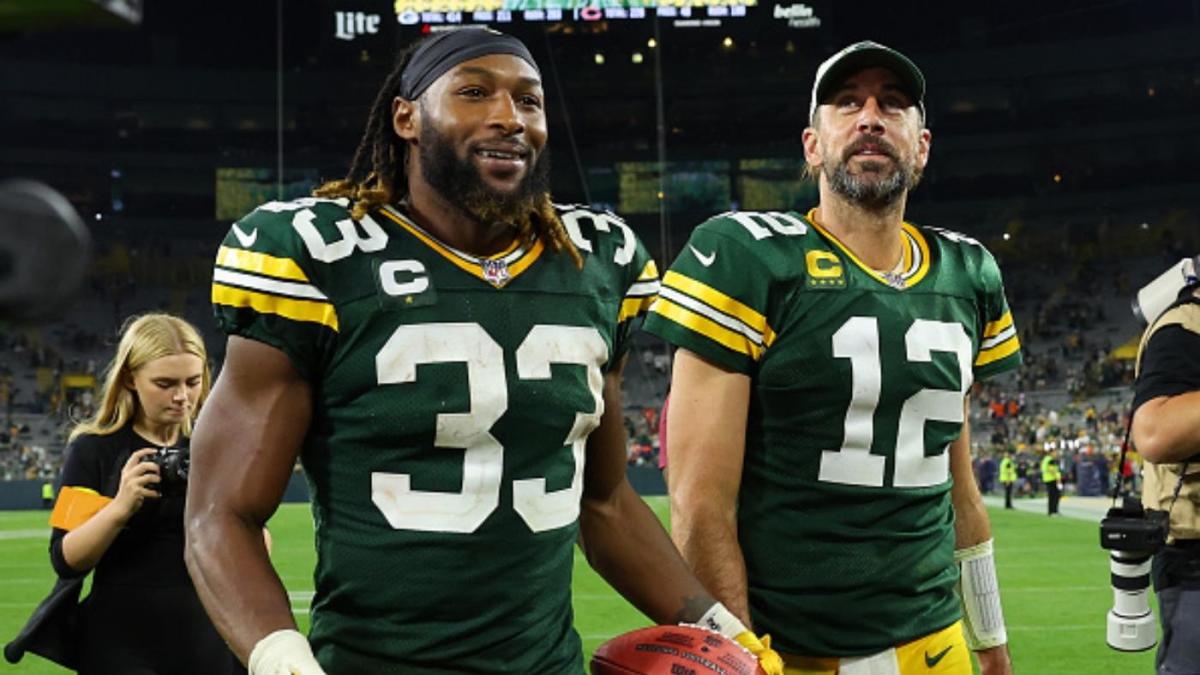 Jones, who has spent the past six seasons with the Packers and recently agreed to a restructured contract to remain with the franchise, said during an appearance on the Pivot podcast that the possibility of Rodgers not returning to Green Bay "seems more real" this year.
Aaron Rodgers has specifically said that money won't influence his decision when it comes to playing in 2023.  However, it is hard to ignore the $59.5 million he is set to make next season should he choose to play.  Many fans, coaches, and players have assumed that retirement is the least likely option for the four-time MVP quarterback.  It is possible that is still the case, however, Aaron Jones may have more information than any of us.
While there have been speculations that a few teams around the league would be interested in trading for Aaron Rodgers, it would be easier said than done.  The team acquiring Rodgers would be on the hook for his salary for the year. The cap charge would be $59,515,000 if they do not exercise his option and $15.79 million if they were to exercise the option. Rodgers has an injury guarantee of $49.25 million for 2024 but that does not become fully guaranteed until 5 days after the 2023 Super Bowl. If Rodgers was cut after 2023 it would cost the team $43.725 million on the 2024 cap. If he retired they could split that as $14.575 million in 2024 and $29.15 million in 2025 using a similar June 2nd date as mentioned above in the retirement option.
There is one more factor in the Aaron Rodgers trade scenario.  Aaron Rodgers does NOT have a no-trade clause in his contract, meaning the Packers are able to trade him to any team they want.  However, Rodgers has made it clear he does not want to go to a rebuilding team.  If he gets wind that a trade is brewing with a team he does not want to play for, he could drop a retirement package that day.  It is clear that IF the Packers want to trade him and IF Aaron Rodgers wants to play in 2023, it will have to be to a team that both sides are okay with.  Likely an AFC contending team.
For More Wisconsin Sports:
Follow me on Twitter at @mcquadewarnold, follow us @WiSportsHeroics, and listen to our Podcast, The Cheese Dads NOW with Legendary DT Gilbert Brown! You can also reach out to McQuade Arnold via email at mcquadewarnold@gmail.com. To read more of our articles and keep up to date on the latest in ALL of Wisconsin sports, click here!