The Milwaukee Bucks are the 2021 NBA Champions.  Those words, NBA Champions, were long thought never to be heard again in Milwaukee.  After all, the franchise's only other title came in 1971, 50 years ago.  It was a long, arduous task of building this team into the winner that it is today.  For much of the 1980's the Bucks were good, but not good enough.  During much of the 1990's, they were pretty bad.  For a short time, it looked like the George Karl-led Bucks might finally break through to the Finals, but they did not and the team eventually broke up.  Since then, much work by many people who are no longer with the organization (or never were) went into building this team.  For that, we would like to thank each of them individually.
[pickup_prop id="8174″]
Herb Kohl
Dear Senator Kohl,
It was very difficult for basketball to thrive in Milwaukee towards the end of your tenure as owner.  This, of course, was through no fault of your own.  For a variety of reasons, players just did not want to come to Milwaukee.
You saw the potential the city had, though.  Despite pressure from the NBA and potential buyers, you refused to move the team or sell it to anyone who would.  In the past few years, Milwaukee has blossomed into the city that you always knew it could be.  Now, instead of an afterthought, it is a destination.  If you had given up on Milwaukee, we would not be celebrating a NBA Championship.
Thank you for believing in all of us.
John Hammond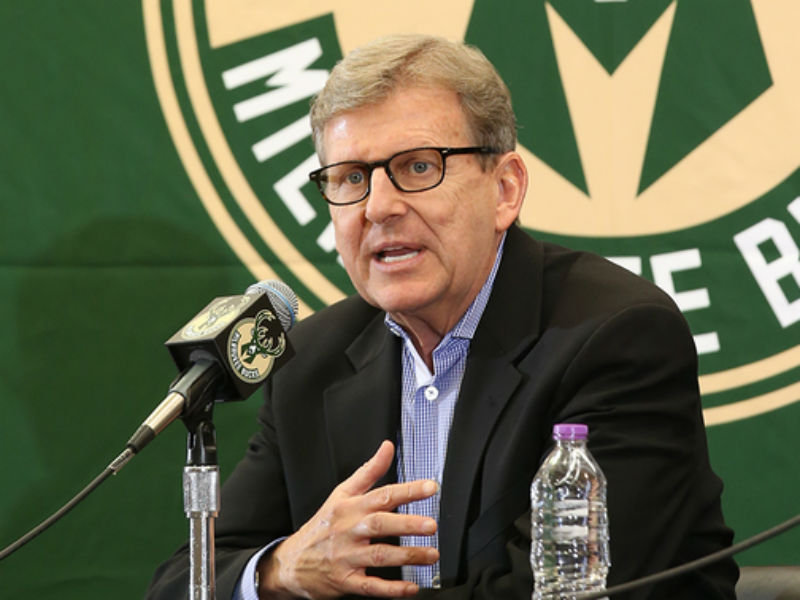 Dear Mr. Hammond,
Without a doubt, Jon Horst deserves a ton of credit for building a championship roster.  However, the two most important pieces of this team, Giannis Antetokounmpo and Khris Middleton, came to Milwaukee as a result of his predecessor, you.
With the 15th overall pick in the 2013 NBA Draft, you selected Giannis Antetokounmpo, a name known to few outside of NBA circles.  Giannis clearly had potential, but was raw and undeveloped.  At 18 years old, it was a complete gamble on your part.
When Giannis came to America, he could not even drive.  It was you who taught Giannis how to drive in the parking lot of the team's practice facility.  Not only did you care about Giannis as a player, you cared about him as a person.
You also traded fan-favorite Brandon Jennings for Khris Middleton.  At the time, it was not the most popular move.  At times, fans have questioned whether or not Middleton is the right player to have as a second option alongside Giannis.  You saw Middleton's potential, though, and now, eight years later, he is a NBA Champion.  Without you, the Bucks are not 2021 NBA Champs.
Thank you for seeing what we could not.
Jason Kidd
Dear Mr. Kidd,
Your time in Milwaukee did not, perhaps, go as well as we all may have hoped.  However, you helped mold Giannis and Khris into the players that they are today.  Indeed, under your tutelage, Giannis went from a role player to the NBA's Most Improved Player.
When you took over the Bucks, they were coming off a 15-67 season.  In your first season as coach, we went 41-41 and made the playoffs.  What a remarkable improvement!
You led us to the playoffs again in 2016-2017.  Though there is now some criticism of you for telling Giannis to stop shooting, it is difficult to argue that he would not have become a league MVP without your help early in his career.
Thank you for laying a solid foundation, and best of luck in Dallas.
[pickup_prop id="8709″]
Brandon Jennings
Dear Mr. Jennings,
It was beyond special to see you at Fiserv on the night in which the Bucks won the title.  It was only right that you were included in the post-game celebrations.  Everything we want to say about what you mean to this city and this team can be found here.
Thank you for pioneering our culture.
Kobe Bryant
Dear Mr. Bryant,
There are no words that can truly capture exactly what you meant to the sport of basketball and to fans of every team.  Your legacy truly lives in the millions of people you inspired by your play.
Look no further than Giannis Antetokounmpo, whom you saw as a generational talent.  The story goes that after a game against the Bucks, you entered the Milwaukee locker room to talk to the young Greek.  No one else was present, save Coach Kidd.  You told Giannis that he had everything it takes to be a superstar in the NBA.
Many players come into this league with the tools they need to be successful.  Not all of them have the confidence.  Your words to Giannis gave him a gift that not many people get: the ability to believe in himself.  Surly if one of the greatest players to have play the game believed in him, then he should certainly believe in himself.
Thank you for your inspiration.
For More Great Wisconsin Sports Content
Follow me on Twitter at @theotherAdams14 and follow us @WiscoHeroics1 for more great content. Check out our merch page here and use promo code Wisco at check out for $1 off! To read more of our articles and keep up to date on the latest in Wisconsin sports, click here!