Wisconsin has had no shortage of great running backs. The Badgers always seem to have a solid running game every season. One Wisconsin RB that had one of the greatest careers ever was Ron Dayne. Being a four year starter meant Dayne racked up a lot of yards throughout his career. Let's take a look back at Ron Dayne's amazing career
Coming to Wisconsin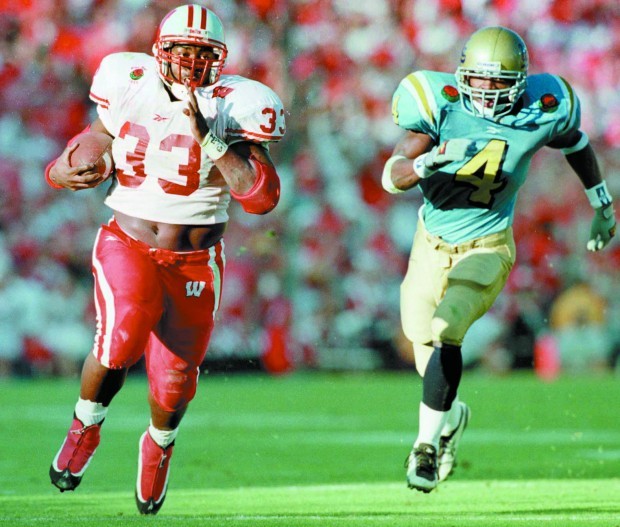 Ron Dayne was 270 pounds coming out of high school meaning that many colleges were trying to recruit him at fullback. Notre Dame even had plans to put him at defensive tackle, a complete position change that clearly did not excite Dayne. Even though his high school career was astonishing, colleges just could not get over his size and did not believe he could be a successful RB. Only one school saw the potential, the University of Wisconsin. Coach Barry Alvarez had a feeling that Ron Dayne could be something special and boy was he right.
Freshman Year
In the opening game of the 1996 season, Wisconsin was comfortably ahead on Eastern Michigan so Alvarez inserted Dayne into the lineup. He got 5 straight carries and rumbled for 42 yards and his first touchdown. From there, Dayne was being put on the field earlier in games. By game 5, he was the Badgers starting RB. One highlight game was a matchup against the University of Hawaii where Dayne rushed for a whopping 339 yards on 36 carries (9.4 average) and 4 touchdowns. This was one of 4 times that Dayne went over 200 yards on the season. He finished it off with a 246 yard and 3 touchdown performance in the Copper Bowl. Overall Dayne rushed for 2109 yards in his freshman season.
Sophomore and Junior Year
The sophomore and junior years were down years for Dayne where he rushed for 1457 and 1525 yards respectively. But a down year for Dayne was an excellent year for any other RB. Most of the reason for this was nagging injuries that he picked up throughout the year. However, despite missing games throughout the season, Ron Dayne had no problems picking up yards in droves. A stout Georgia Bulldogs defense was able to contain Dayne in the 1998 Outback Bowl during his sophomore season. However, he came back strong in the Rose Bowl his junior season. Playing the UCLA Bruins, Ron Dayne rumbled for 246 yards on 27 carries (9.1 average) and 4 touchdowns. He was the entire offense as the Badgers passing game only gained 154 yards total. This would set Dayne up for a memorable senior season.
Senior Year: Breaking Records
Ron Dayne's run to become the NCAA's All-Time Leading Rusher was a prime example of the caliber back he was

Juking defenders out their shoes😯 pic.twitter.com/2P93PfqTXI

— IKE Badgers Podcast (@IKE_Badgers) August 9, 2020
Everyone was on watch going into Dayne's senior season. He was close to the career rushing record held by Ricky Williams and the college football fan base was eager to see if he could break it. Ron Dayne would go over 150 yards in 9 of the 12 regular season contests with the final three games being all over 200 yards. He would break the record in the final game of the season against Iowa on a 31 yard run in the second quarter. Similar to the previous bowl games, Dayne went for 200 yards again as Wisconsin defeated Stanford. He would be named the Rose Bowl player of the game for the second consecutive year. That wasn't the only award Dayne received that year. He won the Heisman in a landslide and picked up a slew of other awards.
The Great Debate of Ron Dayne's Record
There is a great debate on Ron Dayne's career rushing record. Until 2002, the NCAA did not count bowl game stats for players meaning that all of Dayne's 200+ yard performances "didn't count". This changed in 2002 when the NCAA said they would count bowl game stats but not retroactively. This means that in the NCAA record books, San Diego State running back Donnel Pumphrey is the all time rushing leader because it includes his 428 yards gained in bowl games. Dayne's over 700 yards gained in the bowl games apparently "don't count". Personally, I think they should matter and me and many others still consider Ron Dayne the all time leading rusher despite what the official NCAA record books say.
Getting to watch Ron Dayne for 4 years was amazing. He was so hard to bring down and flat out dominated a good percentage of games he played in. No matter what the NCAA record books say, there is no taking away the amazing career that Ron Dayne had for the Wisconsin Badgers.