The Milwaukee Brewers will certainly be buying at the trade deadline. With a current three-game lead in the National League Central, they need to ensure that they will be able to pull away from the St. Louis Cardinals and red-hot Chicago Cubs. While many trade rumors and proposals, including these, center around Keston Hiura, it is Tyrone Taylor who is the Brewers best bargaining chip. According to MLB Trade Values, Taylor has a trade value of 12.5. He has years of club control left, but is part of a crowded Brewers outfield. Additionally, five of the Brewers top ten prospects are all outfielders. Two of them, Garrett Mitchell and Joey Wiemar, are expected to reach the Majors next season.
Why Is Tyrone Taylor a Highly Desired Trade Target?
Of course, Tyrone Taylor is not a big name like Juan Soto or Josh Bell. No team is going out there and saying "We want Tyrone Taylor, and only Tyrone Taylor!" However, Taylor does have four years of club control remaining. Additionally, when he has gotten regular at bats, he has been relatively productive. The problem for Taylor, as mentioned, is that the Brewers just have not prioritized giving him regular playing time.
In his career, Taylor has registered 524 at bats. This is a total that is typical for a player who plays 140+ games per season. In those at bats, Taylor is hitting .240/.302/.447 with 24 home runs and 84 RBI. A more conservative figure from baseball-reference.com has Taylor averaging 20 home runs and 69 RBI in a 162-game season. This is a decent amount of production. Combined with his four remaining years of club control, Taylor's trade value is much higher than many realize.
This being established, here are three significant trades centered around Tyrone Taylor that could put the Brewers over the hump on the road to a World Series.
A blockbuster with the Colorado Rockies that Brings CJ Cron and Charlie Blackmon to the Brewers
Rockies Receive
Tyrone Taylor (OF): .227/.273/.421, 10 home runs, 34 RBI

Baseball Trade Value: 12.5

Keston Hiura (1B, 2B, OF): Majors- .238/.355/.451, eight home runs, 17 RBI; Minors- .353/.476/.735, six home runs, 12 RBI

Baseball Trade Value: 2.1

Adrian Houser (P): 4-8, 4.72 ERA, 1.48 WHIP, 87 ERA+, 4.21 FIP

Baseball Trade Value: 3.8
Total Baseball Trade Value Sent: 18.4
Brewers Receive
CJ Cron (1B/DH): .286/.341/.531, 22 home runs, 71 RBI

Baseball Trade Value: 7.8

Charlie Blackmon (OF, DH): .274/.325/.478, 16 home runs, 59 RBI

Baseball Trade Value: -19.4

Daniel Bard (P): 3-3, 21 saves, 1.91 ERA, 1.04 WHIP, 245 ERA+, 3.55 FIP

Baseball Trade Value: 1.5

Yonathan Daza (OF): .295/.346/.357, one home run, 23 RBI

Baseball Trade Value: 3.9

Elehuris Montero (minors, AAA- 1B/3B): Majors (11 games)- .200/.235/.435, no home runs, no RBI; Minors- .324/.399/.556, 14 home runs, 49 RBI

Baseball Trade Value: 13.8

Benny Montgomery (minors, rookie-A- OF): .296/343/.448, three home runs, 18 RBI

Baseball Trade Value: 8.5
Total Baseball Trade Value Sent: 16.1
Why Would the Brewers Make This Trade? The Milwaukee Brewers would make this trade because they would receive immediate help at the plate. Cron, Blackmon, and Daza all would be great contributors and bring consistency the offense has been lacking. Additionally, they would add Bard to a bullpen, giving them a lethal arm to go with Brad Boxberger, Devin Williams, and Josh Hader. Finally, they would add two quality prospects, one of them a third baseman.
Of course, the drawback for the Brewers is that they may be on the hook for more money than owner Mark Attanasio would be comfortable with. Charlie Blackmon has an $18 million player option next season and CJ Cron is owed $7.25 million next season. Additionally, Bard would be a rental who is free agent at the end of the season.
On the other hand, Yonathan Daza has four more years of club control left while the other players are prospects. Additionally, the offense provided by Blackmon and Cron may be enough to propel the Brewers to the World Series.
Interesting note: The Brewers would actually being giving up MORE according to Baseball Trade Value than they would receive.
Why Would the Rockies Make This Trade?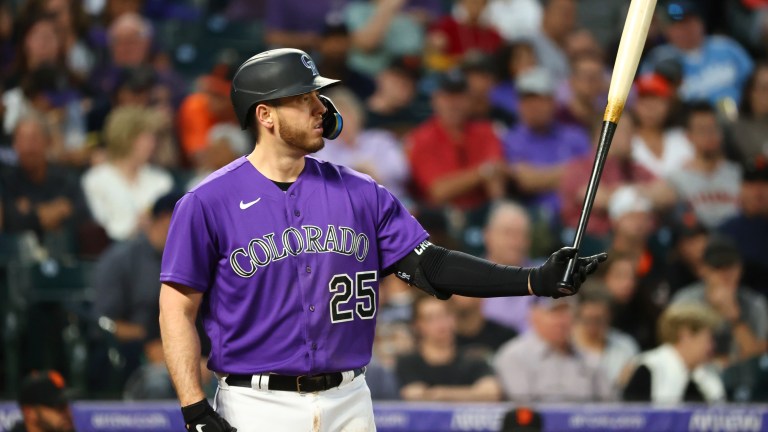 The Colorado Rockies are in re-build mode. While trading away three young players with years of club control is not really ideal, they would not be giving up any of their top prospects. Additionally, they would free up millions of dollars in cap space with which they can pursue other free agents during the offseason.
While Keston Hiura has not yet proven that he can be a consistent hitter on the Major League level, the idea of him slugging in Coors Field may be one that is too intriguing to pass up. In limited playing time with the Brewers this year, he has an .805 OPS. If he can get consistent at bats against right-handed pitching (against which he excels), his numbers may be even better.
One of the biggest weaknesses on the Rockies roster right now is starting pitching. While Adrian Houser is currently on IL, and while he is no ace, he is a solid starter. A ground ball pitcher is not exactly ideal for Coors Field, but he only allows 0.9 home runs per nine innings. This is a better rate than Shohei Ohtani andCorbin Burnes. It is also tied with the Max Scherzer's rate.
This brings us to Tyrone Taylor, the best potential asset the Rockies would receive in the trade. We have already discussed his 162-game averages, and these would be even better if he was playing home games in Coors Field. Additionally, he can multiple positions in the outfield, giving Colorado flexibility with their other outfielders.
Finally, and this is key for Colorado, all of these players have years of club control left. Adrian Houser has two years of arbitration remaining. Keston Hiura has three. Tyrone Taylor will not hit his arbitration years until 2024.
For More Great Wisconsin Sports Content
Follow me on Twitter at @theotherRobin19 and follow us @WiSportsHeroics for more great content. To read more of our articles and keep up to date on the latest in Wisconsin sports, click here! Also, check out our merch store for some amazing WSH merchandise!