"They keep making excuses why we keep winning, maybe it's because we're just f***ing better." That's what Preston Smith posted on Twitter after the Packers wild 24-21 victory Thursday night over the formerly undefeated Arizona Cardinals. Going on the road in a short week without their top three wideouts, the Green Bay Packers delivered what could be their most impressive regular season victory under coach Matt LaFleur. Let's look at some takeaways following the Packers' seventh straight victory.
Rasul Douglas
Of course we start with the biggest takeaway because it was the biggest takeaway. With 15 seconds left in the game, Rasul intercepted Kyler Murray's pass intended for AJ Green. It seems as if AJ never thought the ball was heading his way and that allowed Rasul Douglas to seize the moment. Rasul Douglas signed on October 6th with the Packers after spending the season on the Arizona Cardinals practice squad. Previous injuries to Jaire Alexander and Kevin King pushed Rasul into the starting lineup, and he did not disappoint as he also led the team with nine tackles. What a moment to return to the stadium of the team that let you go and deliver a game winning play.
AJ Dillon/Aaron Jones

The 1-2 punch of AJ Dillon and Aaron Jones continues to be a factor week after week. In a game where Aaron Rodgers only threw for 184 yards, the Packers running backs combined to run for 137 yards. Including receiving, Aaron Jones accounted for 110 total yards. It was a perfect game plan to keep the ball away from Kyler Murray, and use time of possession to dominate. The Packers did exactly that. Even more impressive, the Packers ran for 92 of those 137 yards after contact. This was a strong, hard fought game that was won in the trenches.
Randall Cobb

Looking at the stat line, three catches for fifteen yards doesn't really stand out. However, when two of those catches go for touchdowns, that certainly changes things. Randall Cobb may never return to the productivity of the past, but that really doesn't matter for this Packers' team. Cobb is continually used as a security blanket for Rodgers, and in a game like this, two clutch touchdowns when they needed it most is exactly what Cobb provides.
Jerry Gray

We need to show some love to defensive play caller Jerry Gray. Jerry Gray stepped in Thursday night when defensive coordinator Joe Barry was ruled out and unable to call plays. In addition, this team was already missing Jaire Alexander, Kevin King, and Za'Darius Smith. Even with that, under Gray's coaching the Packers were able to get three takeaways. Dean Lowry had an incredible game that featured a sack on Kyler Murray where he just threw the defender into Murray. The Cardinals had one of the most explosive offenses in football, and were only able to produce 334 yards of total offense and 21 points.
Overcoming Adversity

The phrase next man up will continue to be this Packers' team mantra as both Kylin Hill and Robert Tonyan suffered season ending injuries in Thursday nights game. In addition, Kingsley Keke left the game with a concussion. The ability for this team to continue to stack wins even without their all pro players or even playing their best football shows incredible resilience. Hopefully this mini bye week will help some players heal up before they head into the back half of their schedule. It's a long grueling season, so it's best to savor a fantastic victory like this one.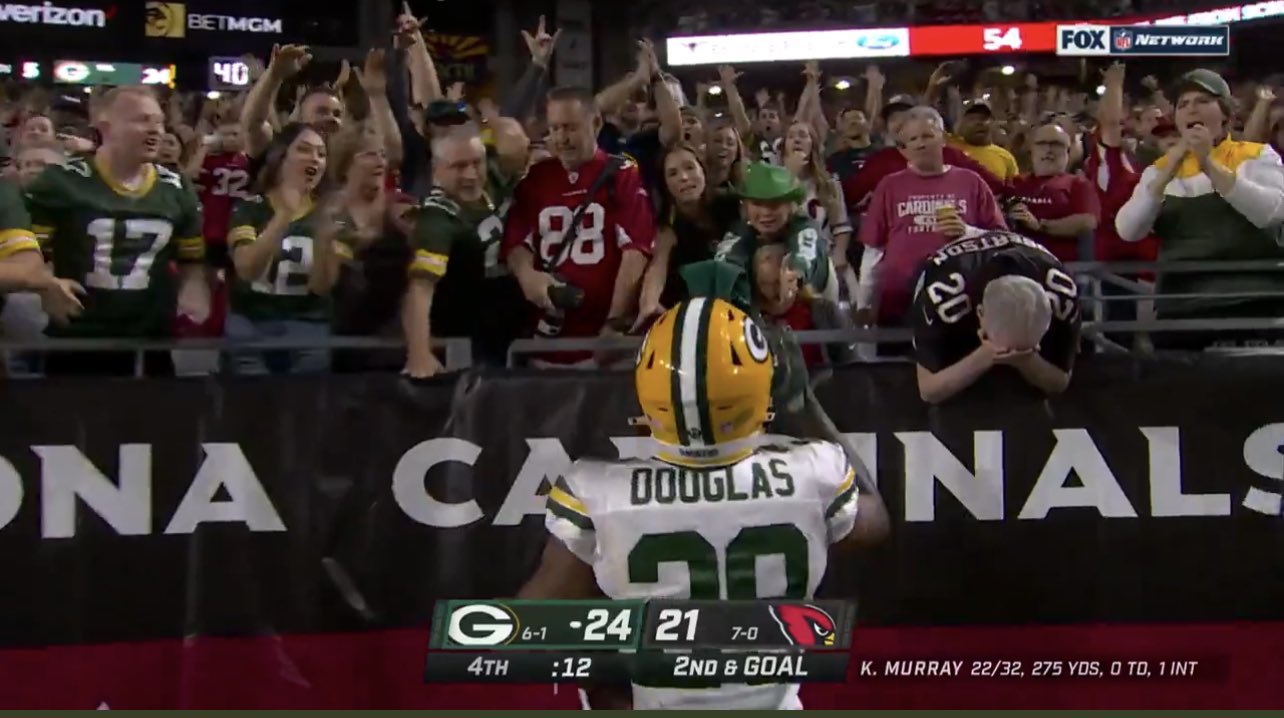 For More Wisconsin Sports Content:
Follow me on Twitter at @tylerrehm and follow us @WiSportsHeroics for more great content. To read more of our articles and keep up to date on the latest in Wisconsin sports, click here!