There is no offseason in dynasty leagues, as fantasy managers are constantly looking to rebuild and improve their rosters. Looking ahead in 2021, there may be some players that managers can buy low on just in time before the NFL draft in under two weeks. If you can grab any of these players listed below before the draft, you can easily boost your chances of holding that championship trophy in your dynasty league at the end of the season.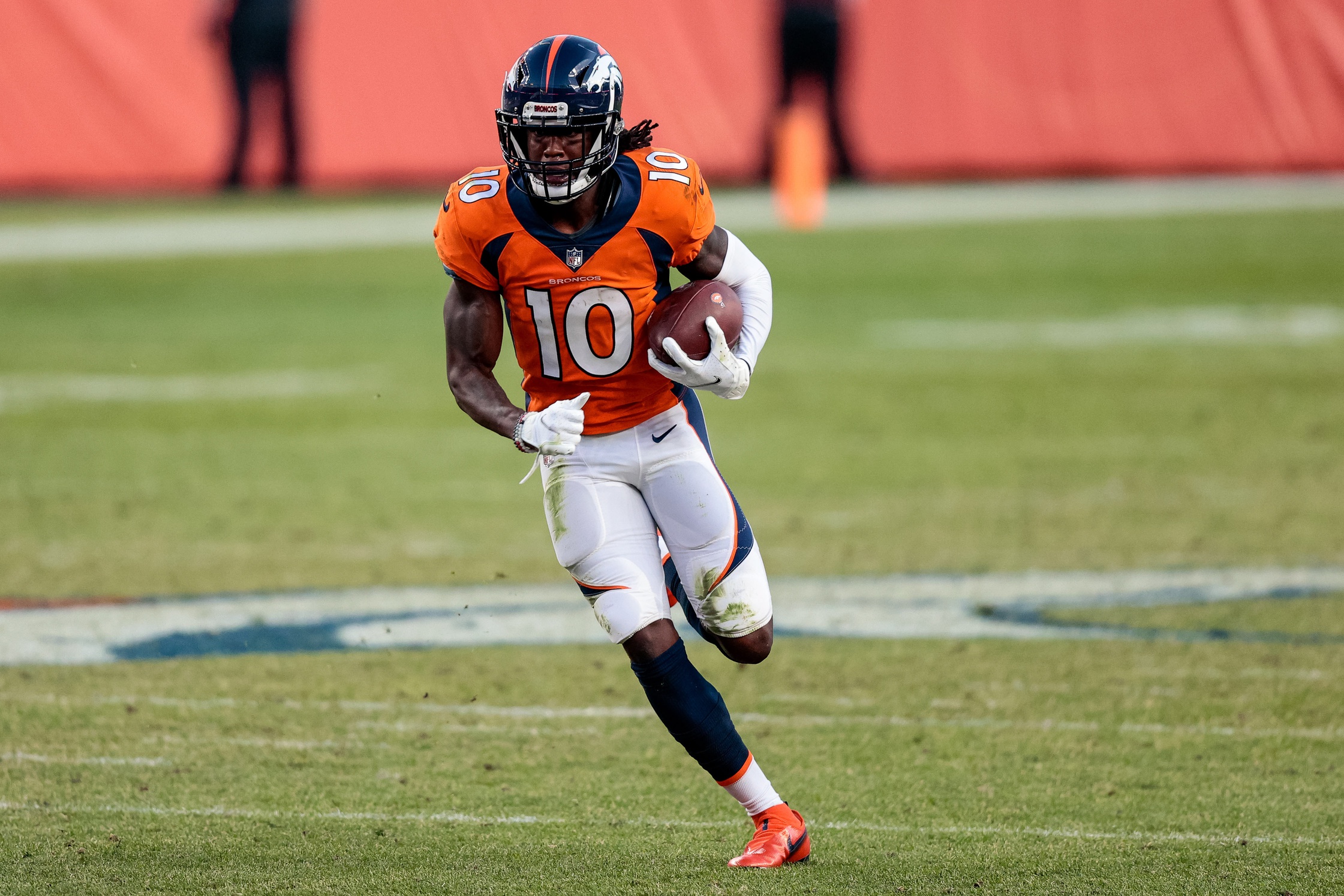 Jerry Jeudy, WR – Denver
The fifteenth overall pick had an inconsistent rookie season, after posting a mere 46% catch rate and totaled 856 receiving yards. A good portion of his inconsistent rookie season had to do with poor quarterback play by Drew Lock. In addition, The Broncos offense had him constantly out wide, after he played 54% of snaps in the slot his last year in Alabama. He'll have time to grow in this offense, and Courtland Sutton is coming back from his ACL injury. Perhaps, that will move Jeudy into the slot full time, where he flourished his entire career. You can probably snag him for a late 2nd, early 3rd round pick in your dynasty league.
The Broncos have the ninth overall pick in 2021, and the organization could build around Drew Lock and draft an offensive lineman. On the other hand, if a top tier quarterback is there for the taking, they may move on from Lock. Either way, making the move for Jerry Jeudy is a low risk, high reward with his talent.
Odell Beckham Jr, WR – Cleveland
It's crazy to think about Beckham Jr. being a "buy low" candidate this offseason in a dynasty league. However, Fantasy managers have been burned left and right when it comes to having Odell on their squad. He's only hit the 1,000 yard receiving mark twice in the last four seasons. Also, he's only played a sixteen game season once since 2016, and torn his ACL last October. He is "right on track" in his recovery, and is looking to return and help the Browns build on their most successful season in over two decades.
The Browns have a heavy run first offense with the running back duo of Nick Chubb and Kareem Hunt. On play action, with Baker Mayfield producing as of late, Beckham Jr will be targeted after producing a 116.2 NFL passer rating when targeted 10+ yards out between the numbers. If there is a fantasy manager who is fed up with Beckham Jr. send them an offer. He can still produce as a WR2 with WR1 upside, and would probably cost a WR2 and 3rd round pick. With the Browns offense clicking, you'd be getting him as a steal.
A.J Dillon, RB – Green Bay
A.J. Dillon was a promising prospect in rookie drafts last season, when he was drafted in the second round by Green Bay. However, he spent a majority of the season last year on the Covid-19 list, and played third fiddle behind Aaron Jones and Jamaal Williams. He had one huge performance in week 16 against Tennessee where he rushed for 124 yards and two touchdowns. He also caught one pass for five yards. With Jamaal Williams signing with Detroit, Dillon is now the back up to Aaron Jones.
Dillon's stock dropped dramatically when the Packers re-signed Aaron Jones to a four year deal. He'll have to wait at least two more years to make a significant impact on this team. He is a nice add right now though since he may take over goal line carries, and is a valuable backup in case Jones misses time. You can grab AJ Dillon for a late first round pick. With the lack of depth in this year's running back class, grabbing a player like Dillon late would be a smart move.
Joe Mixon, RB – Cincinnati
In case you haven't noticed, the trend with these players is they've burned fantasy managers in the past time and time again. Joe Mixon is no different. He missed most of last season with a foot injury in week six that didn't seem serious but never returned to action. After producing over 1,000 rushing yards the past two seasons, he only rushed for 428 yards before suffering the foot injury. He did receive a four year extension last year, and managers won't have to worry about the team drafting his replacement. In addition, he's still only twenty four years old, making him a solid dynasty league option.
This offense looks promising with how Joe Burrow, the 2020 first overall pick, performed before suffering a torn ACL in week eleven. The team also released Giovani Bernard, who was the target vulture to Mixon who only had twenty six targets last season. The Bengals have invested in Burrow and will look to protect him by drafting an offensive lineman. That will provide more openings for Mixon to explode and make up for his play last year. Talk to the fantasy manager who owns Mixon, and see if you can work a deal. It may require you giving up an extra running back and a first round pick. With things looking up for the Bengals offense in the future, this move will have a great return on investment long term.
Daniel Jones, QB – New York
Jones was the sixth overall pick in 2019 draft, and so far hasn't produced like a high caliber quarterback should with that draft capital. In two seasons, he's thrown for 5,970 passing yards and 35 touchdowns. However, he's also thrown for 22 interceptions, and lost 23 fumbles. Fantasy managers may be steering away from him and claiming him as a bust already. Taking a deeper look into his game, the quarterback from Duke University had many obstacles to overcome within his first two years. He lacked talented weapons in the receiving core, and a tight end who had a 58% catch rate. He could be a great steal in your dynasty league.
In addition, the offensive line was atrocious, leading into the immobile quarterback fumbling constantly behind the line of scrimmage. This offseason the Giants are building around Jones. They signed Kenny Golladay off free agency to a four year, $72M deal. Also, Saquon Barkley will return from a torn ACL injury he suffered in week 2. Jones will look to rebound after a terrible start in the NFL. With the 11th overall pick, chances are the Giants will draft an offensive lineman to protect Jones. On the other hand, they may use that pick to draft Jones' replacement. It's a low risk, high reward situation. If you can make the move before the draft, you have a QB2 with QB1 upside in two quarterback leagues.
[pickup_prop id="6165″]
Want More Great Content?
Follow me on Twitter at @PackerEddyFF and follow us at @WiSportsHeroics for more great content. Check out our merch page here and use promo code "Wisco" to get $1 off and free shipping! To read more of our articles and keep up to date on the latest in Fantasy Football and Wisconsin sports, click here.