The Bucks answered the call at home, rolling to a blowout Game 3 win behind Giannis's greatness and a supporting cast rejuvenation before they overcame the Devin Booker game to tie the series up with an equally great effort from Khris Middleton and a quieter but still spectacular showing from Giannis. It wasn't always pretty, especially Wednesday night. But the Bucks, as they have all postseason, found a way to get it done in the moments that mattered most. Now the moment is bigger than it's ever been. Three games for a title, starting with a crucial Game 5 in Phoenix. If the Bucks want to break the mold and take a road game, here's what they need to do. 
GET JRUE GOING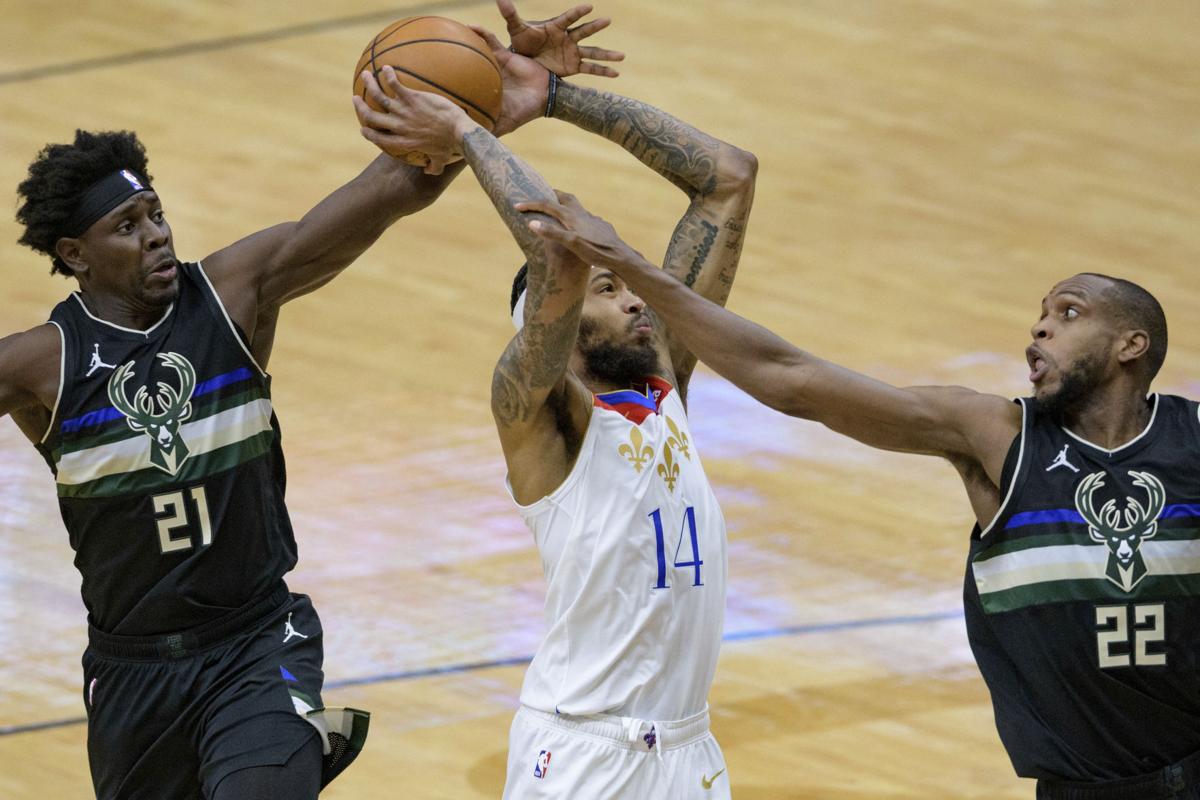 Here's one telling stat from the Bucks' postseason run – they're 7-1 when Holiday scores 20 or more points and just 8-6 when he doesn't. His scoring is a singular difference maker, often the difference between a Milwaukee team that trucks its opponents and one that struggles to put together a consistent scoring output. It doesn't help, after all, when 15-20 of your possessions end with a shot from a guy who's missing two-thirds of his looks, which Holiday has done so far in these Finals.
So how do you reverse that trend? It would seem that limiting jumpers would be a good place to start. Jrue doesn't have a bad jumper by any means. He's a 36% career shooter from deep who made nearly 53% of his shots from 10-16 feet during the regular season. The problem is that he's shooting just 30.6% from three in these playoffs while only making a shocking 38% of his 10-16 footers. That's a total negative with just about every jumper he takes. At some point, you have to realize that shooting your way out isn't the solution. It doesn't really matter that his past track record might make the continued somewhat appealing. Career trends don't always have the final say in smaller sample sizes. You have to be able to adjust when that happens.
The obvious counter to shooting issues is to attack the rim. We've all seen it suggested for numerous Bucks by now (hello Giannis). It stands out for Jrue too given how physical he can be for his size. Every time he muscles Devin Booker into a flop under the rim, you can only ask yourself why it doesn't happen more often. Here's the problem though: Holiday is also shooting about 8% worse at the rim than he was during the regular season. A 62 percent look is still a great way to end a possession, but that figure includes the wide open layups. For every impressive take, there's been a blown putback or wayward spin into a missed close one. 
Jrue's playoff story has been one of across-the-board scoring regression. We'll touch on his  defensive positives later, and he deserves credit for grinding on that side of the ball even with his offensive struggles. But for the Bucks to be in the best possible position to take home the title, they'll need the best possible version of Jrue Holiday. That's the one that's aggressive with the ball, and the one that puts that ball in the hoop every other time instead of every three. 
One positive note – only forty-one players have finished a Finals with more than 60 shot attempts and a field goal percentage under 34%. JR Smith in 2015 is the only player that's done it since the turn of the century. If Holiday stays this inefficient and joins that group, it would truly be an historic stroke of bad luck. We can hope that even the Bucks have a little more good fortune on their side than that.
KEEP KHASH MODE ON
Giannis Antetokounmpo is the Bucks' most important player. There's no debating that. The tendency to label crucial – and very good in their own right – secondary pieces as more important than the superstar in the middle of it all isn't new (see Steph and Draymond in Golden State). It likely won't go away anytime soon either given all the Batman and Robin talk we've seen in recent weeks.
When someone is as dominant as Giannis or Steph, we tend to both over analyze their flaws and diminish the true impact of their greatness. As they say, you don't know how much something means until it's gone, and stars of that caliber are so rarely off their game that it becomes relatively easy to take what they do for granted. It also doesn't hurt that calling Khris Middleton Batman tends to generate the attention those who say it seek. Regardless, the Bucks will go as Giannis goes. That's never going to change.
With that said, Khris Middleton is really dang important. Milwaukee is 10-2 when he scores 20+ in these playoffs. They're 4-5 when he doesn't. The Bucks are also 5-0 when Middleton makes more than half of his field goals and just 9-7 when he doesn't. When he makes 40% of his threes, its 6-1 versus an 8-6 record when he makes less. If the best version of Khris Middleton arrives, then he tends to leave with a win. That's the Khris the Bucks could use tonight in Phoenix.
There's also the matter of his role as the closer. The simple reality is that Middleton is the man to go to when this team needs a clutch half-court bucket late in games. That doesn't make him the best player. It does make him the finisher, and he's been doing one heck of a job at putting games to rest with a string of fourth quarter jumpers. According to ESPN Stats and Info, two players have hit 15 go-ahead or game-tying shots in the fourth quarters or overtimes of a single postseason since 1996. One was LeBron James in 2007. The other is Khris Middleton this summer. He's closing games as well as just about anyone ever has. You can't help but feel like his number needs to be called one more time if the Bucks are going to finish the season as champions. 
CONTINUE TO WIN THE POSSESSION BATTLE
You'll see discussion of this in just about any analysis of this series that you can find, and there's good reason for that. Shooting and efficiency are two things that tend to go Phoenix's way and the two lead villains of this Bucks' playoff run. Luckily, they can be nullified by a rather simple solution – taking a massive amount of shots. It's easier said than done, but it's something the Bucks have managed to pull off over the last few weeks. The fight to control the offensive glass and turnovers to help generate those shots, something we'll call the possession battle, has been a key story in this series. Let's run through some numbers – 
In Game 1, the Bucks grabbed 9 offensive rebounds to the Suns' 6 for a +3 advantage. They turned it over 14 times to the Suns' 9 for a -5 disadvantage. Both teams took 88 shots. The Suns scored 6 more points off turnovers and 3 more in transition. The Suns won by 13.
In Game 2, the Bucks grabbed seven more offensive rebounds (18-11). They turned it over just 9 times to the Suns' 13 for a +4 advantage. The Bucks took five more shots (93-88) and scored 10 more in transition, though the Suns maintained a 1 point edge in points off turnovers. Phoenix did win by 10, but Milwaukee made them answer some questions late. 
In Game 3, the Bucks had another +7 advantage on the offensive glass (13-6). They only turned it over 9 times again, this time forcing the Suns into 15. They took seven more shots (90-83) and scored 10 more in transition. This time, they also put in 7 more points off of turnovers. They won by 20.
Then there was Game 4, where the Bucks survived cold shooting nights from just about everyone other than their star duo. They obliterated the Suns on the offensive glass (17-5) and, in a positive twist of fate, also won the turnover battle 5-17. They had a massive shot advantage (97-78) and completely dominated in the fast break (15-0) and off of turnovers (24-5). The Bucks didn't make their shots Wednesday night until Khris Middleton's late sealing run; they just took so many of them that they almost had to be in a position where he could close out the game with a touch of star power. It's not exactly the ideal way to win, but it got the job done. 
Let's recap here. In the two Phoenix losses, the Suns only took 5 less shots across both games. They were, on average, -5 on the offensive glass, +0.5 on turnovers, -3.5 in fast break points, and +3.5 in points off turnovers. That's a pretty even battle over possession. 
In the two Milwaukee wins, the Suns took 26 less shots (10.5 worse per game). They were, on average, -9.5 on the offensive glass (4.5 worse), -9 on turnovers (9.5 worse), -12.5 in fast break points (9 worse), and -13 in points off turnovers (16.5 worse). The numbers tell the story here. If you're looking for an overall trend that allowed the Bucks to flip this series after falling behind 0-2, then look no further than their ability to grip the possession battle by the scruff of its neck and absolutely dominate it. Now there's just one question left – can they continue to do that once the series moves back out West? You can either shoot better or keep shooting more. Or lose, but no one wants to do that. 
BRING THE SUPPORTING CAST TO PHOENIX
One thing that has stood out in this series is the ability of Phoenix's supporting cast to deliver consistently. This was especially true on the road in Milwaukee. The Suns got what they needed from their support players. They just happened to fall short at the top of the rotation.
Jae Crowder started slow in Game 1 but has been a sniper since, making twelve of twenty-one threes. He's averaging 14.7 points per game over the last three. He's also pitching in 8.3 rebounds per game in this series.
Mikal Bridges didn't really bring his scoring to Milwaukee, but he had 14 in Game 1 before his crucial 27 point outburst that helped Phoenix seal the deal in Game 2. A bonus key in the middle of this one will be Bridges' Game 5 scoring. Can he follow up on his impressive home opening to this series?
Cameron Johnson has been cold-blooded with his shot, making 53% of his field goals and over 42% of his threes. He's scored between 8 and 14 points in every Finals game so far and has produced a few key defensive plays. 
Then there's Cameron #2. Payne hasn't been much of a force in these Finals, but he has scored 7, 9, and 10 in three of the games as a spark plug playmaker. As far as a bench impact goes, it's hard to be upset with that. 
Those four, the 4-7 options of the Suns, are scoring 41.8 points, grabbing 17.3 rebounds, and dishing out 5.5 assists per game. So what does that mean? The numbers don't tell us much without context, so let's look at the same group of players for the Bucks (Lopez, Tucker, Connaughton, and Portis). 
The Bucks' four is averaging 33.3 points, 18.3 rebounds, and 3.3 assists per game. That's a pretty significant disadvantage as far as offensive production goes. With Jrue scuffling, Milwaukee could use a little more help from this quartet. They'll need it if both Booker and Paul step up tonight.
That call for help doesn't really apply to Connaughton, who has been fantastic as a shooter and hustle guy. He deserves all sorts of praise (and a few apologies after the reaction to his new contract last fall). Lopez has also largely delivered what has been asked, though his role has been inconsistent with the Suns' two-headed guard monster. The larger problems lie with the second two. Portis has been wildly inconsistent, especially away from the Fiserv Forum. Then there's Tucker, who has really struggled to find his shooting stroke.
The Bucks have only gotten this far because of team-wide contributions. All four of those guys have come up huge at various points. If the season is going to end in a win, they'll need to come together for one last push to compete with Phoenix's depth. 
PUT PAUL IN PRISON, AGAIN
Game 1 and the days after were an exercise in patience. Watching Paul – and Booker – calmly tear apart the Bucks' defense with forced switches and midrange swishes made for a frustrating watch, and it put the onus to adjust firmly in the hands of Mike Budenholzer. For some, that was an uncomfortable position to be in. That should no longer be the case. As he has for much of the playoffs, Bud made the right moves.
Here's a nice looking table – 
| | |
| --- | --- |
| Game 1 TOs | 2 |
| Game 2 TOs | 6 |
| Game 3 TOs | 4 |
| Game 4 TOs | 5 |
Those are Chris Paul's turnovers. As we can hopefully see, these numbers mean he's been turning the ball over a lot more these last few games. Jrue Holiday and, occasionally, Khris Middleton and Jeff Teague have been hounding Paul all over the court, making him work for every little thing. A point guard that typically makes the game work for him is suddenly having to work for his game. The result has been a significant increase in sloppy and forced plays. It's been a sharp and noticeable departure from his cool and collected Game 1 showcase.
Just how rare is this run of 15 turnovers in three games? Paul hasn't done it since January…of 2018. Including the playoffs, he played 282 games between those two unfortunate three game stretches. That's more than three full seasons worth of appearances. Milwaukee has turned one of the game's great floor generals into an occasional liability. Now the trick is keeping it going for a few more games before he starts that ball security streak anew. 
This is the biggest basketball game the Bucks have played in forty-seven years. It's the biggest game the Suns have played in almost thirty. So many legacies are on the line. Chris Paul's best chance to get a ring. Devin Booker's chance to establish himself as a true superstar. Giannis's opportunity to become the fifth player ever to win a championship and collect two MVP awards before turning 27 (Pettit, Abdul-Jabbar, Russell, Duncan). Middleton's chance to finally quiet all of the chatter about where he belongs among the game's best. Bud's opportunity to silence his own critics. The potential beginning of a dynasty with two teams that figure to have some staying power moving forward. Two great fanbases starved for the ultimate prize.
Game 5 isn't do-or-die, but it's as close as you can possibly get without being there. The winner is one game away from a title. Let's have some fun.
Follow For More!
Follow me on Twitter @MikeRegan09. Check out our merch page as well. Use promo code WISCO at checkout for $1 off! To read more of our articles and keep up to date on the latest in Wisconsin sports, click here! 
[pickup_prop id="9627″]