The Green Bay Packers have been in trade talks ahead of the 2022 deadline.  This year's trade deadline falls on November 1st.  This leaves just a few days for the Packers to pull the trigger on a move if they feel the need.  There have been confirmed reports of five players the Packers have shown interest in.  Here is the full breakdown.
Five Players The Packers Have Shown Interest In:
Mike Gesicki – Miami Dolphins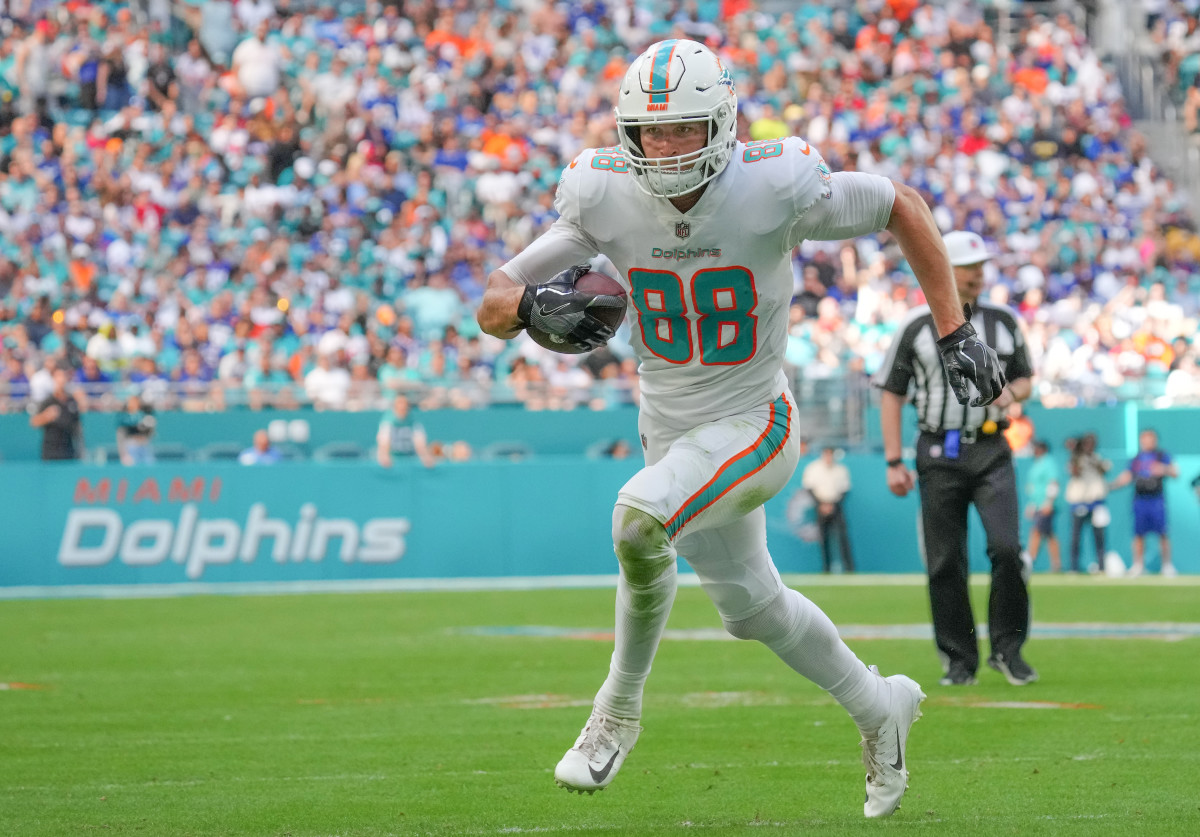 With Robert Tonyan off to such a solid start in 2022, it would be interesting to see Green Bay trade for another tight end.  However, it is not a secret they need to improve their pass-catchers in general. ESPN's Dan Graziano reported that Green Bay has in fact shown interest in the 27-year-old tight end.
Tight End Albert Okwuegbunam –  Denver Broncos
Okwuegbunam was a popular breakout prediction at the tight end position before the 2022 season. It made sense considering the departure of Noah Fant and the welcomed addition of quarterback Russell Wilson.  However, after playing a combined 16 offensive snaps in Weeks 4 & 5 before being deemed a healthy scratch in Week 6, he has clearly fallen out of favor with the Broncos coaches and is receiving trade interest as a result. ESPN's Dan Graziano also reported that Green Bay has shown interest in adding Okwuegbunam if the price is right.
Wide Receiver Jerry Jeudy – Denver Broncos
Wide Receiver Brandin Cooks – Houston Texans
Multiple reports have shown the Packers' interest in WR Jerry Jeudy out of Denver.  Jeudy, a former first-round pick, is on pace for a career-high 55.1 yards per game in 2022.  He has 1,709 receiving yards in his short career so far.  ESPN's Jeremy Fowler reported this interest from Green Bay but stated it would likely cost the Packers a Day 2 draft pick.
According to Aaron Wilson of KPRC 2 in Houston, the Packers are among several teams to inquire with the Houston Texans about a trade for veteran wide receiver Brandin Cooks.  So far in 2022, Cooks has 28 catches for 281 yards and one touchdown on 47 targets.   Brandin Cooks has had over 1,000 receiving yards in six of his last seven seasons.  The most recent two were with Houston.  He has been a model of consistency for over half a decade.
Wide Receiver A.J. Green –  Arizona Cardinals
The last player Graziano connected the Packers with is veteran A.J. Green. Once upon a time, Green was an elite downfield threat who struck fear in the hearts of opposing secondaries. Father Time and injuries have sapped that from him. It's been five years since he's posted a 1,000-yard season and he's on pace for the worst season of his career (10 receptions for 56 yards and no touchdowns through five games).  However, a change of scenery for this veteran with a four-time MVP quarterback could be what he needs to be successful this year.  AJ Green is a savvy veteran that Green Bay's offense could benefit from.
For More Wisconsin Sports: