Three Bucks players have matched increased opportunity with heightened production throughout the first few months of this season.
While two-time MVP Giannis Antetokounmpo (28.5 pts, 11.4 rpg, 53.9% FG) is making a case to take home the award for a third year in a row, several teammates of his are making a leap this season.
Pat Connaughton 
Pat Connaughton, the seven-year vet out of Notre Dame, has made sizable strides from the Bucks' championship run last year to their defense of the Larry O'Brien trophy this year.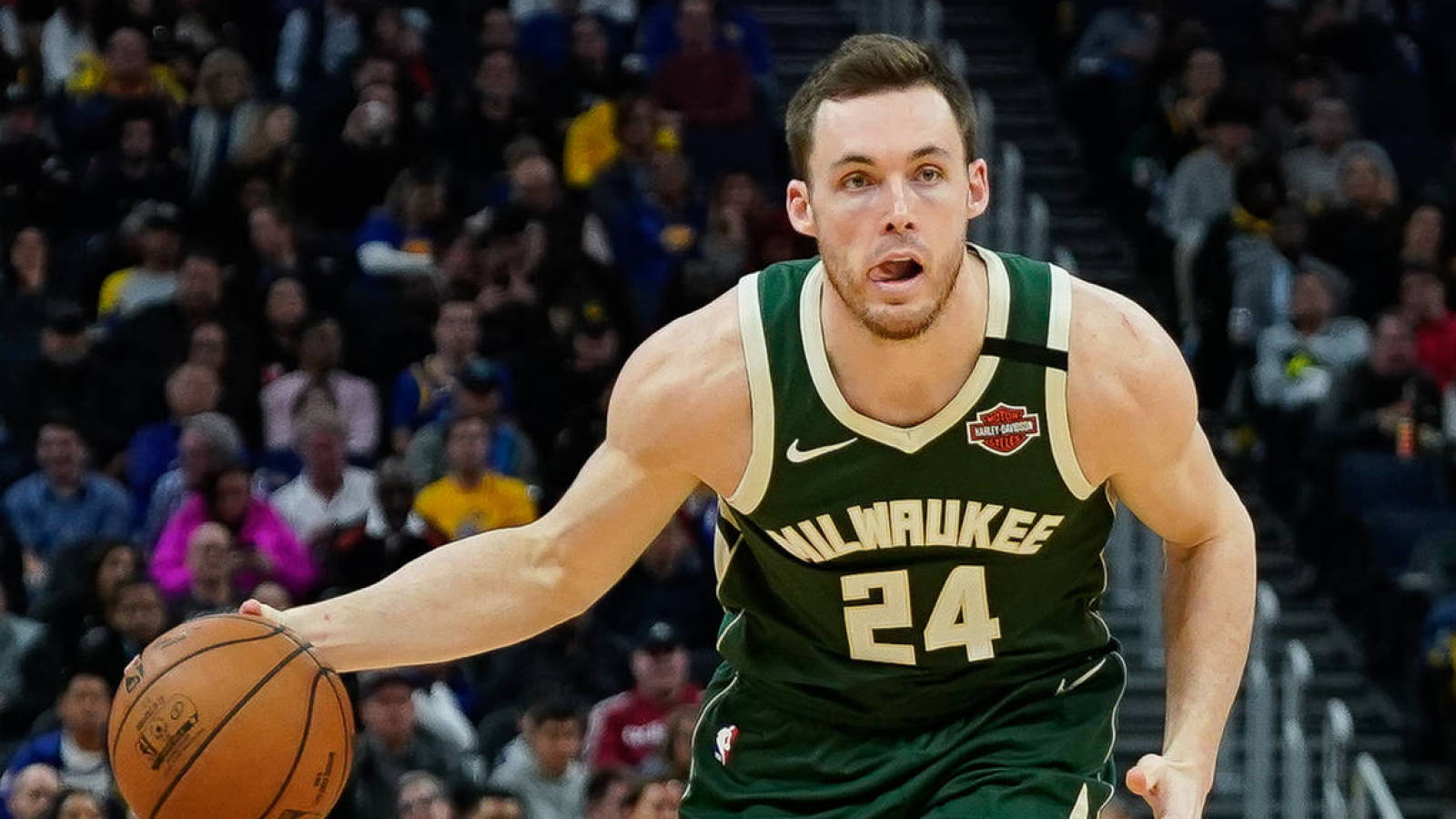 Last season, Connaughton provided depth off the bench in a shooting guard/small forward role. 
This year, he's improved across the box score while getting more playing time in a lineup that was without shooting guard Donte DiVincenzo for the first month. Here are Connaughton's areas of improvement relative to last season:
10.5 pts (up 3.7)
47.0 FG% (up 3.6)
39.5 3PT% (up 2.4)
0.9 stl (up 0.2)
0.4 ast (up 0.2)
The Bucks' spot-up shooter is achieving career-highs in points and steals. He also has almost as many starts this year (15) as he did in all of his first six years in the league (16). 
Bobby Portis
A fan favorite who has dominated headlines (with WI Sports Heroics being no exception) Bobby Portis has improved from being a flare off the bench to being the Bucks' consistent starting center.
The seven-year veteran out of Arkansas signed a two-year, $9 million extension in the offseason, and he's been putting on a show ever since. 
Portis is another prime example of someone who has taken advantage of extra time on the court. While playing a career-high 28.4 minutes per contest this year, here is where Portis improved compared to last season:
15.4 pts (up 4.0)
9.2 reb (up 2.1)
1.3 ast (up 0.2)
0.9 blk (up 0.5)
While Portis' shooting numbers are slightly down from last season, his 43.2 3PT% puts him at 11th best in the NBA. 
He also has career-highs in points, rebounds, and blocks. 
This stretch power forward has shown that he can grab the ball off the glass as well as shoot from deep, and it's paying dividends for the Bucks. 
Grayson Allen
I can't go without mentioning the scrappy guard from Duke who has turned into a regular starter in Milwaukee. 
After occupying a supporting role on the Memphis Grizzlies in 2020, Allen has started all but one game for the Bucks this year, and he's maximizing the opportunity.
Filling in for DiVincenzo at the starting shooting guard spot, Allen has seen a career-high 28.3 minutes per contest. Here are his improvements relative to last season:
12.1 pts (up 1.5)
42.3 FG% (up 0.5)
39.2 3PT% (up 0.1)
3.4 reb (up 0.2)
0.4 blk (up 0.2)
Allen has career-highs in points, rebounds, and blocks this season. 
As DiVincenzo eases his way back from injury, coach Mike Budenholzer will have a tough decision to make regarding the starting shooting guard spot. 
While Milwaukee's rotation is ever-changing throughout a COVID-riddled season, one thing is for sure: these Bucks are getting better from top to bottom. 
For More Great Wisconsin Sports Content
Follow me on Twitter @csparks410 and follow us @WiSportsHeroics for more great content! To read more of our articles and keep up to date on the latest in Wisconsin sports, click here. Also, check out our merch store for some amazing WSH merchandise!