This is the greatest time of year for football fans. The season is upon us and for most teams there is the hope of a new season. One fun part about this time is the bold predictions. For the Packers, who the stat leaders will be has been a topic of conversation. Here are my 3 bold predictions for the Packers Individual Stat Leaders.
Sammy Watkins Leads the Team in Receiving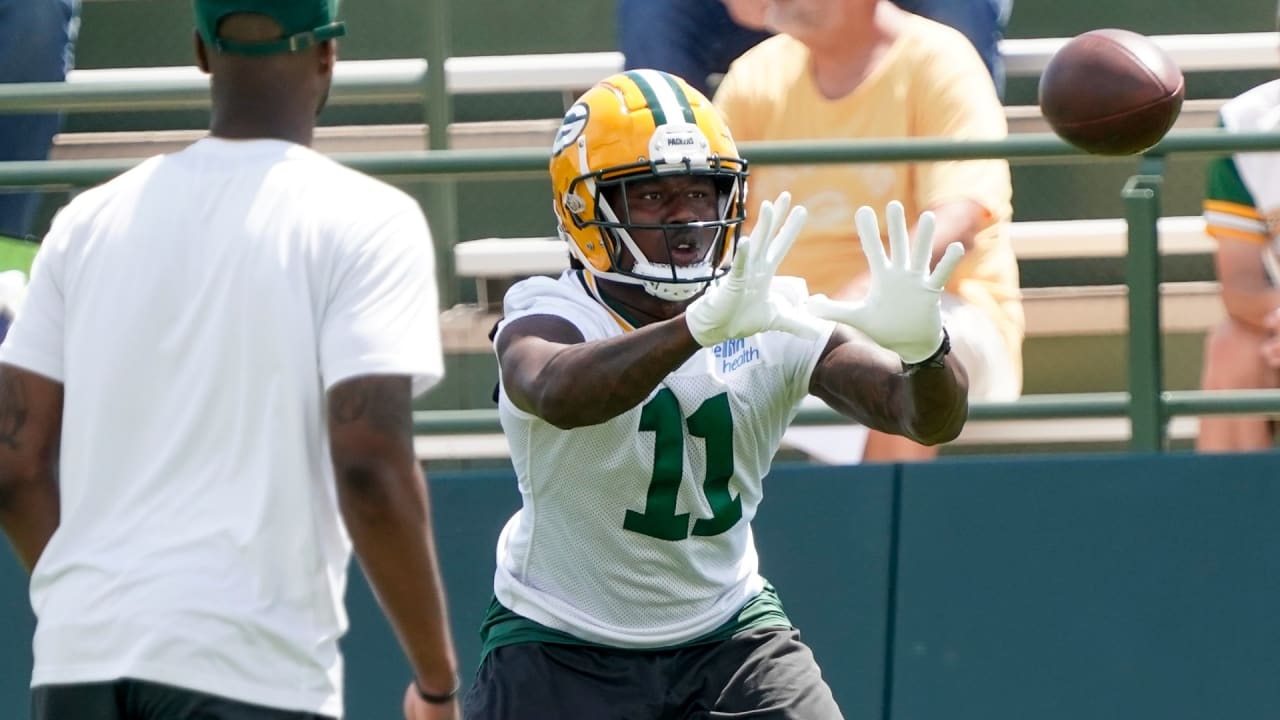 I did saw bold right? Of all my Packers bold predictions, this one is the boldest. The only thing that has held back Watkins is injuries. The talent is there and Aaron Rodgers is seeing it. In recent post practice press conferences, Rodgers is talking about how he is beginning to gel with Watkins. The only other candidate to lead the team in receiving is Allen Lazard. Rodgers has also been very supportive of him and I think he will have a productive season. However, I think he is better in the WR2 role. Randall Cobb will make big plays but not rack up yards. Romeo Doubs will have flashes but not enough consistent work. If he stays healthy (and I understand that's a BIG if) Sammy Watkins will lead the team in receiving.
This bold prediction is all about how I think the players will be used. While both will be used in the backfield, Aaron Jones is a great receiving back. He has had receiving games in the past that wide receivers dream about. Because of this, I think AJ Dillon will get more of the carries coming out of the backfield. I also believe Dillon will be more of a closer in games because of his size meaning he will eat up chunks of yards are the end of games. My bold prediction within this prediction is that Jones gets to 1000 receiving yards this year. Both running backs are going to have big years. However, when making my Packers bold predictions, I had to give the nod to Dillon on the rushing.
Quay Walker Leads the Team in Tackles
I had to throw a defensive player in here because I love talking about the Packers defense. I also love Quay Walker. His preseason performance was astounding and he looks like the Packers next great linebacker. Walker's speed is what I was impressed with. His ability to fly around the field means he is going to be involved in a lot of tackles. The speed also helps in covering running backs. In the preseason, he had many tackles where the running back caught the ball and was stopped immediately. De'vondre Campbell is probably the next likely candidate but I think Walker edges him out.
The fun part of bold predictions is if they come true, you can look like a genius but if not they can be easily explained away. As the season goes on it will be interesting to see whether any of these bold predictions for the Packers come true.
For More Wisconsin Sports:
Follow me on Twitter at @sorcerermatt, follow us @WiSportsHeroics. To read more of our articles and keep up to date on the latest in ALL of Wisconsin sports, click here!